The 2016 drag racing season could not have started any better for PDRA Pro Extreme star Brandon Snider, who matched his career-best elapsed time of 3.51 seconds straight off the trailer in pre-race testing for the all-eighth-mile PDRA Nationals last month at Tulsa, OK. Then, once official qualifying began, Snider took the top spot over the 16-car field with an even quicker 3.48-seconds blast at 219.47 mph that lowered his own class ET record from last fall in the final PDRA race of the 2015 season at Richmond, VA.
The former U.S. Army National Guardsman said the installation of an experimental two-speed Liberty transmission accounted for much of his outstanding early results.
"At the PRI show I talked with Craig Liberty of the Pro Stock transmissions and with Steve Graves at Quick Drive, he builds drive units, and I got both of those guys together and told them I wanted to try it if they were willing to work with me," Snider explained. "Luckily, both of them believed in us enough to help us put the project together."
While common in naturally aspirated Pro Stock applications, Snider said the unique Liberty transmission in his Q80-backed '69 Camaro had to be strengthened at every turn to handle the nearly 4,000 horsepower of his screw-blown Hemi. "The gears, the shafts, the input shaft, the output shaft, it's all been beefed up. Craig even made a one-off billet case for it after hours and hours of machine work. He threw in a bunch of money to do this thing and it could have worked, it could have not worked. Obviously, we're all thrilled with the results so far."
In eliminations at Tulsa, Snider continued his charge, running 3.52 at 220.22 mph in a first-round win over current PDRA speed record holder Carl Stevens Jr., then advanced to the semi-finals with a 3.49 pass at a career-best 221.56 mph over former class champion Todd Tutterow.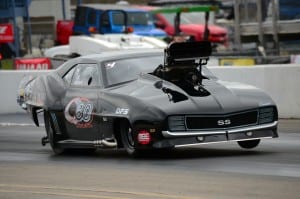 Unfortunately, rapidly dropping track temperatures then forced PDRA officials into postponing the Tulsa event's conclusion to within qualifying for this weekend's PDRA Spring Nationals at Rockingham Dragway in North Carolina. The Tulsa semis will be run Friday afternoon (Apr. 8) within the second round of qualifying, with the final scheduled for that night during the third qualifying session.
"It's too bad we couldn't finish in Tulsa, but I fully support the PDRA's decision to cut it off," Snider said. "We were running good there, but I like Rockingham, too. I won my first Pro Extreme race there a few years ago and I really think we can win another one."
Snider will face PDRA rookie Khalid al Refaei, while defending Pro Extreme champion Jason Scruggs will take on Mike Recchia in the second semi-final from Tulsa.
"We're really going to concentrate on going rounds this year and going after the championship," Snider said. "That's definitely our goal this year; we want to win races and win the Pro Extreme championship."