Together again thanks to Jeff Rudisill's recreation
During the late 1980s and through the following decade, the pairing of team owner Bill Orndorff and driver Jerry Eckman represented a Pro Stock powerhouse. The California natives rose to stardom from the ranks of unheralded, unsponsored racers who went winless in their first six seasons of professional competition, to capturing their first national-event title in dramatic fashion at the 1987 Summernationals in Englishtown, New Jersey.
Major sponsorship deals from Pennzoil and Pontiac were inked in a matter of weeks following that first win and the team went on to enjoy major financial backing and competitive outings for the next 10 years. Orndorff and Eckman eventually went on to win eight national events and placed third in national points on three occasions, in addition to scoring a trio of huge paydays for winning the Winston All Stars event, later known as the Winston Invitational.
After their very visible and long-standing sponsorship with Pennzoil ran its course, however, Orndorff and Eckman found themselves without major backing and back to running on a very low budget. Unfortunately, the derailment of the team led to a far steeper fall from grace one fateful day in 1997 when the "shot heard round the world" came in Columbus, Ohio, in the form of an exploding nitrous-oxide bottle.
Eckman, who's been the most vocal of the two in recent years, has stated on record that he "left the track in disgrace that day." The exact details of what happened in Columbus have been well-publicized and trumpeted many times over. It truly is old news. This is not that story, but a refreshingly new one entirely.
Recently emerging from North Carolina was the fairly quiet announcement that veteran Top Sportsman racer Jeff Rudisill was constructing a tribute car, an exact replica of the one Orndorff owned and Eckman drove to victory in 1987 at Englishtown. When news of the build reached Bill and Jerry (now residing in Ohio), the effects were somewhat profound. It was actually Rudisill who reached out to them with inquiries of paint codes, pictures, decal information and pretty much every detail about the former car that would prove beneficial for an exact recreation of a new one. Orndorff and Eckman were somewhat taken aback for several reasons, not the least of which was Jeff's overall passion and zeal for the project.
Once the car's immaculate construction was complete, Orndorff and Eckman were invited to meet Rudisill and see the car in person after he trailered it halfway across the country to compete in a nostalgia Pro Stock race at Cordova, Illinois. They gladly accepted and became acquainted with not only Rudisill, but also his good friend Tyrone Graham and wife Leslie, Lee Laney, and eventually everyone else in Rudisill's tight circle.
While Orndorff and Eckman's relationship wasn't completely fractured back in 1997, it had understandably become strained. That day in Cordova, however, they stood together on the starting line directly behind a car that looked identical to the one that had brought them so much happiness nearly 30 years earlier.
Suddenly it was 1987 all over again and when Rudisill's win light came on after the final round, something magical happened. Orndorff, now 66, and Eckman, 74, were together again at the drag strip and by all accounts appeared thrilled to be there. Some even describe it as a turning point that continues to resonate, as Orndorff and Eckman now have plans to attend many more races together with Rudisill and his team, and of course, with the race car that looks and feels just like the real thing.
The tribute that Jeff Rudisill so passionately created may just be the quintessential example of how decades of accomplishments and triumphs will always trump a momentary lapse in judgment. Call it his own outward expression of how the lives and careers of these former Pro Stock superstars still matter and always have.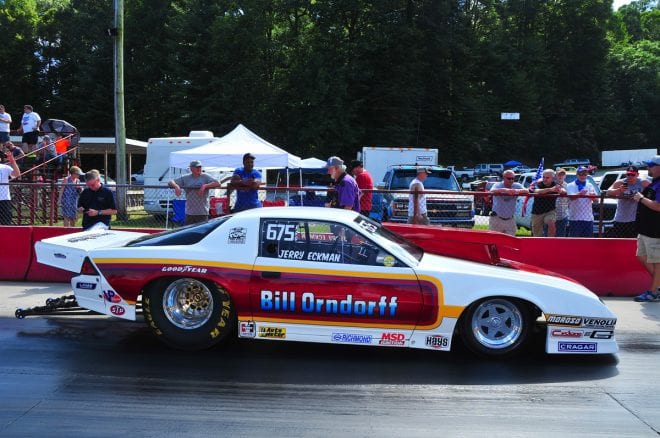 DRAG ILLUSTRATED managed to corral Orndorff and Eckman at Cordova for a quick discussion about their careers and what they've been up to lately.
How did you two meet?
Bill Orndorff: When I was 16 years old in 1966 I answered a newspaper ad that claimed you could make "big money" in your spare time. The job involved soliciting subscriptions for a newspaper. The ad was placed by none other than Jerry Eckman, who was like eight years older than me and that's how we met. He was 24 years old at the time. I took the job and Jerry was my boss. He recruited kids who hustled subscriptions and I was one of them.
Did you, in fact, make "big money," as the ad suggested?
Jerry Eckman: I did! (laughing)
BO: It did teach me how to be good in sales.
JE: I actually had kids who worked for me who made $50 and $60 a week; I'm talking seven year olds in some cases. That was good money in the 1960s! My top salesman, whoever got the most 'starts' we called it, got ice cream on Saturdays. I'd buy it for the winner and then I'd invite them to sit up in the front seat of my car with me and I'd always make them turn around and eat it in front of the other kids. It was quite the motivator for them to get out and get 'starts!'
How did your racing involvement begin?
BO: Pretty soon after I took the newspaper subscription job, Jerry and I found out that we were both gear heads. I had a 1955 Chevy that didn't run. I had collected all the parts and pieces, but didn't know how to put it all together. Since Jerry and I had become friends through the subscription selling job, I now had this 24 year old working on my car and suddenly I was a real factor! A little later Jerry helped me with a 1969 Nova. The first time we took it to the track and I let the clutch out I thought I was going to the moon! I had never experienced anything like that.
Are there any other notable cars you guys raced within the sportsman ranks?
BO: We had this 1965 Corvette that had been back-halved by Willie Rells. It had a big block, Lenco and also had power windows.
JE: I clocked 9-flat in that car on the quarter mile, which was extremely fast in those days. Then I'd stop to get the time slip and I'd roll down the electric window!
What led you to join Pro Stock?
BO: We were thinking about getting a tube chassis car and Jerry said, "We should just get a Pro Stock!" In the latter part of 1980 we again contracted Willie Rells to build us one of the new 1981 Camaros and we took the engine out of our Corvette and put it in the Camaro. Our very first race was at the Golden Gate Nationals in late 1980 and we actually qualified.
JE: Yep, we bumped out Grumpy Jenkins on the very last qualifying attempt! It was Pro Stock that actually led us to Ohio; we moved there together in 1991. It was more centrally located and it made sense at the time, but man, those Ohio winters were rough. We grew up in southern California and not only did we enjoy the weather, but we also raced at all those great tracks like Lions, San Fernando, Fremont, Pomona, Irwindale and Orange County.
What were some of your more memorable Pro Stock learning curves?
BO: Well, first you had to learn how to qualify, then go out there and win the first round. Winning the second round was a different thing entirely. It took us a long time before we won our first race; 1987, in fact. Bill Jenkins said it best: "In order to win, you've first got to lose every way possible!" The other thing we discovered is that Jerry was a much better driver than I was. I'd just go out there and put my foot in it and do something stupid, but Jerry always kept the presence of mind and could get the car down the track.
JE: Sure, you've got to learn how to win, but just as importantly, you've got to work on your weaknesses. You actually work on your weaknesses, not your strengths.
Do you have any racing pinnacles that you cherish to this day?
JE: I won Indy. Once. It was in 1990. What was so special was the fact that I couldn't believe we won. We got to the finals, but we were shaking the tires badly. I said to Bill, "We've got to change something!" We were racing Larry Morgan in the finals. He qualified number one, I think, and had just won the shootout. He was a tough customer. Well, we decided to change engines! Larry was pitted right across from us and they were busy setting bottles of champagne out onto tables. Meanwhile, we've got an engine hanging from a hoist over in our pits. We were thrashing! We got the car together in time. Larry had lane choice. I left on him just slightly and we ran identical elapsed times. Bill said it was the longest win light he'd ever seen and it seemed like it was never going to come on. The crowd roared. I could hear them from inside the car!
BO: For me, the pinnacle was winning Pomona twice (1990 and 1992); that was the most special to me. It was our home track and we had so many friends there. Those Winternationals wins were the real highlights for me.
Was there a competitor who always seemed difficult to beat, no matter what?
JE: Yes. Bob Glidden was always tough. So was Warren Johnson, Lee Shepherd, Frank Iaconio and Butch Leal. You couldn't hardly get to the semis because it seemed like you'd always run into one of those guys.
BO: They were all tough back then!
When your careers in Pro Stock came to a close, what did you pursue?
JE: I went to work for some other teams, including Kenny Koretsky, Tom Hammonds, Rodger Brogdon and Steve Kent.
BO: I had a history in appliance sales, so I just went back to what I did before.
Jerry, did you ever drive a Pro Stock car again?
JE: Yes, in 2012, ironically at age 70. My friend, Steve Kent, was a big-game hunter; he went to places like Africa and stuff. One day at Norwalk Steve asked me what I was doing this weekend and I told him I had to mow my yard. Steve told me he was going moose hunting up in Canada and he wanted me to drive his car at the nationals that weekend!
Obviously, I had to get relicensed before I could drive. I hadn't been in a car for so long that my old car would have felt fast, but this really felt fast. I had to make a couple launches, then a half-track pass; I honestly couldn't believe how quick it was to 60 feet! The quickest I'd gone previously was 6.94 at something like 198 miles per hour; I'd never broken 200 mph. The first full pass I made in Steve's car I ran 6.68 at 205 mph.
I got to drive again at Indy and missed qualifying by one thousandth, and I drove once more at Pomona, which was great, my home track! I ran 6.58 at 210 mph. What was really special was that it was also Veteran's Day and I'm a Vietnam veteran and they had the car all decorated and we had Gold Star families in attendance and I met three Congressional Medal of Honor winners. What an honor that was! That was actually my very last race and it was certainly a good way to go out.
What occupies your time in 2016?
BO: I'm semi-retired, I guess, but I still sell a lot of luxury appliances. I also enjoy restoring cars at home. I spend a lot of time with my grandson.
JE: These days I'm driving a school bus! I went from driving 210 mph to 25 mph! (laughing) True story. The motivation was simple; I remember the special times at the track when kids would come up to me wanting an autograph. I'd get down on one knee so I'd be at eye level with them. Sometimes I'd rub them on the head. I used to put kids in the car and their parents would take their picture. One day a few years ago this guy who was close to 30 years old came up and showed me a picture of a little boy sitting in my race car. The little boy was him. It brought tears to my eyes. I missed that interaction with kids, so when I heard about a school bus driving position that had come open I applied and was hired.
Sure, I'm 74 years old and I'm tired from working in my house and in the yard, but I thought, you know what, it's only a couple hours in the morning and a couple hours in the afternoon, so I think I'll take this bus driving job. It actually provides a great deal of enjoyment. I meet a lot of kids and get to have some influence in their lives. And even though it only goes 25 mph, it's yellow and black just like the Pennzoil car!