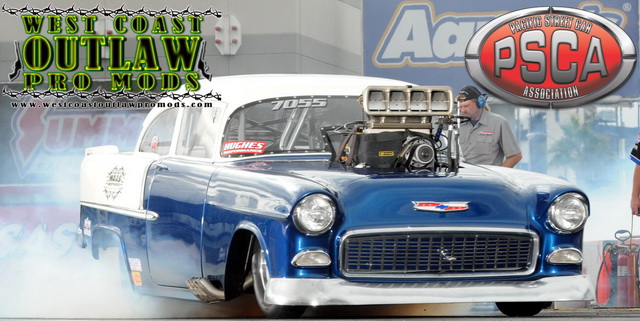 The West Coast Outlaw Pro Mod Association (WCOPMA) and the Pacific Street Car Association (PSCA) have formed a partnership for three events over the course of the 2013 season. Two of the scheduled events will be held at The Strip at Las Vegas Motor Speedway with one at Sacramento Raceway Park.
A fourth joint event is pending. The WCOPMA will replace the Pro Street class as the quickest and fastest class in the PSCA. Hughes Performance will still be involved with the class as a sponsor.
The first of the three events will be in Las Vegas at the Ford Racing Record Breaker Nationals held February 8-10, which will kick off both the WCOPMA and PSCA 2013 seasons. The second event will be at Sacramento Raceway Park and it will be the first time the PSCA has hosted an event at Sacramento Raceway in 10 years.
"Going back to Sacramento after 10 years is going to be a great time and I think we've shown what our racers can do at The Strip at Las Vegas Motor Speedway," PSCA President Mel Roth said.
The WCOPMA is very familiar to fans at the Sacramento track, as it is the hometown venue for many WCOPMA racers. The event will be held on March 22-24 and it will be an all eighth-mile event for heads-up classes. It will be the only eighth-mile event for the WCOPMA this season.
The third event will be back at Las Vegas Motor Speedway for the MagnaFuel Vegas Nationals on April 26-28.
"It's great that both the WCOPMA and PSCA can work together to put on some awesome events this year for the racers, fans and race tracks. We think that two of the biggest associations working together will only better the growth of Pro Mod racing on the West Coast," WCOPMA President Rod Burbage said.
"It's a great opportunity for us to run at an awesome facility like Las Vegas Motor Speedway. Mel has a great relationship with LVMS and for us to bring our show to his already action packed events will really make for some great events not to miss this season."
The new alliance presents "a win-win for both groups," agreed Roth.
"We will both reach new fan bases and when there are more racers and more races, that's always a plus because race fans get to do what race fans love to do: watch great racing," Roth stated.