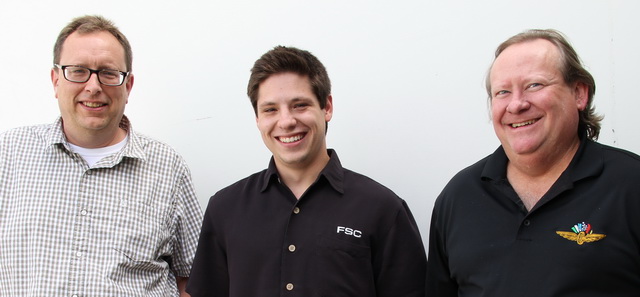 Facing the demands of the constantly evolving publishing world of the 21st century, ProMedia LLC announced today a realignment of staff to better serve its print and online customers.
The changes mean the welcoming of an old friend to ProMedia as Rob Kinnan (above right) rejoins the staff of Fastest Street Car (FSC) serving as editor-at-large.  Kinnan served as editorial director of both Fastest Street Car Magazine and its sister publication, Race Pages, from 1999-2005 before leaving to serve as editor of Hot Rod Magazine.
Scott Sparrow (above left), who has served as FSC's editor since 2002 and editorial director since 2008, will be heading up the company's online division, as its first digital manager.
Evan Perkins (center), who joined the staff of FSC last fall, has been promoted to senior editor of Fastest Street Car Magazine, and will take over the daily management of the publication with Kinnan.
ProMedia founder and CEO Steve Wolcott says the changes which have been put in place now position ProMedia to meet the demands of today's media-savvy consumer.
"Eighteen months ago we launched our new web sites and social media platforms with the intent to create new places for racers, sponsors and fans of NMRA, NMCA, NMCA WEST, and of heads-up drag racing in general to gather and read the latest news, rumors and technical stories about a sport they're passionate about," Wolcott said. "Moving Scott into the new position was an easy choice since he's so familiar with all facets of the company and each racing series.
"Rob, who was here during the company's infancy, has remained close to the heads-up drag racing community.  The combination of Rob's senior leadership and publishing experience, and Evan's youthful passion for all-things mechanical, will help inject fresh and new ideas into Fastest Street Car as it enters it's second decade of publication.
"I'm looking forward to watching our publishing and digital divisions grow over the coming year," Wolcott concluded.