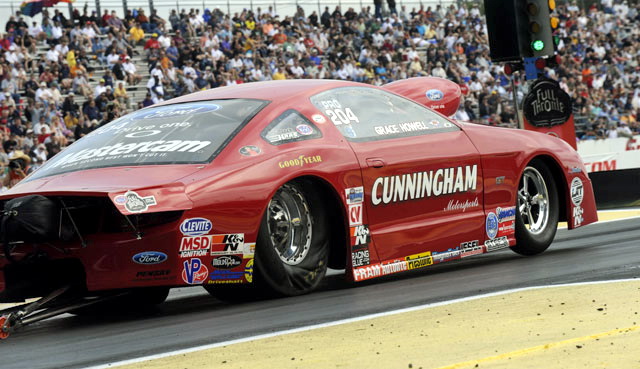 NHRA drag racer Grace Howell announced July 9, she has parted ways with the Cunningham Motorsports team, effective immediately.
"For as long as I can remember it has been my dream to race as a professional in the NHRA Full Throttle Drag Racing Series and I can't thank Jim and Gloria Cunningham enough for helping to make that dream come true," said Howell. "Over the last 11 months, I have had the opportunity to compete alongside some of the sport's best Pro Stock racers and I have learned a lot. Although the time has come for me to move on I wish for nothing but the best for the Cunningham Motorsports organization."

Howell, 26, joined Cunningham Motorsports in August 2011, making her debut in the team's Pro Stock Ford Mustang at the Mac Tools U.S. Nationals. In 15 races, she qualified for Sunday's final eliminations three times and recorded a career best run of 6.558-seconds at 210.67-mph.
Howell plans to immediately begin working on the next phase of her career, which she hopes will include an opportunity return to the NHRA Full Throttle Series on a full-time basis. While she would prefer to continue racing in the highly competitive Pro Stock class, she is also leaving her options open.
"I've been racing since I got my first Jr. Dragster at age 8, so no matter what, I plan to continue racing," said Howell. "I love the Pro Stock class, and I feel like I made a lot of progress as a driver in the last year. Pro Stock is where I want to be but at the same time, I would certainly consider a switch to Top Fuel or Funny Car if an opportunity became available.
"The bottom line is that I want to continue racing professionally and right now, my focus will be on continuing to make that a reality."
In the short term, Howell is likely to return to the NHRA Lucas Oil Drag Racing Series racing alongside her father, Bill. The Howell family team owns several competitive entries in the NHRA Super Stock and Stock classes including a Ford Mustang Cobra Jet.
(Photos courtesy NHRA/National Dragster; Click to enlarge)