Given the recent announcement from NHRA regarding sweeping changes to the Pro Stock rule book, many teams have been lashing out with concerns about how the mandates will hinder them. David River, however, is taking a decidedly more positive stance.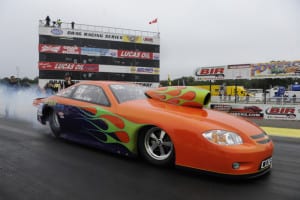 Having raced since the early 1990s, River made the jump to Pro Stock in 2009 and currently fields an orange-and-black, Jerry Haas-built 2010 Chevy Cobalt with Elite Motorsports power under the hood with family business Wick Buildings as the team's primary sponsor. The hard-working driver has yet to win a national event, but came closest with a semi-finals finish at the 2014 NHRA Lucas Oil Nationals race in Brainerd, Minnesota.
Regardless, discouragement isn't something that affects River, whose work ethic and enthusiasm is contagious. "We've accomplished a lot in our career, and it would be nice to win a race someday before they change the class completely from what it is. Can we compete with Erica [Enders-Stevens] or Greg [Anderson]? No. But if they make a mistake, can we beat them? Absolutely. We know we're capable, we just have to go out there and be as good as we can be each time and hope the other guy is less than perfect," he explains.
"I had always watched and enjoyed the class, and dreamed about running. Now, I've realized my dream and can not only run Pro Stock but also be fairly competitive, even though we're a less-funded team," River says brightly. "Other than the guys that are out running the class, I don't know if anyone realizes how much work it is to run Pro Stock. It's a huge struggle to stay competitive, especially when the expenses are so out of control for the class."
River's crew is comprised of his own family, including daughter Amanda, who manages tuning while son Robert handles the clutch, as well as several highly appreciated volunteers, which helps the team to stretch its dollars as far as possible. It's truly a group effort for River, and selecting which races they'll attend each year is a decision he leaves up to his crew so they can have more ownership of and involvement in his racing program.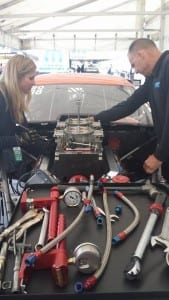 In a class with closely guarded secrets, it can be tough to acquire knowledge and get help, but River is grateful he's got plenty who support him. "Richard Freeman [at Elite Motorsports] has been great to us, and our program has grown by leaps and bounds since we've started working with him. Nobody really looks down their noses at us, because they know the struggles we're going through and have come from the same place," River notes appreciatively.
With the recent rule changes from NHRA going into effect, though, the Pro Stock world is poised to become even more tight-lipped when it comes to figuring out how to make things work.
The NHRA-mandated bullet points that received the most attention from racers and fans alike are that as of January 1, 2016, all Pro Stock teams must begin using an electronically controlled throttle body fuel injection system (EFI) and the class' traditional hood scoops will be prohibited. "The change to EFI has been on the horizon for years," says River. "It'll be a financial setback, yes, and we'll have to buy new equipment, but we'll just see where it goes and adapt along the way. We've already talked to a tuner to come help us out. I'm a carb guy who doesn't know a lot about EFI."
NHRA also stated Pro Stock engines will be limited to 10,500 rpm, a measure of little concern to River. "It probably won't hurt our team as much as it'll restrict some of the other top teams. We don't run our car a lot harder than that anyway," he casually says of the new rule.
Rather, it's the planned shortening of the wheelie bars that most concerns River.
"This is the rule I'm the least fond of, because I feel it's a safety issue," he laments. "NHRA wanted to see more unpredictability and wheels up action on the launch, but that isn't safe. And you can't really have that sort of action if you still want the cars to perform, be consistent, and go fast." Whether the class will actually become more heavily focused on a driver's ability to manage the launch consistently with the shortened wheelie bars remains to be seen. "The races will still be won and lost at the tree like most of them are today," River asserts.
An additional safety concern for River is that of teams no longer being able to hold or touch a car during the burnout, and he expresses concern that teams may no longer be able to keep their car straight enough to put down a nice patch of rubber.
Several other changes have already gone into effect, but River hasn't been too strongly impacted by them. Having to back his car into the pits and keep the engine uncovered so fans have easy viewing access, however, has proved to be a little troubling. "When I service the engine, I'm working on something that's very expensive and precise. I can't be distracted by talking to a fan. It's not like I'm changing the spark plugs in my passenger car," jokes the driver who often opens his pit area up to fans who want to get a closer look.
"It's their association, and NHRA will make the rules as they see fit. I don't know if these changes will make Pro Stock more or less competitive, if teams will leave or stay, but I do know that NHRA has the best interests of the class in mind," River says. "I understand they need to generate more interest in the class, but they can do that in ways other than trying to reinvent the wheel. How many times do we need to see someone rebuild a top fuel motor on TV? Diversify the coverage!"
Unless NHRA moves to completely outlaw the engine combination that River is running, however, he isn't planning to jump ship and move to another class any time soon. "Pro Stock has been practically the same for almost thirty years … 500-inch, two-carb, naturally aspirated gasoline is what I grew to love, and that's why we do what we do," he explains, laughing and adding he must be pretty stubborn to keep running Pro Stock.
"I believe the class has a place at NHRA national events, and I feel that Pro Stock is vital to the fans. It's a great class and we have people in our pits all the time showing good interest," River points out. "We need the class; we just need to figure out how to keep it growing."