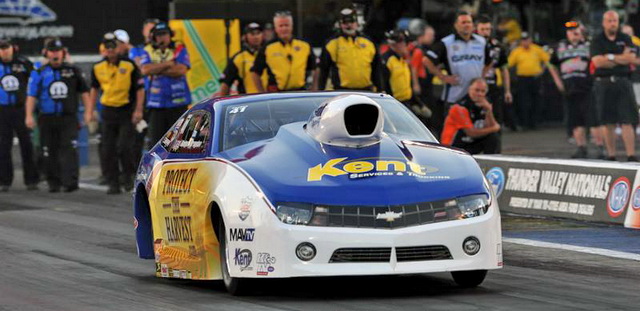 When ProtectTheHarvest.com Pro Stock driver Rodger Brogdon started his roofing business in 1991, drag racing helped pay to get RoofTec off the ground. The roles, however, have reversed.
Brogdon worked tirelessly over the years to develop RoofTec into a successful company, and now that business helps pay for his drag racing career, which continues this weekend at the O'Reilly Auto Parts Route 66 NHRA Nationals at Route 66 Raceway.
In addition to RoofTec, Brogdon owns and operates RLB Construction, a general contractor, and RLB Properties, a commercial real estate business. The companies have grown over the years, but it wasn't always so easy.
"It was almost five years to the day when I opened my roofing company before my wife and I drew a paycheck two weeks in a row," Brogdon said. "There were a lot of Friday afternoons where I'd come home and my wife would ask me, 'Are we doing the right thing? Are we going to make any money in this roofing business?' "
Brogdon started RoofTec in a 1,200-square-foot office not far from his current facility in northwest Houston and had one roofing crew and two repairmen. He also owned a Super Stock Chevy II that he raced from time to time, but he had to sell that car and its trailer for $25,000 to get the business going.
"Now, you can't even buy a Super Stock motor for $25,000," Brogdon said. "Times have changed. The guy I sold it to in 1995 I saw him and the car last weekend in Epping, N.H. I did think about buying it back, but I passed on it."
RoofTec eventually took off, and Brogdon's company has done roofs for more than 40,000 properties in Houston and within a 100-mile radius of the city.
"For a residential roofing company, we do an awful lot of work," Brogdon said. "We stay pretty busy for my wife and I. I've got good people working for me, and I've gotten my businesses to the point where I don't have to do that much. It took a long time and a lot of work to get to the point where I could delegate stuff.
"I worked so hard for so many years to get things the way I wanted them. I couldn't find anybody to do it the way I thought it ought to be done."
That work ethic has served Brogdon well in business and in racing. He remains Pro Stock's newest winner, scoring his first career victory two weeks ago in Bristol, Tenn. He sits ninth in the Pro Stock points standings with one win, one semifinal appearance, and one second-round appearance in the last four races.
(Photo by AutoImagery.com)