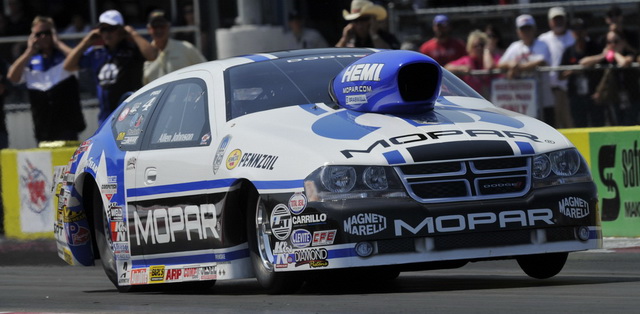 Legendary Bristol Dragway holds a lifetime of memories for defending Pro Stock world champion Allen Johnson and he hopes to add a first Pro Stock victory at Thunder Valley to that list in 2013.
After losing the 2012 final to Mike Edwards in the closest side-by-side final round in NHRA history, Johnson will get another chance to break through to the winner's circle June 14-16, at this year's Ford NHRA Thunder Valley Nationals. Having an opportunity to share a potential win with his father during Father's Day weekend at his home track adds even more incentive to the event.
"Father's Day has always been special day for our family.  It usually brings some great food and much needed visit time with all the family," Johnson said. "To be able to have my father at Bristol and try to win that race is a special incentive. It would mean getting an annoying monkey off our back.  We almost got it done for the family, friends, employees last year and there is no doubt it would be special for everyone including the hometown fans."
The razor-thin loss to Edwards at Bristol a year ago with a margin of victory technically recorded at a nearly-impossible .0000 of a second, spurred Johnson on to a remarkable series finish, one that included five of his seven wins en route to his 2012 world championship in Pro Stock.
"I was not horribly disappointed losing last year in the closest side-by-side final round in NHRA history," Johnson said. "It was certainly a little disappointing, but it was an exciting finish for the fans and teams alike and you can't be disappointed about that. We were just on the wrong side of the bullet there. It was a great race and we knew it would be."
The Greeneville, Tenn. native has picked right back up in 2013 as well, winning back-to-back races in Gainesville, Fla. and Las Vegas, while also posting two runner-up finishes in the last two events. The win in Gainesville represented Johnson's first win at that historic track, and he is hoping for a similar result at another historic track in Bristol.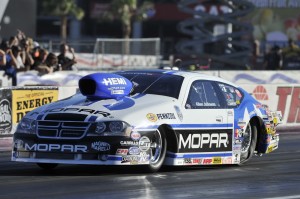 "Bristol Motor Speedway and the area media always make it special for our team, and yes, it will probably be a little more special this year coming in as the reigning Pro Stock Champion and being named Tennessee's Team of the Year by the Tennessee Sports Hall Of Fame," Johnson said. "We're very proud of the recognition we have received and it certainly means a lot to the team."
Of course, there is added pressure for Johnson and his 200-mph Team Mopar Dodge Avenger racing in front of a huge contingent of family and friends at his home track. But Johnson and his team, which also includes standout Pro Stock teammates Jeg Coughlin and Vincent Nobile, have always been rigorous about their testing schedule in Bristol.
"We test at Bristol before the event and that will be important for our preparation," Johnson said. "It is also an altitude track and the Mopar team definitely likes altitude tracks. The elevation and humidity play right into our hands usually.  It's important to roll the Mopar Express Lane Dodge off the truck on the right track and build on it throughout the weekend."
Johnson also plans to channel the extra support from family and friends into a positive result.
"It's a bit difficult to keep your energy level focused, but you really can't try too hard," Johnson said. "I just don't think that's possible. I just try to stay focused and use the extra 'attention' to further our determination."
(Photos courtesy NHRA/National Dragster; Click to enlarge)