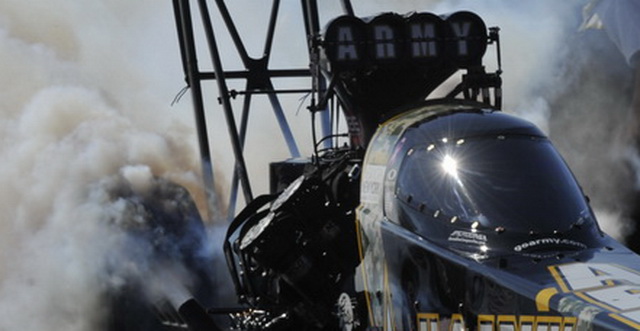 Tony Schumacher claimed the No. 1 qualifying position in Top Fuel Saturday at the Big O Tires NHRA Nationals at The Strip at Las Vegas Motor Speedway. Cruz Pedregon (Funny Car), Jason Line (Pro Stock), and Eddie Krawiec (Pro Stock Motorcycle) also were No. 1 qualifiers in their respective categories at the fifth of six races in the Full Throttle Countdown to the Championship, NHRA's playoffs.
Schumacher powered his U.S. Army dragster to a leading performance of 3.773 seconds at 324.20 mph to earn his fourth No. 1 qualifying position of the season, bringing his career total to 71. In doing so, he keeps his Countdown to the Championship hopes alive in his bid to win his eighth world championship, heading into Sunday's 11 a.m. eliminations which will be aired on ESPN2HD.
"Side-by-side racing is really what it's become," Schumacher said. "There was a time when one car was a tenth of a second faster than everybody else, and he just didn't have to make a mistake and he would win. But now it's incredibly close.
"It's going to be a battle, and I'm glad we all got today in to see where the conditions are going to be. How many cars ran 3.80s? It was one after another after another, and there were even a couple 3.7s. It's great. The track is prepared good, and it's getting better every day, and we're going to have some fantastic racing."
The battle atop the Top Fuel points standings remains hot as leader Antron Brown and his Matco Tools team qualified 13th with a run of 3.869 at 313.88 while Spencer Massey, who currently sits second in points, landed second with a time of 3.776 at 323.43.  Brown will face rookie driver and the most recent winner on the circuit, Khalid alBalooshi, in the first round of Sunday's 11 a.m. eliminations.
Pedregon paced the Funny Car class with a 4.066 at 312.50 in his Snap-on Tools Toyota Camry to earn his fifth No.1 of the season, 50th in his career. Pedregon is currently fifth in the Countdown to the Championship point standings.
"To be honest with you, the conditions came to us," Pedregon said. "Had we run when we were supposed to, I think the track wouldn't have held that, but hey, we took advantage of it, as did a couple of cars. I think when I pulled into the water box we were fourth or fifth. It's a credit to our team.
"It's the fifth No. 1 of the year for our Snap-on Toyota, and man is it a great car. It's one of the best cars I've driven in my 20-year Funny Car career. But we've got a goose egg in the win column, so we've got to enjoy this, but at the end of the day, we're going to go out there tomorrow and see if we can't get that win."
Championship points leader Jack Beckman was seventh at the end of qualifying with a 4.091 pass at 309.06, while Ron Capps, who is currently second in points, landed eighth with a pass of 4.098 at 308.78 in his NAPA Auto Parts Dodge Charger.  Mike Neff, the most recent winner who is third in points, qualified second and will face Jeff Arend in round one of eliminations.
In Pro Stock, defending world champ Line led Pro Stock with a track record performance of 6.590 at 209.72 in his Summit Racing Chevrolet Camaro to earn his eighth No. 1 qualifying position of the season, 32nd of his career. He will face Shane Gray in the first round of eliminations.
"My mind-set is easy. Just win," said Line, currently second in the points standings. "Obviously, Greg's (Anderson) mind-set is a little bit different than mine. He's trying to help me win, which is a great thing. You can say that it's unorthodox because it hasn't been done before. But that's why we have teammates.
"Our philosophy has never been to try to race each other and dive. That's been done in the past and nobody likes that. That's not real racing."
Points leader Allen Johnson and his Team Mopar/J & J Racing Dodge Avenger team qualified second with a time of 6.600 at 209.07 and will face Deric Kramer in round one. Erica Enders, who is currently third in the points standings,  qualified fourth with a run of 6.626 at 208.71 in her GK Motorsports Chevy Cobalt.
In Pro Stock Motorcycle, Screamin' Eagle/Vance & Hines Harley-Davidson rider Krawiec won the rain-delayed final elimination round from Reading with a run of 6.966 at 194.13 defeating teammate Andrew Hines in the process to earn his eighth win of the 2012 season. With the win, he increases his championship points lead to 51 over Hines. Krawiec also scored the No.1 qualifying position for the fifth time this season, 14th of his career with a time of 6.902 at 195.11.
"Man, to win today was huge," Krawiec said. "I sort of had mixed emotions when we didn't have the chance to run the final in Reading. I thought I had a great opportunity then. But after unloading my bike here, we still had a fast motorcycle. We made some good laps this weekend and I feel I have a very consistent bike."
Hector Arana Jr. who currently sits third in the points qualified second with a time of 6.912 at 194.41 on his Lucas Oil Buell while father, Hector Arana Sr., landed seventh on the ladder with a 6.989 pass at 192.60.  Hines qualified fourth with a run of 6.963 at 194.07 on his Vance & Hines Harley-Davidson.
(Photos courtesy NHRA/National Dragster; Click to enlarge)
LAS VEGAS — Sunday's first-round pairings for eliminations for the 12th annual Big O Tires NHRA Nationals at The Strip at Las Vegas Motor Speedway, the 22nd of 23 events in the NHRA Full Throttle Drag Racing Series.  Pairings based on results in qualifying, which ended Saturday. DNQs listed below pairings.
Top Fuel
1. Tony Schumacher, 3.773 seconds, 324.20 mph  vs. 16. Terry McMillen, 3.893, 314.02; 2. Spencer Massey, 3.776, 323.43  vs. 15. T.J. Zizzo, 3.878, 316.23; 3. Doug Kalitta, 3.798, 327.11  vs. 14. Cory McClenathan, 3.871, 305.91; 4. Khalid alBalooshi, 3.804, 325.69  vs. 13. Antron Brown, 3.869, 313.88; 5. J.R. Todd, 3.806, 324.05  vs. 12. Brandon Bernstein, 3.869, 320.43; 6. Shawn Langdon, 3.809, 323.19  vs. 11. Clay Millican, 3.860, 315.71; 7. Bob Vandergriff, 3.810, 324.28  vs. 10. David Grubnic, 3.853, 319.22; 8. Steve Torrence, 3.823, 317.94  vs. 9. Morgan Lucas, 3.835, 317.79. Did Not Qualify: 17. Steven Chrisman, 4.074, 272.94; 18. Mike Salinas, 4.319, 226.73; 19. Chris Karamesines, 4.382, 201.76; 20. Troy Buff, 4.654, 160.46.
Funny Car
1. Cruz Pedregon, Toyota Camry, 4.066, 312.50  vs. 16. Bob Tasca III, Ford Mustang, 4.136, 305.15; 2. Mike Neff, Mustang, 4.070, 313.73  vs. 15. Jeff Arend, Camry, 4.136, 308.99; 3. Robert Hight, Mustang, 4.074, 317.27  vs. 14. Paul Lee, Dodge Charger, 4.125, 301.40; 4. Matt Hagan, Charger, 4.077, 310.98  vs. 13. Jon Capps, Charger, 4.114, 290.51; 5. Johnny Gray, Charger, 4.089, 313.22  vs. 12. Tim Wilkerson, Mustang, 4.108, 299.20; 6. Courtney Force, Mustang, 4.091, 313.51  vs. 11. Jim Head, Toyota Solara, 4.108, 308.78; 7. Jack Beckman, Charger, 4.091, 309.06  vs. 10. John Force, Mustang, 4.108, 310.27; 8. Ron Capps, Charger, 4.098, 308.78  vs. 9. Tony Pedregon, Camry, 4.099, 305.70. Did Not Qualify: 17. Alexis DeJoria, 4.164, 296.76; 18. Josh Crawford, 4.377, 282.48; 19. Todd Lesenko, 4.476, 240.29; 20. Tommy Johnson Jr., 5.617, 139.52; 21. Jeff Diehl, 9.371, 67.23; 22. Terry Haddock, 10.780, 86.03.
Pro Stock
1. Jason Line, Chevy Camaro, 6.590, 209.72  vs. 16. Shane Gray, Pontiac GXP, 6.693, 206.35; 2. Allen Johnson, Dodge Avenger, 6.600, 209.07  vs. 15. Deric Kramer, Avenger, 6.689, 206.67; 3. Mike Edwards, GXP, 6.615, 208.71  vs. 14. JR Carr, Ford Mustang, 6.681, 205.66; 4. Erica Enders, Chevy Cobalt, 6.626, 208.71  vs. 13. Kurt Johnson, GXP, 6.657, 207.34; 5. Vincent Nobile, Avenger, 6.635, 208.01  vs. 12. Chris McGaha, Avenger, 6.653, 206.51; 6. Ron Krisher, GXP, 6.636, 208.04  vs. 11. Rodger Brogdon, Camaro, 6.650, 206.45; 7. Greg Anderson, Camaro, 6.636, 197.39  vs. 10. Jeg Coughlin, Avenger, 6.647, 207.02; 8. V. Gaines, Avenger, 6.639, 208.78  vs. 9. Warren Johnson, GXP, 6.646, 207.50. Did Not Qualify: 17. Steve Kent, 6.698, 206.70; 18. Mark Wolfe, 6.700, 206.04; 19. Steve Kalkowski, 6.830, 203.55; 20. Larry Morgan, broke.
Pro Stock Motorcycle
1. Eddie Krawiec, Harley-Davidson, 6.902, 195.11  vs. 16. GT Tonglet, Beull, 7.079, 190.03; 2. Hector Arana Jr, Buell, 6.912, 194.41  vs. 15. Redell Harris, Buell, 7.068, 189.23; 3. Matt Smith, Buell, 6.949, 192.96  vs. 14. Jim Underdahl, Suzuki, 7.059, 189.68; 4. Andrew Hines, Harley-Davidson, 6.963, 194.07  vs. 13. Shawn Gann, Buell, 7.011, 190.43; 5. Michael Ray, Buell, 6.970, 191.05  vs. 12. John Hall, Buell, 7.006, 190.38; 6. LE Tonglet, Suzuki, 6.973, 192.52  vs. 11. Karen Stoffer, Suzuki, 6.996, 190.89; 7. Hector Arana, Buell, 6.989, 192.60  vs. 10. Steve Johnson, Suzuki, 6.994, 190.22; 8. Scotty Pollacheck, Buell, 6.989, 189.87 vs. 9. Chip Ellis, Buell, 6.990, 191.24. Did Not Qualify: 17. Michael Phillips, 7.079, 188.62; 18. Kieth Burley, 7.108, 186.38; 19. Freddie Camarena, 7.169, 187.13; 20. James Surber, 7.172, 184.04; 21. Mike Berry, 7.175, 185.23; 22. Katie Sullivan, 7.183, 186.00; 23. Wesley Wells, 7.192, 185.13; 24. Matt Guidera, 7.196, 185.23; 25. Charles Sullivan, 7.350, 175.78; 26. Daryl Meadows, 7.443, 176.33; 27. Jerry Savoie, 7.643, 187.42.