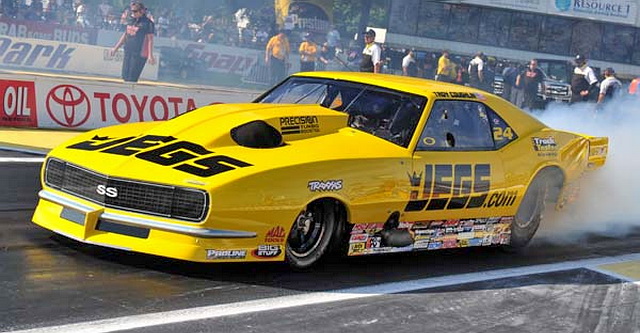 Fresh off his first final-round appearance of the season, Pro Mod veteran Troy Coughlin is hoping to take things one step further at this weekend's 12th annual Ford NHRA Thunder Valley Nationals at Bristol Dragway.
Father's Day in Bristol could be the perfect time and place to score his first victory of the season. Coughlin's already won a race on Father's Day, having taken the Pro Mod crown at the 2005 national event in Englishtown, N.J., and he's a past winner at Bristol Dragway, bagging the biggest paycheck of his career here in 2000 when he captured the $50,000 Winston Showdown in Pro Stock.
"I believe we're ready to win," Coughlin said. "Racing to the finals a couple of weeks ago was a blast. It reminded us how much fun it is to run well and contend.
"This JEGS.com Camaro is still a handful and we're not where we need to be just yet, but it's definitely a lot faster now and it's reacting much better to how Steve (Petty, crew chief) wants to tune it."
Coughlin and crew only qualified in the 14th slot in Englishtown with a sluggish 6.05-second pass and he needed a pair of upset wins against higher-ranked opponents to get to the final round. But by the time they contested the trophy, Petty had the turbocharged racecar running considerably quicker (5.91 seconds) and if not for a red-light foul start, Coughlin could very well have won the race.
"We had Danny Rowe to beat and we knew he'd run strong," Coughlin said. "I needed a good light but I jumped it too early instead. Then he had a really bad light, which would have opened the door for us to win, but he may have been thrown off by my red light. Who knows? All I know is we had a chance, and that was very, very cool.
"We need another hundredth or two (seconds) of performance and we'll be right there with the top cars. It's so nice to be competitive again and I can't wait to see how this weekend turns out for us."
After four of 10 rounds in the NHRA Pro Mod Series presented by ProCare Rx, Coughlin is ranked fifth in the championship standings. He could ascend as high as second with a win this weekend in Bristol.
Pro Mod qualifying begins with two rounds at 4:30 and 6:30 p.m. Friday. The racers will have one more chance to earn a spot in the 16-car field at 1:30 p.m. Saturday before eliminations begin at 4 p.m., also on Saturday. The final three rounds of eliminations will be contested Sunday.
(Photos courtesy JEGS; Click to enlarge)