There were a multitude of reasons why Shane Molinari quickly accepted his invitation to return to Bandimere Speedway for the DRAG ILLUSTRATED World Series of Pro Mod for a second straight year. But he couldn't find a bigger one than the six figures written on the oversized check that goes to the winner.
"It's a no-brainer. It's $100,000 to win," said Molinari, who advanced to the semifinals of the inaugural event. "Money talks. I wish they had 4-5 of them a year. It's all I would do."
Of course, the chance to win six figures at a miserable event with a subpar atmosphere may have changed Molinari's tune.
But for the Pro Mod standout, that wasn't a concern in the slightest at the WSOPM, which takes place this year on Aug. 10-11. In fact, Molinari considered the inaugural event in 2017 a massive success.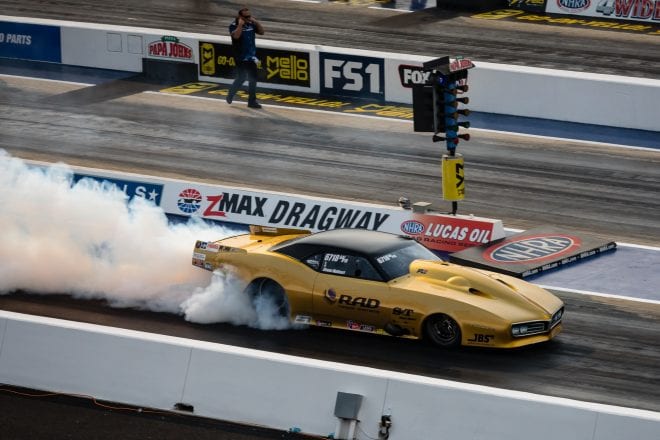 Despite the intense pressure of trying to win $100,000 on "Thunder Mountain" and staying focused to do so, Molinari had no problem enjoying himself, which is, ultimately, priority No. 1 when he attends a race.
"That's why you go racing anyway, because it's fun," Molinari said. "If you can't have fun, why do you it? [The WSOPM] was just something totally different. It was laid back, the people involved were super awesome and we just had a good time. It was a cool race."
Pro Mods took center stage, and Molinari admitted that ego boost and added spotlight was a thrilling factor for a class he calls the coolest and most interesting out there. Based on a top-notch inaugural event and the buzz that has followed, Molinari anticipates an even bigger weekend in 2018.
As for those hedging on their decision to attend the race – perhaps based on the unique challenge of racing at a high altitude – it's something Molinari can't comprehend. Simply based on how the inaugural event went and how the NHRA Pro Mod season has played out, just accepting an invitation for Saturday's main event on "Thunder Mountain" makes you a contender for the winner-take-all prize.
"You would be crazy not to do this," Molinari said. "It's the WSOPM, it's a great event at a nice facility. I think they're nuts (if they don't race). Anybody in the field can win the deal. It doesn't matter. Look at the (NHRA) season. Anybody can win."
Molinari is hoping his first victory of 2018 comes at some point soon after a breakout campaign a year ago in his stunning turbocharged '68 Pontiac Firebird. The Vancouver, Wash., native picked up his first career NHRA Pro Mod win and ended with three finals appearances, finishing fourth in an absolutely loaded field.
This year hasn't been quite as kind, with only one round win through four events, but he's hopeful the summer months – which includes his appearance at the WSOPM – provide the chance for a rebound.
Molinari, though, is quick to laud the talents of crew chief Brad Personett, who played a pivotal role in Molinari's turnaround in the class. That was on display last year at Bandimere Speedway, too, as Molinari found his comfort zone quickly at a track where he had never raced previously. But Personett found something that worked and Molinari impressed, advancing to the semifinals before losing to eventual $100,000 winner Mike Bowman.
"It was just about adapting to the situation," Molinari said. "(Personett) is really good at adapting to whatever the car needs. He's just a great guy who knows what he's doing. His focus is great and you name it, he does it. He just doesn't go to races and then goes home. At home, he's thinking of different ways to do things. He's just a great guy, plain and simple, and I'm very, very thankful to have him for a tuner."
It has Molinari confident he'll get his 2018 season back on track quickly, and he will head to Denver with plenty of confidence – and perhaps a bit of a chip on his shoulder. After a narrow defeat to Bowman on Thunder Mountain and then a loss to him in a few months later in Vegas – after Bowman used every bit of the allotted time to stage – there's a bit of revenge Molinari hopes to extract this year.
"As long as I can beat Bowman, I'll be happy," Molinari said.
For more information, and to purchase tickets to "The Biggest, Richest Pro Mod Drag Race in the History of the Known Universe", log onto www.worldseriesofpromod.com.