This weekend's race in the NHRA Pro Mod Drag Racing Series presented by Powerocks, which will be run in conjunction with the 45th annual Toyota NHRA Summernationals at Old Bridge Township Raceway Park, will represent a fresh start for 2012 world champion Troy Coughlin.
The event is the fourth in the 10-race series, and Coughlin finds himself eighth in the championship standings. The first three races of the year have resulted in just two round-wins, something Coughlin knows must change if he wants to contest this year's crown.
"We need a couple of good races to get back in the mix," Coughlin said. "I'm talking with Steve (Petty, crew chief) today and the message is going to be, 'Lets do whatever we need to do to pick up the performance of the JEGS.com Corvette.' I know there are things he wants to try and I think now is the time to go for it."
Coughlin is a little more than six rounds behind the top driver in his class but just two rounds off fifth place, making that mark a realistic goal for this weekend. He also has a great history in Englishtown with a win and a pair of runner-up results to his credit.
"I love the track and we've always done well there, so it's a good spot for us to turn this thing around," he said. "We won back in 2005, and that was really cool because it was our first Pro Mod win. The last two years in a row we've reached the final, so we seem to have good mojo in E-town.
"A big part of that is the fans. They are very much into Pro Mod and what we do with these beasts, and their support really lifts your spirits. You want to do well for them."
NHRA handed down a slight rule change since the last Pro Mod race in Atlanta, adding 50 pounds of weight to all cars running the nitrous configuration. Pro Mod cars can use one of three different power adders — nitrous, turbochargers, or superchargers. Coughlin uses turbochargers on his race car; the current points leader utilizes nitrous.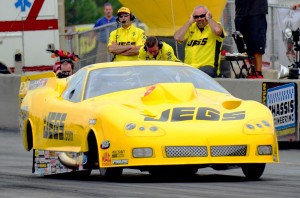 "We're about a tenth behind Rickie (Smith, points leader) and adding 50 pounds to his car probably won't make much of a difference," Coughlin said. "He's done such a good job with that car. I wouldn't think he'll slow down more than a hundredth of a second. Still, he'll have a small window where he'll need to adjust to the weight.
"It's a delicate balance the NHRA has in trying to keep the playing field level with three really different engine combinations. I know after we won the championship in 2012 and they changed the rules for turbo cars, it really set us back. It's taken more than a year to recover. But at the same time the NHRA has made it clear they want to keep us safe, and keeping the cars under 250 mph seems to be the goal. It makes sense, especially with the shorter shutdown areas like they have in Englishtown.
"It will be interesting to see what happens this weekend, but really all we need to do is worry about our race car."
Pro Mod qualifying sessions are scheduled for 3:30 and 5:45 p.m., Friday, and 2:30 p.m., Saturday. Eliminations begin at 5 p.m., Saturday, and will resume at 12:45 p.m., Sunday.
(Photos by Ian Tocher)