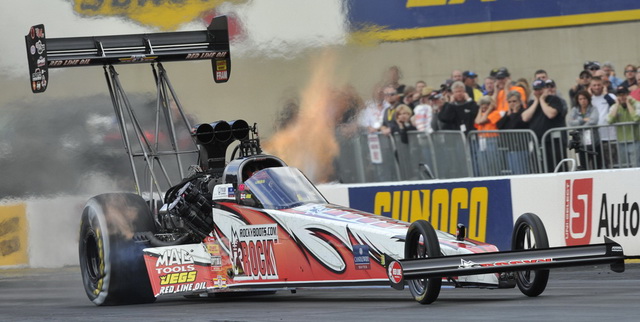 David Grubnic (above) drove his Rocky Boots dragster to a performance of 3.728 at 327.11 mph Oct. 6, at the Auto-Plus NHRA Nationals at Maple Grove Raceway, to earn his first No. 1 qualifying position this season and first since 2008.
Meanwhile, Funny Car title contender Jack Beckman set a national record en route to his fourth No. 1 qualifying position of the season, with Jason Line (Pro Stock) and Eddie Krawiec (Pro Stock Motorcycle) also No. 1 qualifiers in their respective categories at the fourth of six playoff events in the NHRA Full Throttle Countdown to the Championship.
Grubnic's elapsed time tied the quickest Top Fuel run in history, and he could certify it as a national record during Sunday's eliminations when he opens against Canadian driver Ike Maier.
"It's good to be back in the No. 1 spot," Grubnic said. "When I started with Connie [Kalitta] in 2004, we were No. 1 qualifier five times that year, and so it's great to be back in that position. Not only that, but [teammate] Doug Kalitta running 331 miles per hour side-by-side with me. It's great for the team, great for Connie, great for all the guys that work on the car, and great for our sponsors."
Morgan Lucas, who qualified second with a 3.733-second effort in his GEICO/Lucas Oil dragster, set the Top Fuel national elapsed time record on that run. Series points leader Antron Brown was 11th in his Matco Tools dragster with a 3.758 at 325.14 while Spencer Massey, currently second in the standings, was eighth with a 3.763 at 321.12. Four-time Maple Grove winner Tony Schumacher qualified third  in the U.S. Army dragster with a 3.736 at 325.14.
After a dominating performance during Friday's qualifying runs, Beckman powered his Schumacher Electric Dodge Charger to a time of 4.003 seconds in Saturday's first qualifying attempt, which was quick enough to certify his 3.989 effort from Friday as an NHRA national record.
Beckman, who now trails series points leader Ron Capps by only 17, will earn a 20-point bonus if he hangs onto the record following the completion of Sunday's 11 a.m. eliminations.
"We want to win the championship," said Beckman, who will face Mike Smith in the opening round of eliminations. "Some people would tell you they want to win at all costs and I'm not one of those people. We want to win because we did everything right out there and we want the other cars to be at their prime. We'd like to do it the right way."
Cruz Pedregon was second with a performance of 3.997 at 320.58 in his Snap-on Tools Toyota Camry while Mike Neff was third in his Castrol GTX Ford Mustang with a 4.017 at 318.84. Points leader Capps will start eighth in his NAPA Auto Parts Dodge Charger after qualifying with a performance of 4.055 at 317.64. Countdown contender Tim Wilkerson, who had charged from 10th to fifth in the points standings during the first three playoff races, failed to qualify for eliminations in his Levi Ray & Shoup Shelby Ford Mustang.
In Pro Stock, defending world champion and event winner Jason Line raced to his seventh No. 1 qualifying position of the season, 31st of his career in his Summit Racing Chevrolet Camaro with a time of 6.515 at 212.36. Line will race Shane Gray in the opening round.
"Tomorrow should be interesting, and fun to watch," Line said. "Especially if it's cold out and we could set a new national record. Those 20 points could really come in handy."
Pro Stock points leader Allen Johnson was sixth with a 6.545 at 211.49 in his Team Mopar Dodge Avenger and title challenger and St. Louis winner Erica Enders was second in her GK Motorsports Chevy Cobalt with a 6.538 at 211.30.
Pro Stock Motorcycle points leader Eddie Krawiec rode his Screamin' Eagle Vance & Hines Harley-Davidson to his fourth No. 1 of the season with a performance of 6.821 at 196.19, bringing his career total to 13.
"I have a good race day bike," said Krawiec, who will meet veteran rider Craig Treble in the first round. "I think it's just consistently getting it down the track, getting it off the starting line and going. I'm going to do the best I can. I am just going to look for good green lights and I think the rest will come."
Krawiec's teammate Andrew Hines was second on his Screamin' Eagle Harley-Davidson with a 6.824 at 195.85, while the father and son Lucas Oil Buell duo of Hector Arana Sr. and Hector Arana Jr. head into eliminations third and fourth.
(Photos courtesy NHRA/National Dragster, JFR-Nastase; Click to enlarge)
MOHNTON, Pa. — Sunday's first-round pairings for eliminations for the 28th annual Auto-Plus NHRA Nationals at Maple Grove Raceway, the 21st of 23 events in the NHRA Full Throttle Drag Racing Series.  Pairings based on results in qualifying, which ended Saturday. DNQs listed below pairings.
Top Fuel
1. David Grubnic, 3.728 seconds, 327.11 mph  vs. 16. Ike Maier, 4.100, 267.37; 2. Morgan Lucas, 3.733, 330.96  vs. 15. Dom Lagana, 3.922, 318.69; 3. Tony Schumacher, 3.736, 325.14  vs. 14. Terry McMillen, 3.902, 312.35; 4. Doug Kalitta, 3.739, 331.45  vs. 13. Clay Millican, 3.854, 316.97; 5. Shawn Langdon, 3.753, 328.38  vs. 12. Bob Vandergriff, 3.824, 324.90; 6. Brandon Bernstein, 3.758, 326.48  vs. 11. Larry Dixon, 3.818, 316.30; 7. Antron Brown, 3.758, 325.14  vs. 10. Steve Torrence, 3.803, 321.04; 8. Spencer Massey, 3.763, 326.08  vs. 9. Khalid alBalooshi, 3.776, 327.03. Did Not Qualify: 17. Rit Pustari, 4.109, 269.35.
Funny Car
1. Jack Beckman, Dodge Charger, 3.989, 320.58  vs. 16. Mike Smith, Dodge Stratus, 4.203, 276.58; 2. Cruz Pedregon, Toyota Camry, 3.997, 313.80  vs. 15. Todd Lesenko, Charger, 4.125, 299.00; 3. Mike Neff, Ford Mustang, 4.017, 318.84  vs. 14. Tony Pedregon, Camry, 4.116, 306.05; 4. Johnny Gray, Charger, 4.028, 318.99  vs. 13. Bob Tasca III, Mustang, 4.091, 304.12; 5. Courtney Force, Mustang, 4.028, 319.60  vs. 12. Matt Hagan, Charger, 4.074, 311.92; 6. Alexis DeJoria, Camry, 4.032, 319.07  vs. 11. Jim Head, Toyota Solara, 4.063, 307.37; 7. John Force, Mustang, 4.038, 317.79  vs. 10. Robert Hight, Mustang, 4.061, 321.81; 8. Ron Capps, Charger, 4.055, 317.64  vs. 9. Jeff Arend, Camry, 4.057, 318.09. Did Not Qualify: 17. Tim Wilkerson, 4.273, 284.15; 18. Blake Alexander, 7.239, 299.93.
Pro Stock
1. Jason Line, Chevy Camaro, 6.515, 212.36  vs. 16. Shane Gray, Pontiac GXP, 6.623, 208.84; 2. Erica Enders, Chevy Cobalt, 6.538, 211.39  vs. 15. Kurt Johnson, GXP, 6.621, 209.36; 3. Dave Connolly, Cobalt, 6.539, 211.76  vs. 14. Frank Gugliotta, Ford Mustang, 6.596, 209.04; 4. V. Gaines, Dodge Avenger, 6.544, 211.00  vs. 13. Warren Johnson, GXP, 6.595, 210.11; 5. Greg Anderson, Camaro, 6.544, 200.38  vs. 12. Larry Morgan, Mustang, 6.574, 209.59; 6. Allen Johnson, Avenger, 6.545, 211.49  vs. 11. Vincent Nobile, Avenger, 6.567, 211.43; 7. Jeg Coughlin, Avenger, 6.552, 210.37  vs. 10. Ron Krisher, GXP, 6.563, 210.57; 8. Mike Edwards, GXP, 6.561, 211.79  vs. 9. Ronnie Humphrey, GXP, 6.562, 210.77. Did Not Qualify: 17. Lewis Worden, 6.681, 207.05; 18. John Gaydosh Jr, 6.785, 203.68.
Pro Stock Motorcycle
1. Eddie Krawiec, Harley-Davidson, 6.799, 196.56  vs. 16. Craig Treble, Buell, 7.269, 191.13; 2. Andrew Hines, Harley-Davidson, 6.824, 195.93  vs. 15. Wesley Wells, Suzuki, 7.072, 189.98; 3. Hector Arana, Buell, 6.834, 194.46  vs. 14. Michael Phillips, Suzuki, 7.013, 189.82; 4. Hector Arana Jr, Buell, 6.853, 195.70  vs. 13. Shawn Gann, Buell, 6.967, 192.63; 5. LE Tonglet, Suzuki, 6.877, 193.43  vs. 12. John Hall, Buell, 6.963, 188.65; 6. Matt Smith, Buell, 6.885, 194.52  vs. 11. Scotty Pollacheck, Buell, 6.954, 188.99; 7. Chip Ellis, Buell, 6.898, 193.71  vs. 10. Steve Johnson, Suzuki, 6.931, 192.63; 8. Karen Stoffer, Suzuki, 6.902, 192.91  vs. 9. Michael Ray, Buell, 6.910, 191.76. Did Not Qualify: 17. Connie Cohen, 9.365, 110.81.