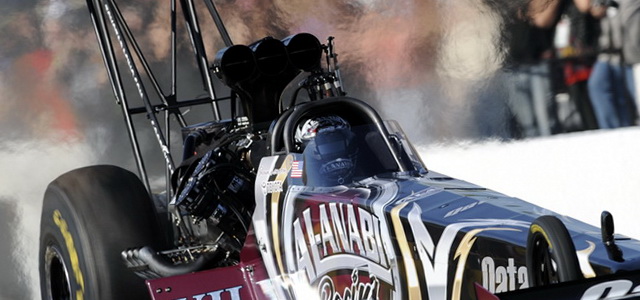 Shawn Langdon (above) earned the No. 1 qualifying position in Top Fuel Saturday at the O'Reilly Auto Parts NHRA Nationals presented by Super Start Batteries. Tim Wilkerson (Funny Car), Vincent Nobile (Pro Stock) and Andrew Hines (Pro Stock Motorcycle) also secured No. 1 qualifying spots in their respective categories at zMAX Dragway for the first of six races in the NHRA Full Throttle Countdown to the Championship playoffs.
Langdon was quickest in the Top Fuel class with a performance of 3.807 seconds at a speed of 324.12 mph in in his Al-Anabi Racing dragster, earning his second consecutive No. 1 qualifying position, third of the season and fourth in his career. He is confident about his team's chances heading into Sunday's noon eliminations. Langdon will race legendary driver Chris Karamesines in the opening round.
"We made a pretty good run on Friday night and got acclimated to a hotter racing surface today," said Langdon, who is seeking his first career victory. "I think tomorrow will be a lot like it was today. We have some work to do to run better in the warmer weather, but [teammate] Khalid alBalooshi made a couple of nice runs today that give us some good info.
"Sheikh Khalid [Al Thani, owner] built this team around winning, and we're hoping to achieve that in a short amount of time. We're heading in the right direction."
Spencer Massey was second in his FRAM dragster with a 3.811 at 322.73 and Mac Tools U.S. Nationals winner Tony Schumacher was third in his U.S. Army dragster with a 3.817 at 320.05. Top Fuel's No. 1 seed for the playoffs, Antron Brown, qualified 10th and will face Khalid alBalooshi in the opening round.
Wilkerson drove his Levi, Ray & Shoup Ford Shelby Mustang to a performance of 4.048 at 309.70 to claim his first top qualifying position of the season and 17th of his career. He will face rookie Todd Lesenko in the first round.
"Starting the Countdown with a couple of points and a No. 1 qualifier is a big step in the right direction," Wilkerson said. "You go into the Countdown in 10th place, and there's nowhere to go but up. We're real excited to be here. I told my guys when we started this deal that we need to win two rounds per weekend. All those rounds will add up to where they'll have to contend with us in Pomona."
Former zMAX winner Jack Beckman was second with 4.082 at 306.53 in his Valvoline NextGen Dodge Charger, while U.S. Nationals winner Mike Neff was third in his Castrol Ford Mustang with a 4.093 at 313.44. In one of the most interesting first round matchups, No. 6 qualifier Courtney Force will face her father, 15-time world champ John Force. Funny Car top seed Ron Capps qualified fourth in his NAPA Auto Parts Dodge Charger.
In Pro Stock, Vincent Nobile claimed his first career No. 1 qualifying position by powering his Mountain View Tire Dodge Avenger to a performance of 6.548 at 211.03. He will race Lewis Worden in the first round.
"My team and I are ecstatic for our first No. 1," Nobile said. "The car is just running really good. Like I said yesterday and today it performed just as well.  Honestly, today we were No. 1 for the first session and Q 4 I actually goofed up a little bit with the burnout, which we might have even been No. 1 for that session as well. We still took the pole position for the weekend, so we're happy about that and looking forward to tomorrow."
Defending world champion Jason Line and NHRA Four-Wide Nationals winner Greg Anderson were second and third in their Summit Racing Chevy Camaros. Countdown top seed Allen Johnson was fourth in his Team Mopar Dodge Avenger with a 6.563 at 211.23 and will face four-time world champ Jeg Coughlin in the opening round.
Hines earned his third No. 1 qualifying position of the season and 33rd of his career in Pro Stock Motorcycle. He topped the two-wheel category with a performance of 6.851 at 195.82 on his Screamin' Eagle Vance & Hines Harley-Davidson. Hines will open with a bye run as only 15 motorcycles are qualified.
"I have never had a planned bye run in the first round," Hines said. "I've had opponents break before staging a couple of times and the starter would walk over and give you the No. 1 finger. To actually know going into tomorrow that we have a bye run is kind of nice.
"It's unfortunate for the class that we didn't have a full field, but to have the chance to learn for a tune-up first round  and take a stab at something that we may not try first round on Sunday is going to be beneficial to us."
Playoff top seed Eddie Krawiec was second on his Harley-Davidson with a 6.853 at 195.51, and Hector Arana Jr. was third on his Lucas Oil Buell with a 6.854 at 195.14.
(File photos courtesy NHRA/National Dragster; Click to enlarge)
CHARLOTTE, N.C. — Sunday's first-round pairings for eliminations for the Fifth annual  O'Reilly Auto Parts NHRA Nationals presented by Super Start Batteries at zMax Dragway, the 18th of 23 events in the NHRA Full Throttle Drag Racing Series Countdown to the Championship.  Pairings based on results in qualifying, which ended Saturday. DNQs listed below pairings.
Top Fuel
1. Shawn Langdon, 3.807 seconds, 324.12 mph  vs. 16. Chris Karamesines, 3.981, 301.27; 2. Spencer Massey, 3.811, 322.73  vs. 15. Terry McMillen, 3.981, 308.78; 3. Tony Schumacher, 3.817, 320.05  vs. 14. David Grubnic, 3.916, 303.09; 4. Doug Kalitta, 3.818, 326.95 vs. 13. Clay Millican, 3.896, 313.07; 5. Brandon Bernstein, 3.822, 321.04  vs. 12. Cory McClenathan, 3.887, 318.32; 6. Morgan Lucas, 3.833, 321.35  vs. 11. Larry Dixon, 3.886, 311.99; 7. Khalid alBalooshi, 3.838, 322.81  vs. 10. Antron Brown, 3.861, 319.22; 8. Bob Vandergriff, 3.842, 322.73 vs. 9. Steve Torrence, 3.846, 322.50.
Did Not Qualify: 17. Ike Maier, 3.990, 308.43; 18. Dom Lagana, 4.078, 280.84; 19. Pat Dakin, 4.086, 257.43.
Funny Car
1. Tim Wilkerson, Ford Mustang, 4.048, 309.70  vs. 16. Todd Lesenko, Chevy Impala, 4.313, 278.98; 2. Jack Beckman, Dodge Charger, 4.082, 309.56  vs. 15. Alexis DeJoria, Toyota Camry, 4.209, 295.79; 3. Mike Neff, Mustang, 4.093, 313.44  vs. 14. Johnny Gray, Charger, 4.182, 300.66; 4. Ron Capps, Charger, 4.096, 308.21  vs. 13. Jim Head, Toyota Solara, 4.137, 303.03; 5. Cruz Pedregon, Camry, 4.098, 305.08  vs. 12. Tony Pedregon, Camry, 4.133, 302.62; 6. Courtney Force, Mustang, 4.109, 309.70  vs. 11. John Force, Mustang, 4.133, 308.50; 7. Robert Hight, Mustang, 4.116, 308.99  vs. 10. Jeff Arend, Camry, 4.128, 308.21; 8. Matt Hagan, Charger, 4.123, 302.89  vs. 9. Bob Tasca III, Mustang, 4.124, 307.09.
Did Not Qualify: 17. Bob Gilbertson, 4.321, 284.33.
Pro Stock
1. Vincent Nobile, Dodge Avenger, 6.548, 211.03  vs. 16. Lewis Worden, Ford Mustang, 6.676, 207.15; 2. Jason Line, Chevy Camaro, 6.554, 211.63  vs. 15. Frank Gugliotta, Mustang, 6.650, 207.78; 3. Greg Anderson, Camaro, 6.560, 211.66  vs. 14. Shane Gray, Camaro, 6.629, 209.79; 4. Allen Johnson, Avenger, 6.563, 211.56  vs. 13. Jeg Coughlin, Avenger, 6.607, 209.88; 5. Mike Edwards, Pontiac GXP, 6.564, 212.23  vs. 12. Ronnie Humphrey, GXP, 6.606, 210.24; 6. Erica Enders, Chevy Cobalt, 6.566, 210.77  vs. 11. Warren Johnson, GXP, 6.598, 209.82; 7. Ron Krisher, GXP, 6.580, 210.50  vs. 10. Larry Morgan, Mustang, 6.595, 209.46; 8. Dave Connolly, Cobalt, 6.582, 210.70  vs. 9. V. Gaines, Avenger, 6.592, 210.64.
Did Not Qualify: 17. John Gaydosh Jr, 7.011, 197.16; 18. Kurt Johnson, 8.002, 209.17.
Pro Stock Motorcycle
1. Andrew Hines, Harley-Davidson, 6.851, 195.82  vs. Bye; 2. Eddie Krawiec, Harley-Davidson, 6.853, 195.85  vs. 15. LE Tonglet, Suzuki, 7.106, 187.16; 3. Hector Arana Jr, Buell, 6.854, 195.14  vs. 14. Chip Ellis, Buell, 7.062, 189.73; 4. Hector Arana, Buell, 6.881, 194.66  vs. 13. Michael Phillips, Suzuki, 7.008, 191.00; 5. Matt Smith, Buell, 6.912, 193.35  vs. 12. Steve Johnson, Suzuki, 6.997, 189.15; 6. Michael Ray, Buell, 6.931, 192.66  vs. 11. Jim Underdahl, Suzuki, 6.993, 192.41; 7. John Hall, Buell, 6.941, 191.21  vs. 10. Scotty Pollacheck, Buell, 6.971, 190.11; 8. Karen Stoffer, Suzuki, 6.963, 192.11  vs. 9. Shawn Gann, Buell, 6.963, 192.74.