Leah Pritchett and her new Papa John's Pizza Top Fuel dragster with crew chief Todd Okuhara and assistant Joe Barlam headed west for three days of testing with six other Don Schumacher Racing teams.
The second-year team arrived at Nitro Spring Training at Wild Horse Pass Motorsports Park near Phoenix optimistic when it made its shakedown runs on Thursday but were not planning on a historic run.
That, however, ended on Saturday when Pritchett wasn't only the quickest among the top NHRA Mello Yello nitro teams at the test, but she recorded the unofficial quickest elapsed time in drag racing history with a run of 3.654 seconds at 331.85 mph. It also is the first time she exceeded 330.
It certainly wasn't a fluke as the Papa John's team had the three of the four best runs over three days including 3.677 and 3.685 runs on Friday. The team added a 3.691 on Saturday.
"I have to be totally honest, we didn't come out here to be the quickest," said Pritchett, who won her first Top Fuel event at Wild Horse Pass in 2016. "That wasn't the goal. The goal was to get the power that we created in the offseason to the track. We exceeded our expectations (Friday and Saturday). For it to blast off a .65 on a warmer day than Friday, man I'm stoked for (my team), that's a lot of hard work and they just put it on the track."
In Funny Car, reigning NHRA Funny Car world champion Ron Capps and DSR's NAPA AUTO PARTS 2017 Dodge Charger R/T led by crew chief Rahn Tobler was the second quickest driver at Wild Horse with a best run of 3.854 seconds and followed with a 3.861 on Friday, and is NAPA AutoCare Center crew with assistant Eric Lane once again showed the consistency that produced a series-best five event titles and his first world championship last year.
In less than a week, he will get to compete with the No. 1 on the side of his NAPA Dodge powered by Pennzoil for the first time and it will be at his home track in Pomona, Calif., where he also will return as the defending winner of the NHRA Winternationals to open the 24-race Mello Yello Drag Racing Series season.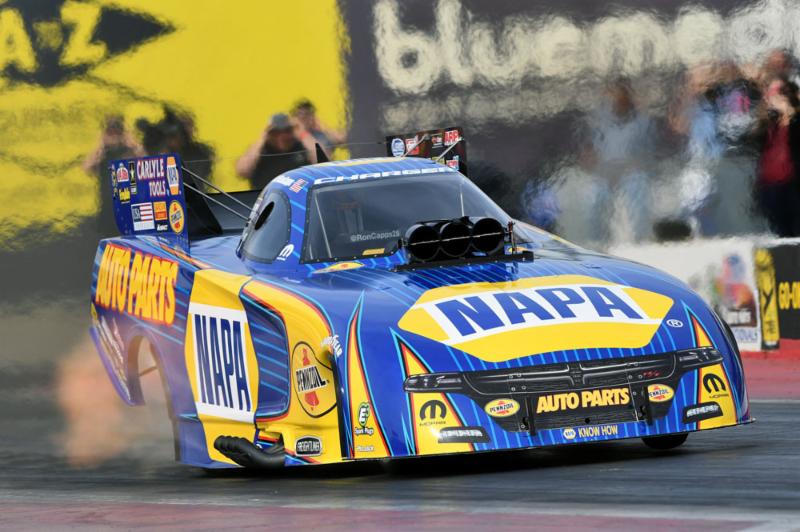 "This year is no different. It was great to win a world championship and it's another feather in the cap for Tobler and the crew. Hopefully we'll start of off the season in Pomona like we did last year with a win and go on to have a good season."
After several shakedown runs on Thursday, the NAPA Dodge posted runs of 3.854 and 3.861 seconds
on Friday before shifting back to more of a testing mode on Saturday.
The Mello Yello season opens Friday with the NHRA Winternationals at Auto Club Raceway at Pomona with championship eliminations to air LIVE 4 p.m. (ET) Sunday on the Fox Network. Pro qualifying will be on FS1 at 7 p.m. Friday, and live on FS1 at 1 p.m. Saturday. (All times are Eastern.)
DRIVERS' BEST TIME
TOP FUEL
3.654 LEAH PRITCHETT
3.691 Steve Torrence
3.695 Brittany Force
3.697 Doug Kalitta
3.701 ANTRON BROWN
3.705 TONY SCHUMACHER
FUNNY CAR
3.803 Courtney Force
3.854 RON CAPPS
3.856 John Force
3.859 Robert Hight
3.874 JACK BECKMAN
3.874 MATT HAGAN
3.892 TOMMY JOHNSON JR.