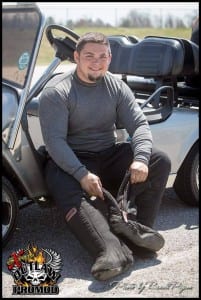 Ty Tutterow, son of Pro Extreme racer Todd "King Tut" Tutterow, made his Pro Mod debut Apr. 4, at the Extreme Outlaw Pro Mods (EOPM) Spring Nationals at Virginia Motorsports Park. In an impressive first outing, the 20-year-old driver from Lewisville, NC, qualified fifth with a 3.84-seconds elapsed time at 192 mph to take on Chris Patrick in the opening round of eliminations.
Tutterow blasted out a 3.85 at 192 to take the win over Patrick and secure lane choice for the semi finals against Jay Cox. Tutterow left with a holeshot on Cox and led to half track, but his 3.84 ET, again at 192 mph, wasn't quite enough to hold Cox's 3.76 at 199-mph pass.
Regardless, Tutterow was pleased with his first outing in the GALOT Motorsports '69 Camaro.
"I never thought that I would get the opportunity to drive a Pro Mod. It gives you a new respect for just how much power that a Pro Mod car has and how it feels to try and get a handle on it," he said. "I need to thank my dad for tuning for me, my mom for buckling me in the car and praying for my safety and the rest of my crew, Greg Vogler, Kristian Blackburn, Wayne and Jake Bailey."
His father, who also serves as crew chief, was equally happy with the effort and results he saw.
"We are very proud of Ty's performance this weekend, he did everything I asked of him," Todd Tutterow said. "I just didn't have enough for him, but we will be ready for the next EOPM race."