The winningest team in NHRA history celebrates a milestone 20th anniversary this weekend at the NHRA U.S. Nationals. Don Schumacher Racing (DSR) has enjoyed a tradition of success since making its official NHRA debut during the 1998 Indianapolis event 20 years ago.

A fierce Funny Car match racer during the 1970s, drag racing pioneer Don Schumacher, winner of the 1970 U.S. Nationals Funny Car title, had no intention of returning to the sport after he left in 1974 to focus on his young family and expanding the family business, Schumacher Electric Corporation.

Fast forward to the mid-1990s when future world champion and son Tony Schumacher, who was driving his way through the NHRA ranks at the time, approached his father about getting back into drag racing. With a little convincing, the seed was planted, and Don Schumacher Racing was born. With Tony Schumacher behind the wheel of the Exide Batteries Top Fuel dragster, the one-car team took to the track for the first time during the 1998 Indianapolis event and never looked back. The precedence for success was set, and under Schumacher's leadership, Tony Schumacher went on to race to Indy victory an unparalleled ten times, becoming the winningest driver in Lucas Oil Raceway history.

Now a nine-car operation consisting of three Top Fuel dragsters, four Funny Cars and two Factory Stock Dodges, Schumacher can hardly believe how far his team has come in 20 years.

"I never imagined that I would be running more than one team," said an astounded Schumacher as he reflected on the growth of his organization since committing to team ownership 20 years prior.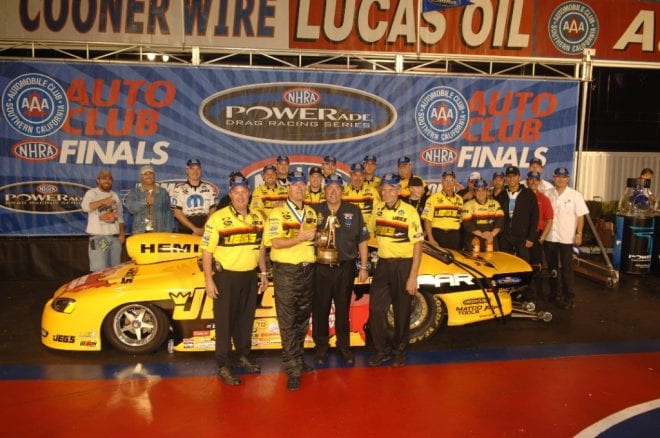 "Never imagined that I'd be running Top Fuel, Funny Car, Pro Stock Motorcycle and Pro Stock during those years, and now I have two Factory Stock cars that we run in the Shootout series. My operation has grown way beyond anything I ever imagined. Never thought I'd have more than one Top Fuel team out there for Tony to drive but I'm a businessman, and it was the right thing to do for DSR. It's been the right thing to do for NHRA, and the right thing to do for the fans."

Over the span of two decades, DSR has gone on to win 16 world titles, 329 national event victories and has reset countless track and national records. Off the track, Schumacher set the bar for the way in which many NHRA teams now operate. A thriving fabrication, machine and CNC shop, parts supply business, corporate hospitality program, B2B-driven partnerships and a self-contained staff which includes an in-house graphic designer, large-scale printer, culinary team, I.T. department, show car operation and a public relations and marketing team, among others, have been implemented under Schumacher's management.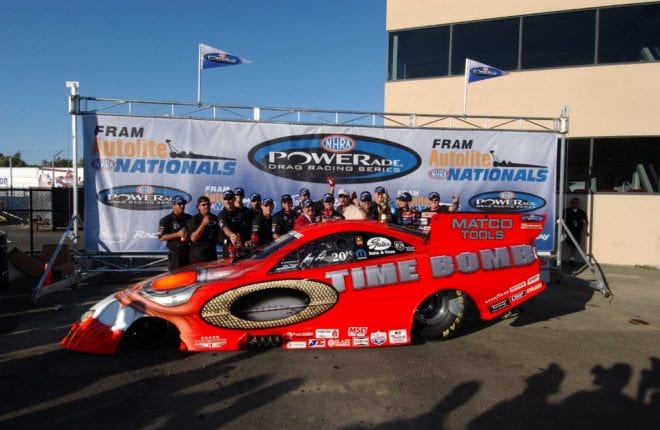 "I've had a solid sponsor group all along which has allowed me to go from renting a little bit of space in Indianapolis to buying a 40,000-square foot facility on 38th Street (in Indianapolis) to building a 100,000-square foot one-story shop which all of a sudden had seven teams in it. It's grown beyond any dream I ever had," said Schumacher of the transition from his first foray into a racing headquarters to the two-story 145,000-square foot state-of-the-art Brownsburg, Ind. facility of today.

"To say that it's now 145,00-square feet, that really surprises me. To think that it's that big and that we occupy all of it, and all of the things that we do there to take care of our teams and other teams out here in NHRA is just incredible."

The road to 20 years has been paved with memorable moments for the owner of the largest team in drag racing history, but when asked which stands out among the others, the International Motorsports Hall-of-Famer didn't hesitate to recall upon the moment his son won the 2006 Top Fuel world championship in dramatic fashion.

"'The Run' at Pomona (November 2006) when Tony in the U.S. Army car beat Melanie Troxel in the other lane, which was also one of my Top Fuel cars at that time, that's the one that really stands out. With that run, he won the race and reset the national record, and because of both of those things, winning the race and resetting the national record, that's what caused Tony to win the world championship that year."

Schumacher is the first to admit – winning is important to him; it drives him. If it were up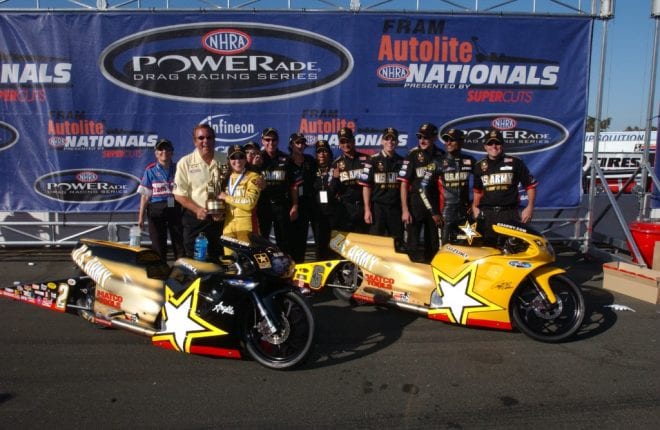 to him, he'd win every race and reset a record each weekend, but the decorated team owner's contributions off the track are just as impressive. Schumacher's commitment to improving safety procedures has been well-documented, most notably with the development and utilization of the Top Fuel cockpit canopy and most recently, with his team-wide brain pledge to the Concussion Legacy Foundation. And while some may only know him to be a 'mega team' owner, Schumacher has quietly long been a champion of 'the little guy,' helping one-car and smaller budget teams whenever possible, lending parts, pieces and manpower to keep them on the track.

"I have to go back to my younger years, long before I got into drag racing," said Schumacher of why he considers it so important to help the smaller teams. "I was always kind of a caretaker. I always wanted to help everybody else, and that's what I still do today. I still enjoy helping people. I love the people in this sport, I love the competition, I love racing, and I'm a businessman. To help those teams out here so we have a more robust competition field, I'm happy to do."

At this weekend's 64th annual NHRA U.S. Nationals, Schumacher will campaign all nine of his entries, and hopes to celebrate DSR's 20th anniversary by adding three more Wally trophies to his incredible win total.
DSR By the Numbers:
16 world titles
Tony Schumacher, 1999, 2004-2009, 2014
Antron Brown, 2012, 2015, 2016
Ron Capps, 2016
Jack Beckman, 2012
Matt Hagan, 2011, 2014
Gary Scelzi, 2005

329 national event wins
Top Fuel, 160
Funny Car, 148
Pro Stock Motorcycle, 18
Pro Stock, 3
A winning tradition at the NHRA U.S. Nationals – In the past 18 years, DSR drivers have raced to victory 15 times
Tony Schumacher (10) 2000, 2002 – 2004, 2006 – 2009, 2012, 2016
Antron Brown (2) 2004, 2011
Matt Hagan, 2016
Jack Beckman, 2015
Whit Bazemore, 2001

Note: Indy win count reflects total victories during DSR tenure