Amidst one of the most competitive seasons in NHRA J&A Pro Mod Series history, Danny Rowe and teammate Steve Matusek roll into the seventh race on the 10-race Pro Mod tour, the 62nd annual Chevrolet Performance NHRA U.S. Nationals. The Danny Rowe Racing drivers spent three days testing this week in preparation for the prestigious Labor Day event.
"We look forward to this race all year, every year," says Rowe, who enters the weekend sitting ninth in NHRA Pro Mod points standings. "The U.S. Nationals is the biggest drag race on planet Earth. You can't help but get excited when you pull into the gates at Indy. The intensity ratchets up for everyone – drivers, crew chiefs, and the crew members."
After nearly two months away from the racetrack, the Agave Underground team decided to kick off race week with a rigorous test session at Gateway Motorsports Park.
"We spent three days testing in St. Louis to make sure the Agave Underground and Aeromotive Pro Mods are ready for this race. It was great for us – Jimmy Rector [crew chief] and all of our guys – to get back into the rhythm of things after having a couple months off. We haven't been on track since our last race in Norwalk, so I was glad to be able to let the clutch out a few times," added Rowe, a five-time NHRA Pro Mod event winner.
Steve Matusek, driver of the Aeromotive Fuel Systems 1968 Camaro, is currently fourth in points after consistently qualifying and winning rounds at the six previous NHRA J&A Service Pro Mod Series races. He's in a good position to take his supercharged entry around the nitrous-assisted and turbocharged competitors ahead of him, but he realizes it won't be an easy task with the level of competition on hand for the U.S. Nationals.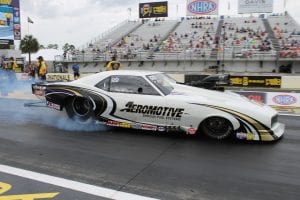 "We had a productive few days of testing; the cars performed well. As Danny said, the most important thing is to get everybody back into the rhythm of a race weekend. Considering the weather and the caliber of tracks that the NHRA Safety Safari consistently provides us with, I think we're in for one extremely competitive weekend with some really fast, side-by-side racing. Some of the best Pro Mod teams in the world will be going home after qualifying is over, and that says a lot about what the NHRA Pro Mod Series has become," Matusek noted.
Danny Rowe and Steve Matusek, drivers of the Agave Underground Tequila Pro Mods, will take to Lucas Oil Raceway at Indianapolis for the 62nd annual Chevrolet Performance NHRA U.S. Nationals Friday, Sept. 2, 2016 at 6:30PM EST for the opening round of qualifying. Qualifying will continue on Saturday, Sept. 3, 2016, with additional qualifying sessions at 2:00PM EST and 5:15PM EST. A fourth and final round of qualifying is scheduled for Sunday, Sept. 4, 2016 at 1:45PM EST followed by the first round of eliminations at 5:30PM EST. Eliminations will continue on Labor Day, Sept. 5, 2016.
Fox Sports will air their NHRA J&A Service Pro Mod Series coverage from the Chevrolet Performance NHRA U.S. Nationals on Thursday, Sept. 22 at 9:30PM EST on Fox Sports 2.