A huge amount of horsepower was in the house for the Summit Racing Equipment Shakedown at the Summit presented by Mickey Thompson Performance Tires & Wheels, Sept. 13-16 at Summit Motorsports Park in Norwalk, Ohio.
Drivers turned the wicks way up for a chance to win $166,350 across the categories, and as a result, there were wild wheelies and wild passes all weekend long on the track prepped by Total Venue Concepts' Kurt Johnson, as well as Jake Green and Summit Motorsports Park's Sam Lance and crew.
In Aeromotive Fuel Systems Pro Mod, where $40,000 awaited the winner, Carl Stevens drove Jim Bell's Camaro to a 5.64 to set the set the pace and was prepared to push through the rounds, but slapped the wall in the first round of eliminations, ending his weekend. Making it all the way to the final were Melanie Salemi and her Firebird and Dave Norris and his Corvette, and after abundant anticipation, Salemi sailed to a 5.72 to win on a solo run after Norris' car leaked fluid.
"Shakedown is one of our favorite races, and we usually have good luck here," said Salemi. "We were the runner-up at this race in 2016, so it was nice to win it this year. The competition was great, our car was making consistent runs and it was an awesome weekend."
In Holbrook Racing Engines Top Sportsman, Louis Oulmotte landed a 6.31 to lead qualifying, but on race day, Ronnie Proctor and Badeye Brinegar battled in the final round, and Proctor pulled out the win with a 6.78 on a 6.77 and a better reaction time over Brinegar's 6.82 on a 6.82.
Mark Woodruff wheeled to a 3.83 in his Corvette to lead Speedwire Systems Radial vs. The World in qualifying, but David Adkins, who set records for the quickest quarter-mile ET and fastest mph for an LS-powered car in his Camaro with a 6.03 at 243.63 and a 5.975 at 243.11 mph in testing on Thursday before moving to his Impala for competition, advanced to the win with a 4.13 on a solo pass when his competition couldn't make the call.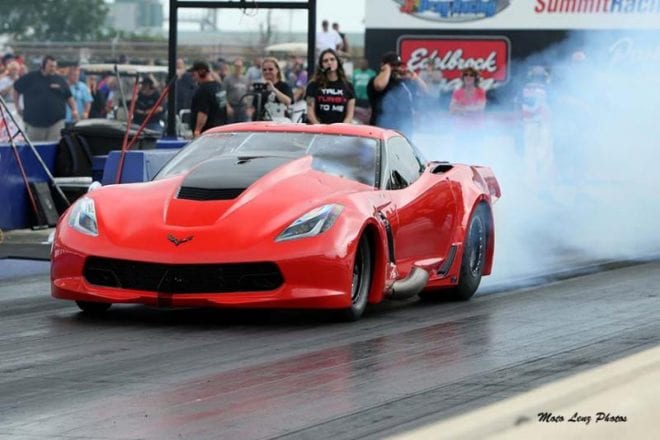 The always-outstanding Atomizer Racing Injectors Outlaw 10.5 saw Mike Decker III motor to a 3.83 to lead qualifying in his Corvette, but the final round spotlighted Mo Hall and Ken Quartuccio and their Corvettes, and Quartuccio hung on for the win with a 3.86 over Hall's 3.95.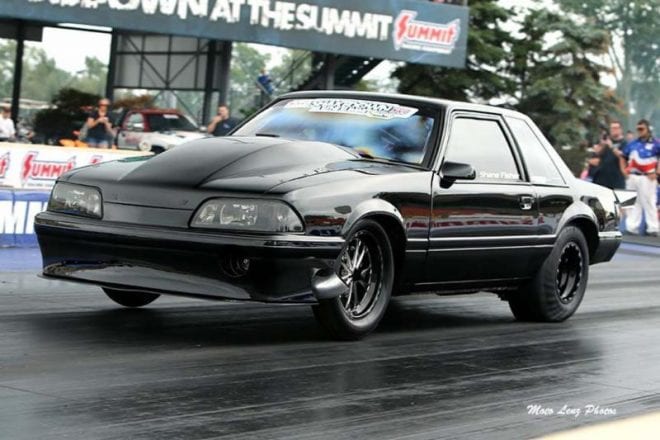 In Wiseco X275, J.D. Campbell cruised to a 4.47 in his Camaro to set the pace in qualifying, but the fiercely-tight final round featured Shane Fisher and his Mustang and Jimmy Plimpton Jr. and his Fairmont, and Fisher flew to a 4.43 to win over Plimpton Jr.'s 4.45.
Callies Performance Products Pro Street saw Charlie Cooper cruise to a 4.35 in his Mustang to lead the powerful pack in qualifying, and he made it all the way to the final round to rumble against Randy Darocy and his Mustang. Cooper collected the win with a 4.33 to Darocy's 4.58.
In UPR Products Ultra Street, Mike Thompson took the lead in qualifying with a 4.70 in his Camaro, and he was as consistent as he was quick in the final, where he won with a 4.71 while Rodney Ragen ran to a 4.83 in his Mustang to runner-up.
DXP235 was a new addition to the categories for this year's event, and in it, Jonathan Insley posted a 5.19 in his Mustang to lead qualifying, but taking it all the way to the final round were Martin Connelley and Austin Keen. When the tree came down, Connelley was first to leave the line and won on a holeshot with a 5.27 in his Mustang while Keen was 5.25 in his Regal.
Another new addition was the high-revving Holbrook Racing Engines Factory Stock, which saw Chris Holbrook wheelie his way to an 8.15 in his Mustang Cobra Jet to lead qualifying. He continued to wheelie his way to round wins, and ultimately wound up in the final against Glenn Pushis and his COPO Camaro. There, Holbrook hightailed to the win with an 8.11 after Pushis turned on the red light and ran to an 8.21.
In Trick Flow Specialties Open Comp, A.J. Buchanan, who flies Trick Flow Specialties banners on his Mustang, won with a 10.12 on a 10.10 over Eric Bowman, who was 10.18 on a 10.16 in his Firebird.
A special feature of the event was the G-Force Race Cars/Resolution Racing Services Money Shot, designed to recognize the quickest participating Aeromotive Fuel Systems Pro Mod driver with $5,000 after qualifying. Standout drivers Carl Stevens, John Stanley and Don Walsh Jr. gave it a go — and thrilled fans in the process — and when it was all said and done, Carl Stevens drove Jim Bell's Camaro to a 5.63 to collect the cash and the kudos.
Another special feature of the event was the Horsepower Wars $10K Drag Shootout, for which teams were given $10,000 to buy, build and race a car in 10 days. Lyle Barrett and Team Bigun took the win with an 8.51, while Dwayne Gutridge and Comp Cams Dream Team took the runner-up with an 8.68.