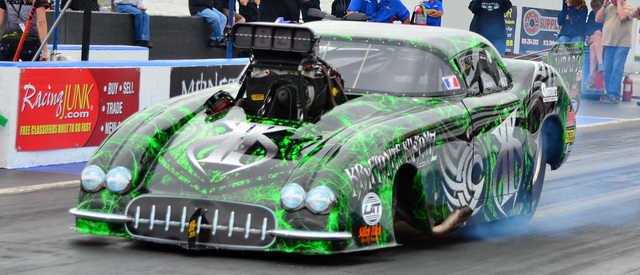 Brandon Pesz drove his Garret Race Cars-built 1958 Corvette (above) to the Pro Extreme win Apr. 7, in the debut event for the X-treme Drag Racing League (XDRL) at Tulsa Raceway Park in Oklahoma.
Pesz, from The Woodlands, Texas, qualified third, directly behind teammate and car owner Todd Martin in his own Garret-built '68 Mustang. Also driving Garret Race Cars entries in the 16-car Pro Extreme field were Randell Reid, who qualified sixth with his '57 Chevy, and 11th-place starter Mike Recchia in the competition debut of his '67 Camaro.
That Martin was racing at all was a testament to the Garret Race Cars crew in Marble Hill, Missouri, who worked through the recent Easter weekend to repair damage from a testing crash at the Tulsa track just days earlier.
"The whole front clip and rear quarter panel was pretty badly torn up; there was quite a bit of damage," said Garret Livingston, founder and president of Garret Race Cars. "We had an awful lot to do and I want to thank my guys for all the work they put in to get Todd back out there in time for the race. We've been working pretty much around the clock as it is, so to put that on top of everything, well, I just appreciate the extra effort.""
Reid and Recchia faced off in round one of racing, with Reid earning the win, but he met up with Pesz in round two, while Martin made it as far as the semis before also falling to Pesz. In the final round, Pesz outdistanced Tim Tindle for his career-first pro class win with a 3.769 pass at 198.88 mph.
"It means a lot to us whenever one of our customers win and I want to congratulate Brandon and Todd and the rest of their team on winning the very first XDRL race; that's a pretty big deal," Livingston said.
"I also want to congratulate all of our Garret customers at Tulsa because they all did a great job and I appreciate every one of them. I just wish they didn't have to race each other so much!""
Several Garret Race Cars entries will be on the track this weekend (Apr. 13-14), at South Georgia Motorsports Park for the ADRL Hardee's Georgia Drags VII, including past Pro Extreme world champions Jason Scruggs and Bubba Stanton, along with Tommy Franklin in Pro Nitrous.
"Hopefully our customers will experience just as much success this weekend with the ADRL as they did last weekend with the XDRL, because only their success can count as our success," Livingston said.
(Photos by Ian Tocher; Click to enlarge)