What was supposed to be a celebration of an ultimate triumph to close out the 2019 NHRA Pro Stock season didn't exactly start that way for Erica Enders.
She arrived in Pomona for the NHRA World Finals with a comfortable 92-point lead over teammate Jeg Coughlin Jr. – a nod to the performance of the Elite Motorsports teammates in the Countdown to the Championship – but on Friday of arguably the biggest weekend of the year, Enders was, well, seething.
She had heard talk of rival KB Racing trying to intentionally race their way into a first-round matchup with Enders, even if it meant clicking off early to face the points leader.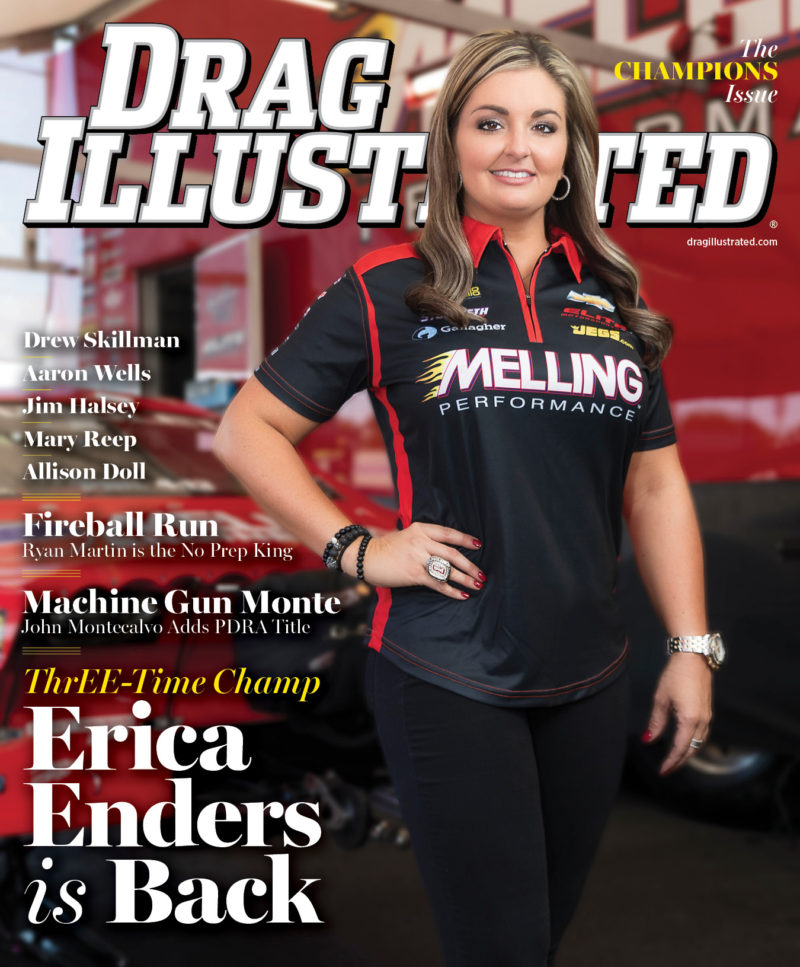 It's not illegal and it is commonplace at the sportsman level – something Enders' sportsman brethren talked with her about during the weekend – but it's certainly unconventional in the pro ranks.
So while Enders qualified second with a stout 6.538-seconds at 210.93 mph in her Melling Performance/Elite Motorsports Chevrolet Camaro, longtime nemesis Greg Anderson clicked off to a 6.646 at 187.73 to qualify 15th in an unbelievable stroke of qualifying luck for their talented team.
It put Anderson against Enders, keeping his teammates Jason Line and Bo Butner alive in the title chase should he pull the upset.
No matter how it went down, though, it didn't sit well initially with Enders, who admitted her emotion on Friday had to change if the weekend was to go like she hoped.
"I was really mad on Friday and then I'm like, 'Look, you cannot control what they're going to do' – that's what I preach all the time," Enders says. "I can control what I do and what our team does in our car, so Saturday I kind of woke up with a different attitude. I'm like, 'You know what, if you want to race in the first round you better bring it.' That was the kind of attitude I had on Friday and Saturday."
As the layers were peeled back, it turned into the makings of something special. Anderson deliberately held back to force the matchup and help his teammates, while Enders got an opportunity for a career-defining moment with a third world title on the line.
Anderson and Enders traded barbs after qualifying, and even shared the stage Sunday morning to promote their marquee matchup. You could cut the tension with a knife, but Enders was laser focused, even as the magnitude of it all continued to rise.
It had been brewing all weekend, which made the buildup to this must-see matchup utterly fascinating.
Enders admitted feeling the "weight of the world" on her shoulders, but this marked a chance for a career-defining moment, much like beating Line in a winner-take-all final round in Pomona in 2014 was.
How Enders balanced it all would determine her fate, which is why there was a noted change in her mindset from anger on Friday into positivity on Saturday to recognizing the opportunity on Sunday.
"If it's a negative attitude, it's negative energy and it's not just me. It trickles down to my team. So, I think it was extremely important that I changed my mindset," Enders says. "There were a couple key factors in that, you know, from my dad [Gregg] who's always been my positive mental attitude coach to my sister's [Courtney] I-don't-give-a-crap attitude. What [team owner] Richard [Freeman] told me helped and even some sportsman friends as well. They helped me see, 'Hey, we do this every weekend, like it's not that big of a deal.'
"So, I think all of these things are contributing factors to me, changing my mindset but I also knew that I had to in order to win because 90 percent of this thing is mental. So, you have to believe it to be it, and when I woke up, I believed that we were going to be 2019 world champion. We just had to execute and that's exactly what we did."
While the buildup was remarkable, the race was even better.
With all eyes on the pairing, both drivers and teams delivered in every way imaginable.
Anderson and Enders faced off in the next-to-last matchup of the round, with Enders posting a strong .017 reaction time. She had the lead by the time the two Pro Stock icons passed the tree, but it was incredibly close throughout.
When the two Camaros crossed the finish line, Enders was a mere 16 inches ahead, with her 6.570 at 210.41 topping Anderson's 6.575 at 210.31 in a matchup for the ages.
What followed was an explosion of emotion on the starting line. Rick Jones, the normally stoic crew chief, was jubilant, while Freeman vigorously pumped his fist and let loose a yell as the team rejoiced in a manner usually only reserved for championship-clinching victories.
On the top end, Line was dejected as he watched, while Enders pounded the wheel in excitement. In a matter of 6-and-a-half seconds the race was done, but the moment will live forever.
"You know, it was a great drag race, I mean we're thousands apart on the tree and 5 thousandths apart at the finish line. I am so thankful that that the win went our way because it could've very well went differently," Enders says. "My guys just rise to the occasion and I try to do the same. It was crazy. I mean, I loved it and I was more pumped up that round than the second round when we won the championship. It's definitely a big moment in my career and obviously was the deciding factor in winning our third world championship."
Of course, that victory wouldn't have mattered as much if Enders slipped a round later, but that wasn't the case. She was brilliant again on the starting line, going .019 to beat Chris McGaha on a holeshot.
It gave Enders her third world title and a chance to reflect on what an emotion-filled ride it's been for the last four years.
In a span that has embodied her adversity-filled career, Enders and her team battled their share of valleys to rise back to the top in 2019, giving further credence that Enders is one of the best to ever to do it in drag racing.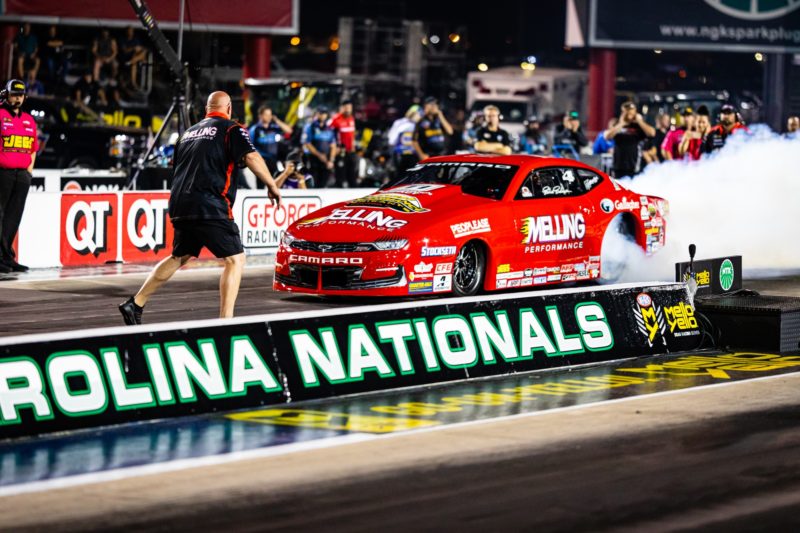 The story of Enders' career may be best defined by how she's pushed so hard through the valleys. The end results have always been the peaks – the first Pro Stock win, the back-to-back titles, the 2019 championship – but none of them came without experiencing the low moments first.
There was just getting into the class, finding funding, being the lone female in a male-dominated class, suffering heartache after heartache in six final-round appearances over seven years before finally breaking through in 2012.
There was the nasty breakup with Cagnazzi Racing – a sequence of events that still sours Enders – before Freeman came along in 2013, forming a dominant team that won 15 times in two years and crushed foes in 2015 to clinch back-to-back championships.
But what followed the 2015 title was a significant valley that took four years and all of the team's mettle to dig out of. Following the dominant run in 2015, the team signed with Mopar for the next season, a year that also included the introduction of electronic fuel injection (EFI).
To say it was an ill-fated season would be an understatement. The team struggled just to qualify, finishing ninth in points and winning just 12 rounds. They moved back to Chevrolet heading into 2017, but it remained a game of catch-up as Enders won once that year en route to a sixth-place finish.
She made a big leap a year ago, advancing to seven finals and winning once to finish fourth, but the team was still looking for the dominant performances that dotted the 2014 and 2015 campaigns.
Yet, Enders saw a group that never changed, never wavered and never gave up on getting back on top. From the outset, it was a group decidedly different than anything she had ever been a part of – and it made every difference in the world.
"The tough times make you stronger and what we went through those years would've torn a lot of teams apart," Enders believes. "There's no ego in our pit and there's no finger-pointing, it's always we just work together.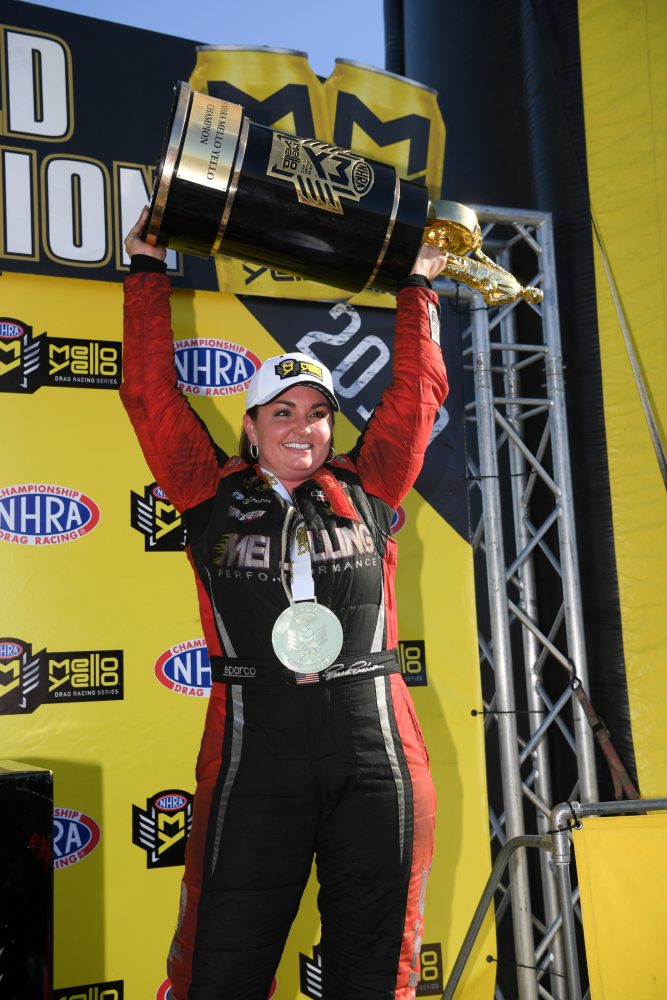 "I still have my core group that I started with in 2014 and I think that speaks volumes of their character. But I do think that those times they make you tough and they make you stronger and, on the mental side of it, it absolutely helps you. Those things not only made us stronger, they made us better, it made me a better driver, so I'm thankful that they were not easy times to go through."
In addition to becoming a better driver, it gave Enders a calming sense that she could speak her mind, stand up for herself and not wonder about the repercussions.
She had a team that had her back, evidenced by her relationship with crew chiefs Jones and Mark Ingersoll. Their relationship has been imperative, and Enders has continually said when her crew chiefs are confident it has a profound effect on her. That was never more noticeable than her outstanding run through the Countdown to the Championship this year.
"We worked really hard on getting our race car right and worked on them for a long time. When my crew chiefs got the car right, that's when their confidence changed because that's where they excel," Enders says. "When our motor stuff and race car stuff worked perfectly together, it was kind of like the perfect storm at the end of the year.
"When they speak with confidence, of course it makes me feel confident, too, because we're fixing to make a good run and then the ball is in my court, and that's what I like."
Enders thrived in those situations throughout the playoffs, but it was far from the perfect season.
She didn't reach her first final round until the sixth race of the season as the team battled through a number of issues. Enders preached patience, waiting for the pendulum to swing, and when it did, she was carrying the hammer.
She reached back-to-back final rounds in Brainerd and Indy, and though the latter was a crushing loss in the U.S. Nationals when the car had a parts failure at the worst possible time, it only served to motivate Enders.
Jones, Ingersoll, Freeman and Enders could all see something special building heading into the Countdown to the Championship, and Enders knew it was time to deliver. "When they got back to that point of being confident, I got back to that point, and it was a really good combination," Enders says.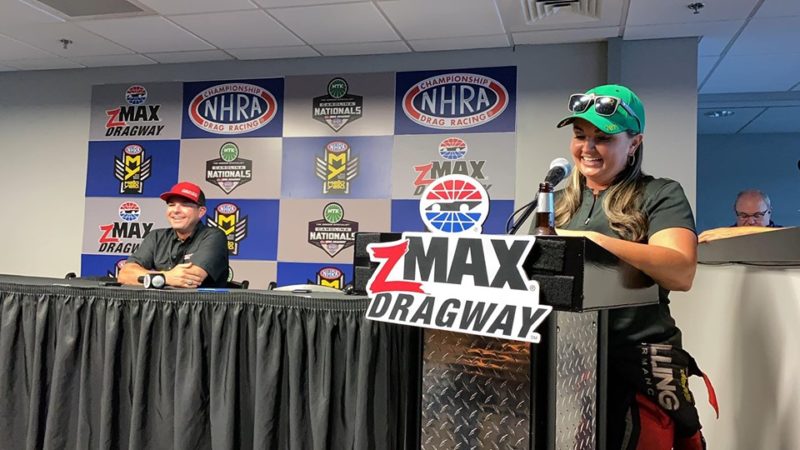 Starting the Countdown to the Championship in fifth, Enders peaked at the perfect time, qualifying No. 1 at the first three races of the playoffs, and winning in St. Louis. It was her first win of the year, vaulting her to second in points.
She took over the points lead a race later in Charlotte, and then won in Las Vegas over Coughlin to head to Pomona riding high.
It was Butner who was hot to open the year, winning four of the first five races, but it was Enders who delivered the best in the clutch, rolling through six playoff races to finish off the journey back to the top.
"I was just more determined than ever to prove to everyone that we are capable of winning a third world championship," Enders asserts. "It's the moments like the parts failures and when you get your teeth kicked in when you're .007 off the line, those moments make you want to win so freaking bad. I was determined and there were a lot of contributing factors to that. I wanted to prove to the world I was still the best and my team was still the best, and we did it."
With each accomplishment, Enders' legacy seems to reach a new level. She became the first female in Pro Stock history to win a race back in 2012, soon becoming the first female world champion in 2014.
She put together back-to-back titles, while the 2019 triumph gave her three world titles – along with 25 wins – this decade. It matches Antron Brown, Eddie Krawiec and Andrew Hines for the most championships this decade, putting her on the short list of best drivers during the 2010s.
But even dating back to 2015, when the iconic Bob Glidden told ESPN that Enders "is the best driver that's ever sat in a Pro Stock car, period," she has always been near the top of any best-of lists.
Glidden added, "I don't think anyone would argue with that" during the same conversation and there are plenty who agree with him.
To wit:
– Rickie Jones, current crew chief for Coughlin at Elite Motorsports: "When you stack it up and everything's on the line, she's one of the best drivers ever. She turns into a machine into the car and just crushes it."
– Freeman: "If she's not the best, she's in the top two of the best drivers that ever sat their ass in a Pro Stock car, and I think Jeg will tell you the same thing. Day in, day out, she's amazing."
– Line: "I have my moments, but she's as good as anybody ever, as far as letting her left foot out. I don't care who that is, whether it's Coughlin or Alderman or Connolly or Tanner Gray – anyone. She's as good as there has ever been."
Line's comments came after he nearly matched her on the starting line in the final round of his victory in Brainerd, but the words matter and motivate Enders.
She's been driven to succeed from the moment she first stepped foot in a Jr. Dragster as a bright-eyed eight-year-old in 1992, and there's never been any let-up.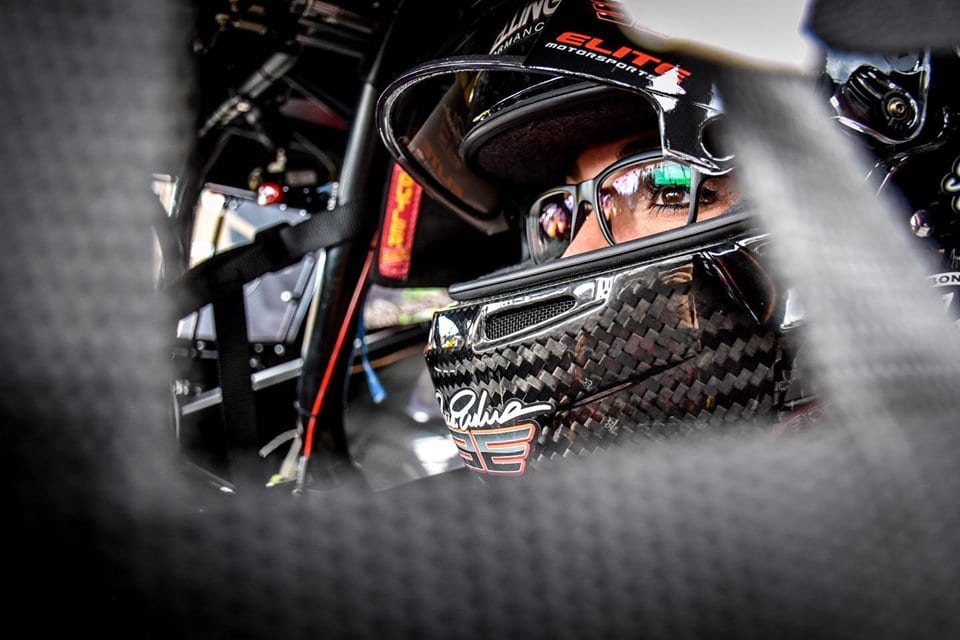 "I take a lot of pride in my driving," says Enders, whose Vegas win also gave females 150 wins in NHRA professional history. "I want to be the best. I don't want to be the best female; I want to be the best driver, period. It means a lot that my peers feel that way, but it took a lot of years to get to that point, driving a lot of different cars and working with a lot of different people and different characters of people."
The drive to be the best hasn't been easy, though. There have been consequences and lost relationships both off and on the track along the way, but Enders has always tried to learn from it and move forward.
She's been remarkable at recovering from adversity and Enders is the first to admit her situation with Elite Motorsports altered the course of her career.
Now, there are no limitations and the possibilities are endless for what she could accomplish. Enders remains a young gun in the class compared to the other fantastic stalwarts in Pro Stock, and the championship continued to hit home the fact that she's in the perfect place, in the perfect situation, at the perfect time.
"God's timing is always perfect. We might not understand it, we might question it, but the success I've had with Elite is so important because I've had that success with them," Enders says. "I get to do what I love with the people I love and that's what makes it so wonderful. I have a group of guys that are out-of-this-world talented. I think the sky is the limit with this group and they prove it week in, week out. There's so many components that go into being successful.
"All the stars have aligned and I have to give credit to Richard Freeman," she continues. "He put the perfect group of people together and he has put us all in a position to excel. We just all work so well together and if I could sum it up in a few words, it would be God's perfect timing."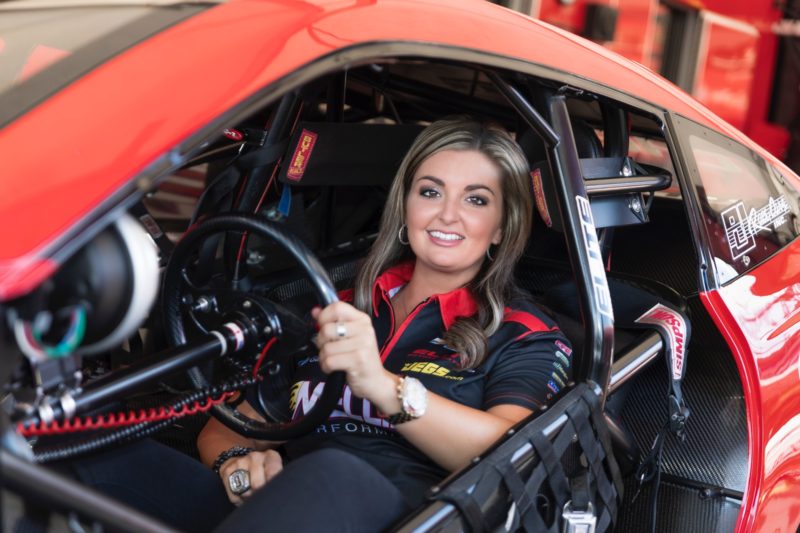 In the aftermath of a third world championship, things haven't slowed down for Enders. First, there was an emotional speech at the NHRA Awards ceremony, followed by a trip overseas to Saudi Arabia for the Global Auto Salon.
Then came a trip to PRI, right into the holiday season, which included an official championship celebration party as well. She is back at the track in early January, testing new cars and helping new Elite teammates get settled into Pro Stock during what will be a landmark 2020 season.
As the class continues to be invigorated, enjoying the benefits of an 18-race schedule and seeing a noticeable uptick in participation, Enders will have the No. 1 on her Camaro for Pro Stock's 50th anniversary this year.
She already spoke on a panel that also featured legendary drivers like Anderson, Coughlin, Warren Johnson and Herb McCandless at the SEMA Show in Las Vegas, and now she'll be the frontrunner heading into the historic season.
It's a significant achievement, and one that's not lost on Enders, who continues to be the mark of perseverance. Her talents and a standout team have led Enders to this point, and the three-time champ has no plans of slowing down.
"I think next year is going to be awesome for being the 50th year for Pro Stock. How cool is it that the whole 50th year we get to have the No. 1 on the side of our car and go out there and defend our title," Enders says. "So, I'm really excited about that opportunity.
"There will be a lot of tough competition," she adds. "I know that the KB guys are hard at work and our team is continuing to grow. I think it will present plenty of challenges, I'm absolutely certain that there will be ample amounts of drama, but I welcome all of the challenges that come with it and we will do our best to go out there and defend our title."
This story originally appeared in DI #152, the 2019 Champions Issue, in January of 2020.