Time and again racers on the Professional Drag Racers Association (PDRA) tour express appreciation for the camaraderie and friendliness of the organization, the way it feels like one big family. While much of that sense comes from the competitors themselves, there's one behind-the-scenes lady who makes it a point to ensure the PDRA's family atmosphere remains a consistent part of how the series operates.
PDRA owners—and racers—Jason Scruggs and Tommy Franklin have often been heralded as the saviors of professional eighth-mile drag racing. And while these two do deserve ample credit for their work with the PDRA, as is so often the case, behind every good man stands a good woman.
"I love racing," Judy Franklin states. "There are times when all that we do becomes a little overwhelming, but I wouldn't trade it for anything. I love our race family. Racing is our life. It's God's purpose and plan for us; to bring others to Christ through racing. Hopefully we can do that."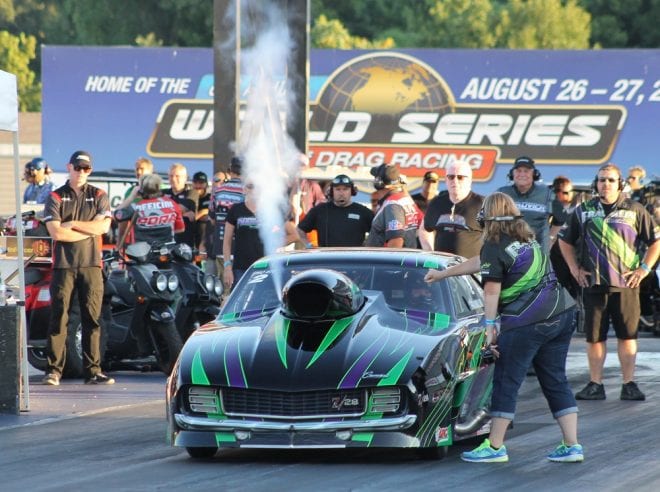 Judy had never been around drag racing until age 16 when she met Tommy, but admits she was "hooked right away"—to racing, that is—before the couple started dating. Then, with Tommy's help, as soon as she turned 18 Judy got her own car, a Z28 Camaro, and began foot-brake racing for several years before hanging it up to help take care of her mother.
"Mom needed a lot of rehab. I had to sell my Camaro and buy a car I could get my mom and her wheelchair in and out of to get to therapy and doctor's appointments. I sold my Camaro and bought a Cavalier. I tried racing it a couple of times, but it definitely wasn't as fast as the Camaro so I didn't enjoy it," she says.
Between caring for her mother and giving up her Camaro, Judy decided her best role in racing would be to support Tommy. The couple was married in September 2000, an event which even then came second to racing.
"Tommy was actually fighting for the Top Sportsman championship and the Super Pro championship the year we got married," Judy recalls. "The competition was so excited because they were waiting for us not to show that Friday night at the race track, but I had made sure our wedding rehearsal was on Thursday night instead of Friday so we could go to the points race."
Tommy won the Top Sportsman championship and finished second in Super Pro the week the two were married. They now have two daughters, Amber, who began racing Jr. Dragsters at only 10 years old and Ashley, who will begin the licensing process when she turns nine. Currently, Franklin Motorsports fields a championship-contending Pro Nitrous '69 Camaro for Tommy and daughter Amber's Pro Jr. Dragster.
The hallmark of the Franklin's relationship is their dedication to working together toward success: in family, business and drag racing. While Tommy stands as the face of their two businesses, his work with the PDRA and the race team, Judy handles basically anything and everything that needs to be done for him and their 80-plus employees.
"I've always been Tommy's wife, or Amber's mom or Ashley's mom, but I don't mind," Judy says. "I'm very proud of Tommy and the person he is. He's worked his butt off. I've been with him since we started the business and I'm proud of what we've accomplished together. We're partners in life. God chose me to be his wife and I'm so thankful for that."
For the PDRA, Judy handles all the finances, organizes the season-ending awards show, keeps up with the official PDRA Facebook page, and remains constantly in touch with the organization's staff. "You never know what you're going to have to do on a daily basis. Whatever comes through is what you handle. And that's different on a daily basis, [but] we are blessed to have good people in place."
When it comes to the Franklin racing operation, though, "the guys would say I drive them crazy mostly," she laughs. "They always tell me I'm on my two step when I'm at the race track. I do get nervous about Tommy and Amber racing and there's just so much going on.
"I like doing different events at the race track," she continues. "I don't have as much time to do it as I would like, but doing special things like the ice cream social we did in Michigan a couple of years ago. We're doing the Easter egg hunt in Tulsa. That's what I like to do. Making sure that we all get together as a community of racers and everybody has fun. I like the family atmosphere of it all and I enjoy working with everyone in the PDRA- our racers, our fans, everyone.
"Those are the things the kids growing up at the track remember. These are key points in kids' lives. If we don't gather as a family and as a community we're missing the big picture. Everybody knows how easy it is for teenagers to stray off. Tommy and I have great kids, but I think with the family atmosphere they are involved with at the race track it reminds them of the togetherness and the bonding as a family, pulling them away from getting involved in things they shouldn't be."
The desire to nurture the PDRA community into a close knit family stems partly from the Franklin's deep-rooted faith. "We are a Christian racing family," she emphasizes. "We live to do what God wants us to do. We're blessed to do this thing called drag racing and we love it. We're so blessed to have this opportunity and to have the businesses that allow us to do it. We're thankful for our staff here at home that give us the ability to go out and do what we do at the race track on an almost weekly basis.
"I will be completely honest and say sometimes it gets crazy. You gotta' work hard to play hard. It's a lot of work to do on a daily basis, but I'm blessed to have Tommy as an awesome husband and father to our girls. Racing has always been a huge part of our lives and something we've always put in the forefront, for sure."
This story originally appeared in Drag Illustrated Issue No. 108, the Hottest Women Issue, in February of 2016.