Making his eighth-mile PDRA Top Sportsman debut in July at Budds Creek, Maryland, NHRA Pro Stock part timer Buddy Perkinson qualified an inauspicious 15th before bowing out in round two against cousin Randy Perkinson.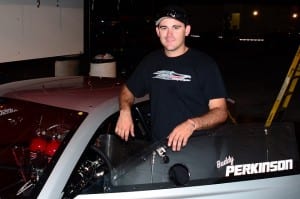 He became a record setter the following month in Memphis, though, where Perkinson qualified his new RJ Race Cars 2015 Camaro number one with a 3.905 elapsed time at 192.77 mph, then backed it up and made it official with a 3.916 at 189.02 win on a 3.90 dial in over defending class champ Dan Ferguson in the opening round of eliminations. The rookie Top Sportsman driver explains it was a conscious decision on his team's part to go after the record and not play it safe with a more conservative dial in and tune-up in his nitrous-huffing, Billy Albert-built powerplant for the first round.
"We were having delay box problems with the car so the last couple of passes I was having to leave off the bottom bulb. I'm not saying we didn't think we could win the race, but with those problems and so many great guys on the tree here we just decided to go for it and try and get the record. We knew it might not even get down the track, but it made a nice pass and we even won the round, so that was pretty good," he says.
Eventual race runner-up Ronnie Davis put Perkinson on the trailer after round two in Memphis, but he and his team are clearly enjoying their new Top Sportsman pursuits. Still, the 23 year old from Prince George, Virginia, admits he's not yet finished with the desire to run Pro Stock.
"It's still a dream," he confirms. "I've been very fortunate to have experienced bits and pieces of my dream already; I've won a couple of rounds and feel like I've run with the best of them. I haven't won a race yet, but I've been put in cars capable of winning races and with good people, too. So would I go back? Yeah, but it would have to be the right situation; I don't want to do it just for the sake of doing it."
Perkinson made the jump from Comp Eliminator to NHRA Pro Stock for the first time in 2011, driving in several events for the late Jim Cunningham with Pro Stock legend Bob Glidden as his crew chief. Later that year he also briefly raced a mountain-motored ADRL Extreme Pro Stock entry for Billy Dingman and in 2012 through early 2013, Perkinson competed in about a dozen NHRA events as a teammate to Pro Stock veteran Larry Morgan. "I used to get my Comp motors from him and Larry has been like a mentor to me pretty much through my whole NHRA career," Perkinson states. "I can't say enough how much his help has meant to me."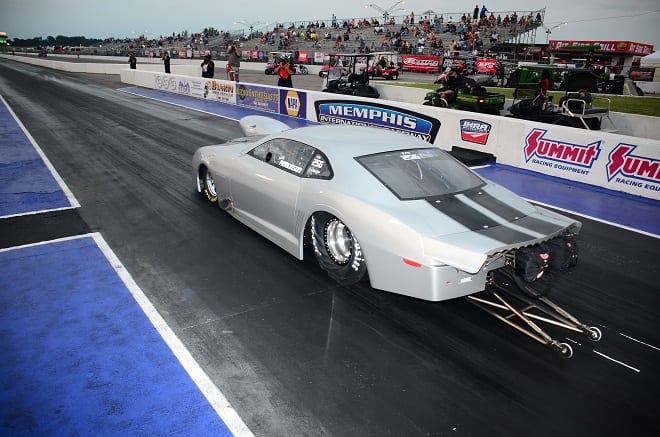 He also made an appearance in the Pro Stock ranks late in 2013 as a teammate to Greg Anderson and Jason Line through the six-race NHRA Countdown to the Championship and Perkinson's most recent pro outing came during the NHRA 4-Wide Nationals in Charlotte with Allen Johnson Racing.
"I really had a good time racing with Larry Morgan and then with Jason Line, both those guys were great to me, so if all the stars lined up and the financing was available and we could do it the right way, then sure, I'd love to try it again, absolutely," Perkinson says. "For now, though, I can't thank my dad, Mark, and my Uncle Christy enough for everything that they do for me. We really are a family team out here with me and my cousin, Randy. We're both having fun running in Top Sportsman and looking forward to the rest of the year."
This story originally appeared in Drag Illustrated Issue No. 101, the Sportsman Issue, in July of 2015.