The world champions of the Professional Drag Racers Association (PDRA) will begin their title defenses Mar. 19-21, in the season-opening PDRA Texas Nationals at the famed Texas Motorplex in Ennis, just south of Dallas. This will be the first visit to the Lone Star state for the all-eighth-mile series that will hold 10 races this year after expanding from eight events in its inaugural 2014 season.
"To be honest I can''t wait to bring PDRA drag racing to the great fans in Texas because I know they''re going to love what they see," said PDRA Race Director Bob Harris, who recently was inducted into the North Carolina Drag Racing Hall of Fame. ""We had a fantastic first year, but I already know this season is going to be even bigger and better. Kicking it off at such a prestigious track as the Texas Motorplex is perfect, too. It sends a message that professional eighth-mile drag racing deserves to be seen on the sport's biggest and best stages.""
Headlined by the NAS Racing Pro Extreme and Switzer Dynamics Pro Nitrous classes, the PDRA also features Precision Turbo and Engine Pro Boost, Drag 965 Pro Extreme Motorcycle, MagnaFuel Top Sportsman, Top Dragster and two Huddleston Performance Jr. Dragster classes.
Pro Extreme World Champion Bubba Stanton (pictured above) from Potts Camp, Miss., will have his hands full fighting off the likes of teammate Jason Scruggs, past class champion Todd Tutterow and Texas drag racing stars Frankie ""Mad Man"" Taylor, Randell Reid and Gene Hector, who will debut a brand-new 2015 Corvette at the event.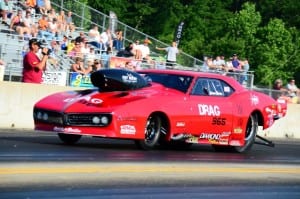 Jason Harris won an incredible six events on his way to last year's Pro Nitrous championship, but the Pittsboro, NC, native will be facing stiff competition from top rivals including Tommy Franklin, Pat Stoken and 2014 PDRA Pro Rookie of the Year Lizzy Musi, who also will debut a new race car at the Texas Nationals.
Tutterow, from Yadkinville, NC, won the Pro Boost championship last year, but his return to Pro Extreme in 2015 opens the title door to teammate Kevin Rivenbark, as well as Houston-based racer Todd Moyer, Gerry Capano and Jim Bell, among many others in what has turned out to be one of the PDRA''s biggest and most competitive classes.
Eric McKinney from Hamersville, Oh., and teammate Ashley Owens will lead the way in Pro Extreme Motorcycle, but Texas drag racing fans can expect to see the likes of Canada''s Terry Schweigert, past class champion Kim Morrell and veteran Billy Vose also challenging for two-wheeled supremacy.
The high-speed bracket racing Top Sportsman class will see surprise champion Dan Ferguson, who also was named last year''s PDRA Sportsman Driver of the Year, return to defend his crown against Ronnie ""The King"" Davis, Bruce Thrift, Aaron Glaser and Dylan Stott, again among many other top competitors. Likewise, reigning Top Dragster champ Travis Harvey will fend off elapsed time record holder Phil Esz and 2014 PDRA Sportsman Rookie of the Year Kyle Dvorak.
""We couldn''t be more excited and happy about going to a great facility like the Texas Motorplex,"" Harris emphasized. ""They say everything''s bigger in Texas and we aim to prove that''s true when we put on the biggest, baddest drag race in the state to kick off our 2015 season.""
Thursday Mar. 19 is reserved as an open test session day for all PDRA racers, with three rounds of qualifying for all classes beginning at 11 a.m. Friday, followed by a fourth and final qualifying session at 11 a.m. Saturday before eliminations begin at 3 p.m.
Children age 12 and under will be admitted free throughout the event, with $10 tickets available at the gate for Thursday's test session. Friday and Saturday tickets are $30 each, —though a $10 discount coupon for each day is available through the PDRA web site at www.PDRA660.com. Parking is free.