For the first time since 2018, the Professional Drag Racers Association (PDRA) is returning to Michigan's U.S. 131 Motorsports Park. This time, though, the series will be a part of one of the track's biggest events of the season, the Northern Nationals, August 3-5. Talbert Manufacturing is presenting the PDRA portion of the event, which will include a stacked lineup of the series' professional, sportsman, and Jr. Dragster categories. The PDRA classes are joining a flame-throwing show featuring modern-day Top Fuel dragsters, nostalgia front-engine Top Fuel dragsters, Outlaw Nostalgia Nitro Funny Cars, jet dragsters, a jet truck, a wheelstander, and more.
"We're looking forward to getting back to U.S. 131 Motorsports Park, especially for their Northern Nationals," said Tyler Crossnoe, series director, PDRA. "This race has built a reputation as one of the best shows in drag racing, and we're thrilled to have the opportunity to be a part of that. Our drivers and teams are ready to put on a show for the Michigan fans who haven't seen us in a few years, as well as the fans who might be seeing PDRA live for the first time."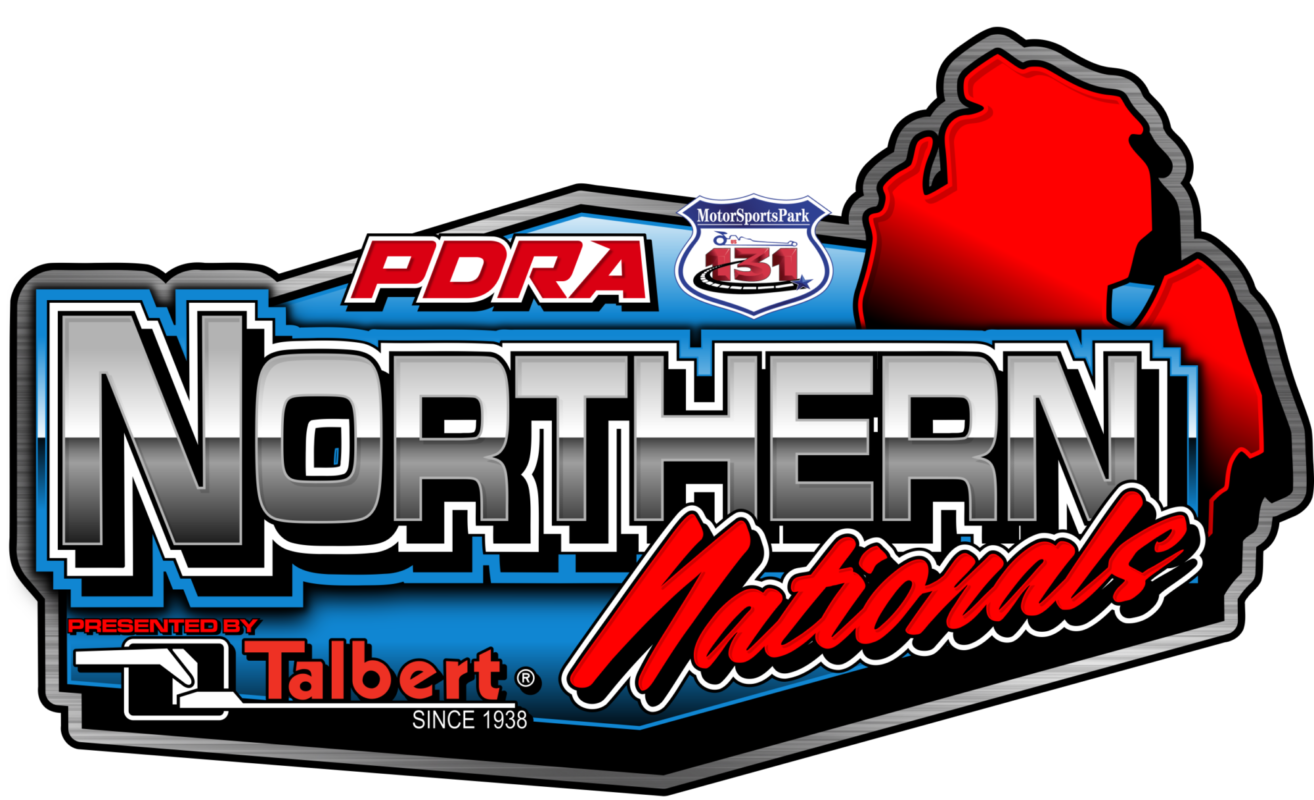 The Northern Nationals presented by Talbert Manufacturing starts the second half of the PDRA's 10th season. After Martin, teams will have just three races to earn points toward a 2023 PDRA world championship.
"We've seen some incredible racing so far," Crossnoe said. "From the quickest fields in series history to side-by-side racing and unpredictable results, it's been a thrilling season already. It's going to be fun to see how the rest of the season unfolds."
The series will also contest the final rounds of the third annual Summit Racing Equipment PDRA ProStars race during qualifying. The special race-your-way-in event took place during Virginia Motorsports Park's Night of Fire on July 22, but a major timing system failure prevented the completion of the final rounds.
The ProStars finals will include Tommy Franklin and Ed Burnley in Switzer Dynamics Pro Nitrous, Preston Tanner and Travis Harvey in WS Construction Pro Boost presented by P2 Contracting and Ty-Drive, Steven Boone and Dave Hughes in Liberty's Gears Extreme Pro Stock presented by AED Competition, Amber Franklin and Jeff Melnick in M&M Transmission Pro 632, Bill Lutz and Bill Riddle in M&M Transmission Pro Street presented by Afco Racing, and Blake Denton and Wes Ervin in Afco Racing Super Street presented by Menscer Motorsports.
The ProStars sportsman finalists are Henry Underwood and Tim Lawrence in MagnaFuel Elite Top Sportsman presented by PAR Racing Engines, Alan O'Brien and Tom Martino in Laris Motorsports Insurance Elite Top Dragster, Mark Payne and Al Davidowski in MagnaFuel Top Sportsman presented by Corbin's RV, and Dickie Smith and Nick Meloni in Laris Motorsports Insurance Top Dragster.
The ProStars finalists in the Jr. Dragster categories are Chris Suppers and Brayden Davis in Coolshirt Systems Pro Jr. Dragster presented by PRP and Gavin Wood and Rowan Parlett in Classic Graphix Top Jr. Dragster presented by PRP.
Four-time and defending Pro Nitrous world champion Jim Halsey holds a commanding points lead in his Fulton-powered "Daddy Shark" '68 Camaro after winning two of the first four races. Two-time world champion Tommy Franklin is second with one win in his Musi-powered "Jungle Rat" '69 Camaro. Past world champion "Tricky" Rickie Smith sits third while seeking his first win of the season in his Musi-powered Parkway Ford Mustang. Recent first-time winner Marcus Butner is now just outside the top 3.
Longtime outlaw racer Ken Quartuccio, who picked up his first-ever Pro Boost win in his ProCharged '69 Camaro at the last race, is the points leader going into Martin. He leads two-time Pro Nitrous world champion Jason Harris, who has a win and a runner-up in his ProCharged "Party Time" '69 Camaro. Travis "The Carolina Kid" Harvey is third in the ProCharged GALOT Motorsports '69 Camaro with one win. Kurt Steding, who reached the last two final rounds, is chasing his first win of the season to bump into the top 3.
Past Extreme Pro Stock world champion Chris Powers is back on top with one win in his Sonny's Racing Engines '21 Camaro. He leads a group of four other drivers separated by just over one round. Jeremy Huffman, Elijah Morton, and Dillon Voss are all chasing their first win of the season, while No. 5 ranked Alan Drinkwater became the latest first-time winner at Norwalk in his Kaase-powered '08 Mustang.
Two-time Pro 632 winner Jeff Melnick is the points leader in Alan O'Brien's AMC small-block-powered Greenbrier Paving & Excavating '20 Camaro. Just under a round behind Melnick is recent first-time winner Doug Nicholl and his Michigan-based, Musi-powered '69 Camaro. Reigning world champion Amber Franklin is third with a win and a runner-up in her Musi-powered "OG Jungle Rat" '69 Camaro. Just outside the top 3, Lexi Tanner in her Oakley-powered "Thunder" '15 Camaro is chasing her first win of the year.
Michigan's own Bill Riddle is the Pro Street points leader in his roots-blown Corrigan Race Fuels '89 Camaro, which has carried him to a win, two runner-up finishes, and three No. 1 qualifier awards so far. Two-time and reigning world champion Tim Essick in his ProCharged "Brown Sugar" '18 Mustang is second with a win and a runner-up. Newcomer Scott Kincaid, who won both events he's entered in his screw-blown '69 Camaro, is third. Nick Agostino and Bill Lutz are both less than a round behind Kincaid, and both are seeking their first win.
Along with the pro classes, the Northern Nationals will include the PDRA's sportsman classes: Elite Top Sportsman, Elite Top Dragster, Top Sportsman, and Top Dragster. Local bracket racers can join the program in Edelbrock Bracket Bash presented by COMP Cams. The Jr. Dragster classes, Pro Jr. Dragster and Top Jr. Dragster, will be in action as well.
Tickets purchased in advance are $25 for Friday and $34 for Saturday. General admission day of the event is $30 for Friday and $40 for Saturday. Children ages 6-12 are $10 each day, and children five and under get in free with paid adult. Tickets can be purchased at PDRA660.com or at the gate.
Fans who can't attend the race in person can watch the official event livestream on FloRacing.com.
Northern Nationals competitors will have the opportunity to test on Thursday from 10 a.m. to 7 p.m. Top Sportsman and Top Dragster will run one qualifying session Thursday at 7 p.m. The Jr. Dragster classes will start qualifying Friday at 9:30 a.m., with professional qualifying kicking off at 2 p.m. Friday Night Fire, with back-to-back pro qualifying sessions, begins at 6:15 p.m. Final qualifying for the Jr. Dragster classes is set for Saturday at 9:30 a.m., followed by sportsman and Jr. Dragster eliminations. Pro eliminations will begin at 3 p.m. Pre-race ceremonies for the Northern Nationals nitro show begin at 5:50 p.m.