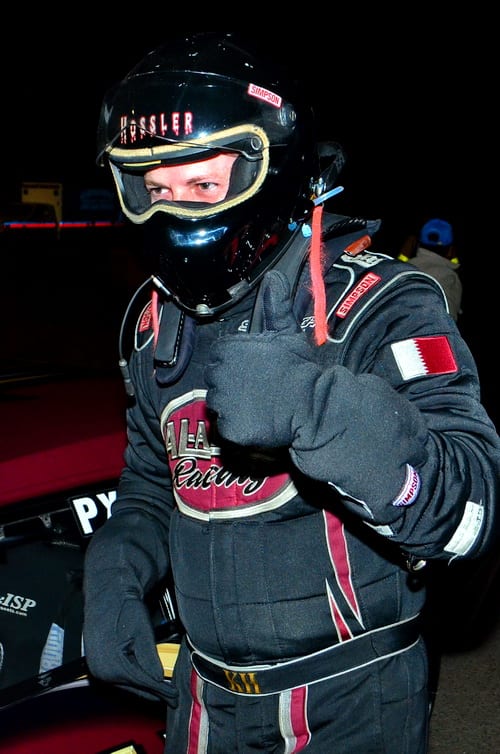 There's no arguing the fact that there's some pretty tough competition in the PDRA's NAS Racing Pro Extreme class, and it's going to get a whole lot tougher in 2015 when Alex Hossler, one of the undisputed top guns in the category, throws his hat into the ring. Already the domain of some of the wickedest doorslammers and most talented drivers in the world of eighth-mile competition, Hossler brings experience, a championship-winning attitude and a brand-new blown Corvette to the PDRA wars this season.
Hossler, who is 37 and the owner of a Chevrolet, Cadillac, Chrysler, Jeep, Dodge and Ram dealership, started on the path to competitive success when he began bracket racing at a track near his hometown of Canton, Illinois, when he was in his teens.
"I bought an old hot rod and kept wasting money on it," Hossler said. "I just got stupider and stupider until the point where I decided I had to go heads-up racing. I had my first head-to-head race in 2005 and in 2008 I went to my first ADRL event. I dabbled in it for a couple of seasons and then started to hit it harder in 2010. I later became part of the Al-Anabi Racing team and had a great run there for three seasons."
When the Al-Anabi team ceased operation following the 2013 season, Hossler took the opportunity to regroup and devote himself to work and family.
"I didn't mind taking a year off because it gave me a chance to focus on all the things I needed to focus on outside of racing. At the same time, though, I definitely missed the competition and being around all the people at the track. I talked to team owner Mel Bush in the off season, and the opportunity came up for me to drive for him this year. I'm really ready to get back at it and start having some fun racing again."
Hossler comes to the PDRA with a long list of accomplishments, including three Pro Extreme championships, two in Qatar with the Arabian Drag Racing League and one with the ADRL in 2013. In addition, he set numerous performance records enroute to his titles behind the wheel of a supercharged Camaro.
"Racing for Mel this year won't be as demanding on my time as it was before," Hossler said. "In the past I raced here during the summer and then spent six or seven weeks or more overseas, so for right now this is a good fit for me. I have always gotten along well with Mel, so I'm sure we'll have a good time racing together.
"I'm really excited that we will have a new car and a new crew chief this season," Hossler added. "Our crew chief is a good friend of mine named Jon Salemi, who owns Resolution Racing Services out of Buffalo, New York. I always wanted the opportunity to race with him, and now we've got that opportunity."
Remarking on the nuts and bolts of his new team, Hossler said, "Mel has a brand new Pro Extreme car coming, a C7 Corvette built by Larry Jeffers, and he still has a Pro Boost car from last year, and he was thinking of running them both this season. Jon and I sat down with him and explained that we really needed to focus on one car if we were going to have success as opposed to spreading our efforts between the two cars this season. We thought that both cars would probably suffer if we did that. Maybe on down the road we can bring out the Pro Boost car once we get a good baseline and have some consistency with the Pro Extreme car.
"Since we have to shake down the Corvette once it's finished, we're not going to make the first race, and there's a chance we won't make the second one either," Hossler said. "But as soon as get everything together and get some testing done we're going to be out there. The new car will have the latest and greatest go-fast components, the same as all the top guys in Pro Extreme have. And from what I saw last year you can't afford to leave anything on the table.
"I watched the live feed of the PDRA races last year, and all I can say is the competition was brutal," Hossler said. "If you can't run .50s you might as well stay home. That was the case to an extent when I raced in 2013 but not near what it was last year. Everybody is just constantly chipping away, chipping away and chipping away. And it's not just in Pro Extreme. You see it in all the PDRA pro classes and it's just really tough. It doesn't matter how smart you are or how much money you have, it's just brutal. It takes a lot of luck along with a lot of money and a lot of knowledge to be a top runner."
And speaking of top runners, Hossler knows he'll have his work cut out for him when he takes his new 'Vette to the track this season.
"Without a doubt there are some really talented racers in Pro Extreme, and we're looking forward to going one on one with all of them, including last year's champion Bubba Stanton, not to mention Jason Scruggs, Brandon Snider, Frankie Taylor, Mike Recchia and all the rest. There should be some unbelievable racing."
When asked about the new car's performance and record-breaking potential, Hossler had this to say:
"As far as records go, well, you always think about that stuff. For this year, though, our first goal is to do some testing, get the new-car bugs worked out and get a baseline built up so we have something to work on. Once we get the car competitive, get Jon competitive, and get me competitive we'll start thinking about going for records. But I have to say we will be focusing on getting round wins rather than setting records. The trophies I have on my mantle didn't come from setting records, they came from winning races, and that's our long-term goal. We probably won't have a shot at a championship this year since we're not going to be able to run all the races. As I said, the main thing for this year is to get the car to where it's quick and consistent."
Hossler is anticipating being a part of the PDRA, an organization riding the wave of momentum generated by a successful inaugural season in 2014.
"There are very few people in the sport more respected than [PDRA owners] Mitchell and Jason Scruggs," he said. "They are as stand-up people as you're ever going to meet. If they are going to stamp their name on something I think everybody in the outlaw racing world is going to follow.  They are racers themselves, as are the other owners, and dedicated to making the racing experience the best it can possibly be. I can't wait to get back out there."
And the folks at the PDRA can't wait either.
"Having Alex Hossler in the Pro Extreme mix this season is going to be fantastic," said PDRA Race Director Bob Harris. "Alex is a tough and experienced racer, and having him going heads-up with the best of the best in the PDRA is going to be something to see. We're really looking forward to it."