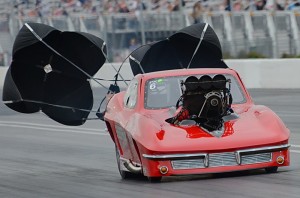 Amidst rampant speculation and a whirlwind of rumors and gossip during the year-ending trade shows as to the future of professional-level eighth-mile outlaw doorslammer drag racing, DRAG ILLUSTRATED has learned that a new organization has been formed with full intentions of holding an eight-race series in 2014.
The Professional Drag Racers Association (PDRA) – formed by well-known and respected racers Jason and Mitchell Scruggs, Gene Hector, Roger Henson and Tommy Franklin – looks to fill the void that's been created in the outlaw doorslammer world by the defunct X-DRL and struggling ADRL, which has been recently plagued by the same inability to pay their racers that shuttered the X-DRL halfway through 2013.
"We're looking to give outlaw doorslammer racers a place to race they can be proud of," says Jason Scruggs, who spearheaded the formation of the PDRA in an effort to preserve the brand of drag racing he'd been a significant part of for a decade. "This is a racer owned and racer operated organization, and we feel that's something people can and will appreciate. All we want is a good place for racers to go and race – competitive, safe, get paid, etc. If we can all work together, we can have something great – something better than we've ever had."
Though details of the PDRA's schedule, classes, rules and purse structure are reportedly due to go public in the coming days and weeks, the group's intent is abundantly clear and it's our guess that the well-known and widely-respected group of Scruggs, Hector, Henson and Franklin will do wonders to clear the murky waters of eighth-mile outlaw drag racing in 2014.
Details as to the future of the ADRL remain unclear at this time, but it appears the recently formed National Drag Racing Association will be folded into this new organization, as two events are slated for Rockingham Dragway next season.
Stay tuned to DragIllustrated.com and the official Drag Illustrated Facebook Page for more information as it becomes available.