Fans of eighth-mile doorslammer racing have a lot to look forward to as the Professional Drag Racers Association rolls into Texas Motorplex for the PDRA Texas Nationals, May 19-21. The flame-throwing 'Nitrous Wars' continue to heat up, and the headlining Pro Extreme cars are quicker than ever before.
Alabama's Brandon Snider, currently number two in NAS Racing Pro Extreme points, enters the Texas Nationals as the elapsed time record holder with his 3.486 ET set at Tulsa earlier this year. Other Pro Extreme racers to watch are points leader Jason Scruggs and Texans Frankie Taylor and Randall Reid, winner of the PDRA Spring Nationals in Rockingham last month.
Competition in Switzer Dynamics Pro Nitrous is incredibly fierce right now, with a variety of engine builders represented in the top 10 in points. Some of the class' biggest hitters competed in GALOT Motorsports Park's $10,000 Engine Builders Challenge race last weekend. Tommy Franklin and his Pat Musi Racing Engines-powered '68 Camaro collected the win after out-qualifying and racing a field full of Pro Nitrous regulars like Travis Harvey, Jason Harris, and Steve Jackson.
"Tommy has been running really great and he's really happy overall with the engine program," said Musi Racing Engines president Lizzy Musi. "We did a lot of R&D over the winter and it's been showing. We don't do a lot of talking, we just show it on the track, performance-wise."
Musi herself had positive results at GALOT as well, qualifying number two behind Franklin's 3.742 with her 3.748. The uptick in performance has Musi ready for the PDRA competition in Dallas next weekend.
"I had a little car trouble in the beginning of the season, but we're finally getting that figured out. We didn't have any problem making power. Rickie (Smith) helped us get the car sorted out and now it's just going up and down the racetrack. We went testing at GALOT a couple weeks ago and the car was running consistent 3.7s, so we were confident heading into the Engine Builders race. I messed up my deal on the starting line first round, but I'm not going to let that happen again. We're all looking forward to Dallas."
Among the Pro Nitrous competitors who will be fighting with Franklin and Musi for the top spot is "Stevie Fast" Jackson, one of the sport's most entertaining personalities. Jackson and Pat Musi took part in some good-natured trash talking before the Engine Builders Challenge in a rivalry that is sure to continue at the Texas Nationals.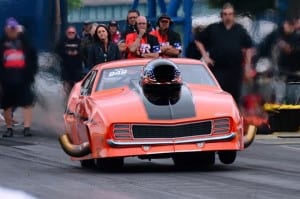 "I can't talk too much because they spanked me in the race," Jackson laughed. "We went to GALOT to test some new stuff that we've been working on. GALOT was kind of a pre-Dallas test session for us. It went very well. We learned exactly what we needed to learn. We ran pretty decent. I think we have a package that will be hard for them to outrun. We've got a hot rod. We'll be out there early and we'll be ready to go when test day comes around. I can show 'em better than I can tell 'em, I'll just say that."
In addition to NAS Racing Pro Extreme and Switzer Dynamics Pro Nitrous, Dallas-area fans will be treated to thrilling racing in GALOT Motorsports Park Pro Boost, Drag965 Pro Extreme Motorcycle, Ronnie Davis Top Sportsman presented by MagnaFuel, Lucas Oil Top Dragster, Talbert Pro Junior Dragster, and MegaCorp Top Junior Dragster. Flame-throwing Jet Dragsters and Danny O'Day's ATI Wheelstander will conclude Friday and Saturday's racing.
For the first time, the PDRA and its racers will be without two of the series' most familiar faces. Reigning PDRA Top Sportsman world champion Ronnie Davis passed away last month following a racing accident at the PDRA Spring Nationals. Drag Illustrated Senior Editor and photographer Ian Tocher sustained serious injuries in the accident and continues his miraculous but lengthy recovery process. The PDRA staff will host a trackside gathering following Thursday testing, 8-10pm, to honor the memory of Davis and the recovery of Tocher.
"I miss my ol' buddy Ian and I hope he's back soon," 'Stevie Fast' added. "I like bullcrapping with him after the race. He always comes by and normally I'm either ticked off or happy and he's always good to talk to either way. I hope he gets well soon so he can go racing with us again."
PDRA action at Texas Motorplex begins on Thursday, May 19 with an open test session for all PDRA teams. Texas Nationals qualifying kicks off on Friday with the first of three sessions set to fire up at 11 AM. One final qualifying session is scheduled for 10:30 AM Saturday, followed by pre-race ceremonies at 2:30 PM.
Tickets to the PDRA Texas Nationals at Texas Motorplex are available for $10 for Thursday's test session. Friday and Saturday tickets start at $15 and are available at www.PDRA660.com.