The eighth-mile heroes of the Professional Drag Racers Association (PDRA) will begin their 2017 season this weekend, March 8-11, at the PDRA Southern Extreme Nationals at South Georgia Motorsports Park. For many competitors, the season opener will be their first opportunity to hit the track in 2017, while others have already laid down impressive performances in the new season.
2015 Pro Extreme champion Jason Scruggs started his 2017 season at the US Street Nationals in Bradenton, Fla. After finishing second in the 2016 championship chase, Scruggs and his ScruggsFarm.com-backed team freshened their "Mississippi Missile" 1969 Camaro for an all-in run at the 2017 PDRA Pro Extreme championship.
"We plan to kick ass
and take names," Scruggs said. "That's what we plan to do, but sometimes things don't work out the way you planned.
"We tested at Bradenton and worked out a few new parts there. We came back home, regrouped, and added a few more new parts that will be on the car at Valdosta. We're still in test mode, but we're trying to keep it to a minimum for the first few races. We don't want to get behind. You need to start the season out strong if you're going to win a championship, and that's what we intend to do."
While confident, Scruggs also knows the rest of the Pro Extreme field won't make it easy for him to move back to the top spot. He cited series regulars Tommy D'Aprile, Frankie "Mad Man" Taylor, Terry "Legbone" Leggett, and returning 2014 world champion Bubba Stanton as some of the Pro Extreme competitors to watch in 2017.
Leading the Switzer Dynamics Pro Nitrous presented by MoTec class into Valdosta is defending world champion Tommy Franklin and his "Jungle Rat" 1969 Camaro. Franklin spent part of his offseason in the Middle East assisting engine builder Pat Musi and fellow Pro Nitrous driver Lizzy Musi in the Arabian Pro Series. Musi obliterated the world records for elapsed time and speed, then continued the performance at last weekend's Mad Mule Pro Mod Shootout at GALOT Motorsports Park in Benson, NC. Franklin and Musi recorded the quickest and fastest side-by-side Pro Nitrous race in history, with Franklin coming up short in a 3.672-to-3.674 semifinal race – surely a preview of what to expect at Valdosta.
Chasing Franklin in his first championship defense season will be a host of top-tier nitrous-assisted doorslammers, including Jay Cox and the Buck-powered "Pumpkin" and the Musi-motored entries of Lizzy Musi and Jason Harris. Franklin intends to prevent them from taking his spot at the top of Pro Nitrous.
"Our goal is to be a consistent team and see what we can do to repeat the championship," Franklin said. "It feels good having the number '1' on the side of the car, so I definitely don't want to peel it off anytime soon."
Another PDRA star who was in competition at the Mad Mule Shootout is John Strickland, who drives the GALOT Motorsports 1969 Camaro in Andy McCoy Race Cars Pro Boost. Strickland and the GALOT team used the Mad Mule race to prepare for the PDRA season opener. He qualified number two before suffering a holeshot loss on a booming 3.686-second run in the second round.
"I feel like we'll be very competitive this year," Strickland commented. "Todd [Tutterow, crew chief],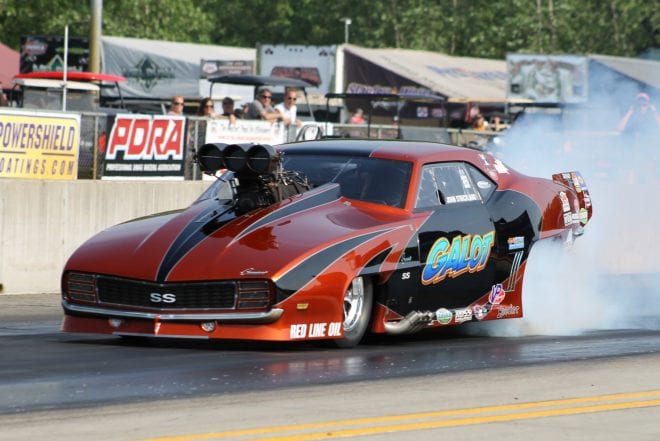 Jeff [Bohr, co-crew chief], and the guys have worked all winter long on continuing to improve our program. They've made some changes and done some different things, and this past weekend proved those changes were beneficial. The folks we're racing against are stepping up their programs, so if we don't continue to improve then we'll get left behind."
Some of the drivers on Strickland's radar are Tylor Miller, Melanie Salemi, and Ric Fleck, who all came close to unseating the undefeated GALOT Motorsports team of Strickland and Kevin Rivenbark in 2016. Rivenbark, who won the Pro Boost world championship, will focus on NHRA competition this year. Competing in his place in the PDRA will be second-generation Pro Mod driver Ty Tutterow, who reached the final round in his Pro Boost debut at the PDRA World Finals last season.
In the PDRA's two-wheeled category, three-time Drag 965 Pro Extreme Motorcycle champion Eric McKinney is back to defend his title aboard the Vance & Hines-powered McKinney Motorsports Suzuki. The Ohio native ran a world-record 3.98 to finish off the 2016 season, and realizes he'll need to maintain that performance at the minimum, if not improve on it.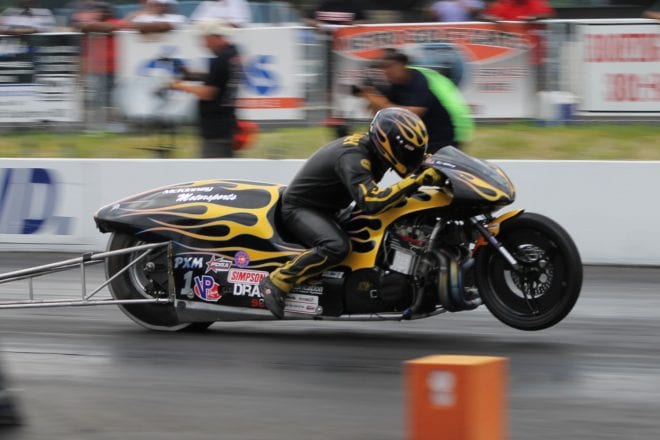 "There's going to be a lot of fast guys this year," McKinney noted, referencing competitors like Chris Garner-Jones, Terry Schweigert, Chuck Wilburn and teammate Ashley Owens. "At the last race in Virginia there were a lot of bikes running bottom 4.0s. I don't think three-second runs will be out of the norm this year. And not just us – there are a few guys who can knock one out. Pro Extreme Motorcycle is going to be good this year."
The popular mountain-motor stars of PDRA Extreme Pro Stock are back with the series for the full eight-race schedule after five successful appearances last season. Defending world champion John Pluchino and fellow 2016 event winners Richard Penland, John Montecalvo, Doug Kirk, and Buddy Perkinson are expected to start the season at Valdosta.
In addition to the PDRA's five professional classes, the series also welcomes its sportsman racers in Magnafuel Top Sportsman, Lucas Oil Top Dragster, Campers Inn RV Pro Junior Dragster, and MegaCorp Top Junior Dragster. The popular Bracket Bash program, allowing local sportsman racers to compete on a national stage, is also returning for 2017 beginning at the PDRA Southern Extreme Nationals.
Wednesday, March 10, will be the first of two days of open testing for all PDRA racers, beginning at 10 a.m. and concluding at 8 p.m. on Wednesday and Thursday. Friday is reserved for three rounds of qualifying for all classes beginning at 11:30 a.m., followed by one more round of qualifying scheduled to begin at 10:30 a.m. Saturday. A pre-race ceremony will begin at 2:55 p.m. on Saturday, followed by elimination rounds for the PDRA Southern Extreme Nationals.
Tickets to the PDRA Southern Extreme Nationals at South Georgia Motorsports Park cost only $10/daily for general admission to Wednesday and Thursday's test sessions, $20 on Friday, and $25 on Saturday. A two-day pass for Friday and Saturday can be purchased for $40. Children aged 12 and younger get in free.