It was a large Dodge//SRT celebration in the victory lane Sunday at the NHRA Midwest Nationals with wins in Funny Car, Factory Stock Showdown and Factory X at World Wide Technology Raceway for a trio of racers competing in Dodge drag cars.
In addition to Matt Hagan's Funny Car victory in his TSR Dodge//SRT Hellcat, veterans Mark Pawuk and Allen Johnson drove their Dodge Challenger machines to the winner's circle with impressive performances in the Flexjet Factory Stock Showdown and Factory X classes, respectively.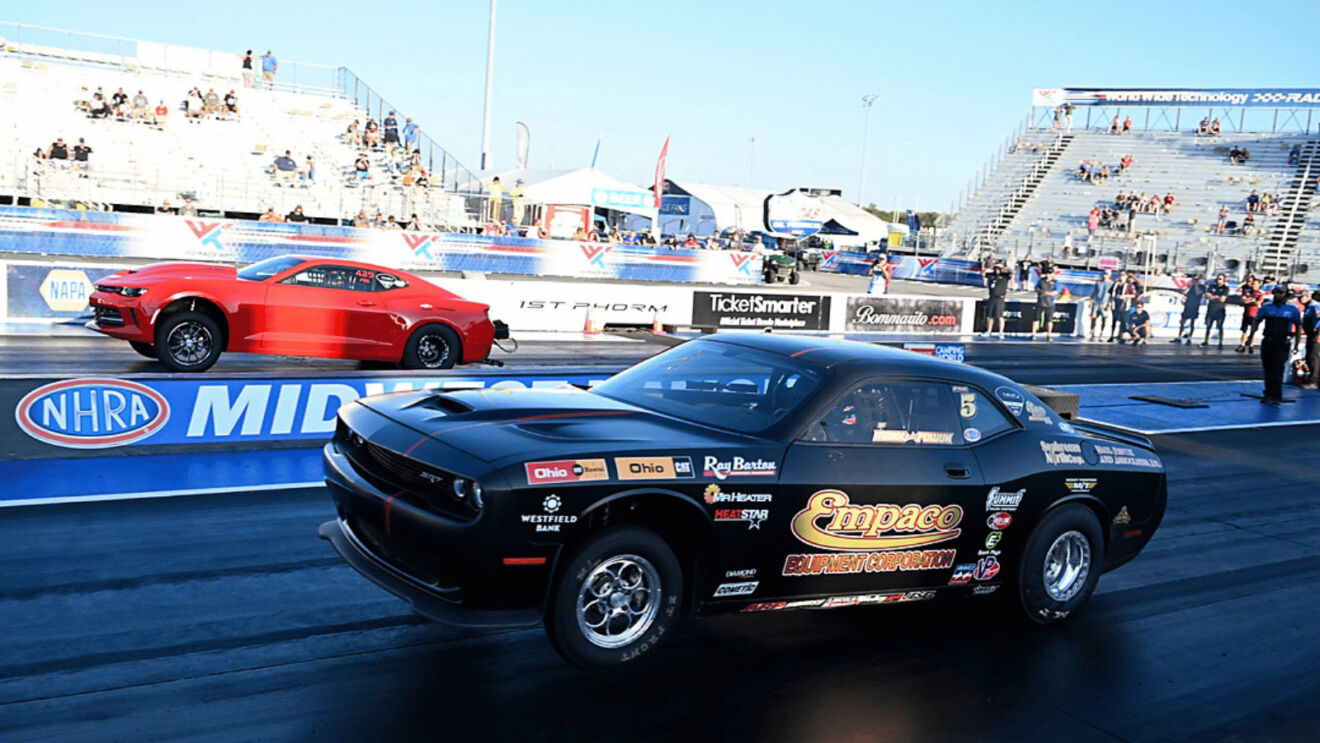 Both drivers dominated the competition Sunday with Pawuk capturing his first Factory Stock Showdown event with low elapsed time and top speed in the FSS category and Johnson breaking the 200 mile per hour barrier for the first time in the Factory X class.
Pawuk, a six-time NHRA Pro Stock national event winner, opened the weekend by posting a 7.712 pass for his fourth career No. 1 qualifying position in Factory Stock Showdown and continued that performance in the five rounds of eliminations with wins over Conner Statler, Del Holbrook, Aaron Stanfield and Stephen Bell.
Pawuk, driving the Empaco Equipment Corporation Dodge Challenger Mopar Drag Pak, set low elapsed time and top speed in the second round with a 7.583 and 182.03 mph. In the final round, the Ohio-based driver defeated Bell with a 7.665 to Bell's 7.688.
"It's been a long time, and I finally got another Wally," said Pawuk, who began the Pawuk Family Team in 2023. "That's the reason I came back to the sport. It was a really great weekend for my entire team. We had a really great hot rod all day. It's just unbelievable and pretty cool. We've been working so hard with Ray Barton Engines, David Barton and my son Kyle have all contributed.
"This is a really cool class. It's one the fans can relate to with all of the different manufacturers and especially Dodge."
With his win at the NHRA Midwest Nationals, Pawuk currently ranks third in the Flexject Factory Stock Showdown points standings with the next event set for the Texas NHRA Fallnationals on Oct. 13-15.
Johnson, a veteran Mopar-powered Dodge racer who claimed the 2012 NHRA Pro Stock World Championship, made Factory X class history at the NHRA Midwest Nationals in the potent "Blackbird X" Dodge//SRT Challenger owned by Geoff Turk, clocking a record-setting 202.55 mph speed. He also set low elapsed time of the event with a 7.046. In the final round, Johnson defeated Chris Holbrook with a 7.105 at 202.27 to score the class win.
The Texas NHRA Fallnationals Flexjet Factory Stock Showdown schedule includes two qualifying sessions on Friday, Oct. 13, at 3.30 p.m. and 6:15 p.m. CDT The final FFS eliminations will get underway on Saturday, Oct. 14, at 12 p.m. CDT.