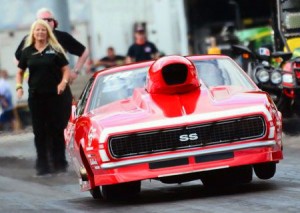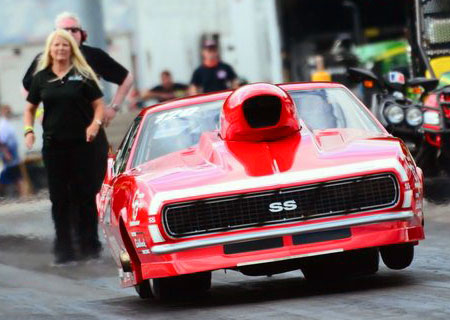 Pat Musi Racing Engines bolstered its 2013 success with a banner weekend at the ADRL Summer Drags IX on the grounds of US 131 Motorsports Park in Martin, Michigan.
Musi, the Mooresville, North Carolina-based engine builder, had customers using his cutting-edge electronic fuel injected engines and components in several classes of ADRL competition, including Pro Modified, Pro Nitrous and Top Sportsman.
The most recognizable name on the list of racers utilizing Musi power is that of "Tricky" Rickie Smith. Fresh off a win at the NHRA Thunder Valley Nationals in Bristol, TN, Smith dominated the diverse Summer Drags IX Pro Modified field with a wire-to-wire performance, qualifying on the pole with a 3.873 elapsed time and riding a string of low 3.90-second runs to the final round in his Jerry Bickel Race Cars 2013 Camaro. There he defeated Jimmy Keen with a .029 reaction time to Keen's .035 light as both drivers ran identical 3.890 elapsed times.
"We've worked really hard on Rickie's engine program and it's showing results with the way he's been running over the last month," Musi said. "I couldn't be happier for Rickie and his whole team."
Puerto Rico's own Raymond Matos had another consistent outing in his 'Cuda that features a nitrous-assisted Musi EFI setup, qualifying eighth before Rickie Smith ended his weekend in the second round of Pro Modified eliminations. While Musi is well-known for his EFI nitrous engines, he also provides the power for Jeff Lutz's twin-turbo '69 Camaro. Lutz qualified tenth in Pro Modified and made it to the semi-final round with consistent 3.90s before falling to Keen.
In the tough Pro Nitrous division, Tommy Franklin continued his hot streak with a runner-up finish after qualifying in the tenth position with a career-best 3.887-second pass.
"Tommy and his family have fought hard to get where they are now, winning races and setting new career-bests," said Musi. "They've got a great team and I'm glad they've chosen Musi power to take them to the next level."
Franklin wasn't the only Musi-powered Pro Nitrous entry to turn in a solid performance in Martin. Utilizing the Musi 903 cubic inch EFI powerplant, John Hall qualified third with a stunning 3.806 ET and progressed to the semi-finals before he was stopped by Franklin. Robert Patrick Jr. slotted in fifth with a 3.823 and Jason Harris posted a 3.851, good enough for seventh. Recent ADRL Pro Nitrous winner John Camp ended up ninth after his 3.884-second run. Camp's '68 Camaro has a Sonny's engine with Musi fuel injection under the hood.
Topping off the hot weekend for Pat Musi Racing Engines was the performance Musi's daughter, Lizzy, strung together in Top Sportsman. She continued her streak of qualifying in the top three at every ADRL race thus far in 2013, starting the Summer Drags from the second spot with a stout 4.068 elapsed time. In Sunday's eliminations she drove the '68 Camaro labeled the "Edelbrock EFI Test Car" to the semi-final round, where eventual race winner Bruce Thrift's 4.282 on a 4.28 dial-in was too much for Musi despite her stellar .004 reaction time.
"This weekend turned out to be a great showing for us," Lizzy Musi said. "The car is flying but is also consistent, which is so important in a class like Top Sportsman. We were also able to hold onto our points lead. I couldn't have done any of it without the support of my family, friends and sponsors, including Edelbrock, Chassis Engineering, and car owner John Lee."
Visit the all-new www.patmusi.com for more information about Pat Musi Racing Engines and the top teams that use them.
(Photo by Roger Richards/CompetitionPlus.com)