A dense canopy of dark clouds covers National Trail Raceway as I make my way from the media center to the Pro Nitrous pits, a row of motorhomes and race rigs situated along the staging lanes. It's Saturday morning at the PDRA Super Strip Nationals and the forecast doesn't look good, but that doesn't stop most of the teams from preparing their entries for the first round of qualifying, already delayed by a day due to rain.
Nearly at the end of Pro Nitrous row sits the pit area housing "King Kong 7", a 2018 Dodge Dart owned by Frank Brandao and driven by Lizzy Musi. With just a handful of passes on less-than-ideal track conditions, it's still an unproven piece, but it's destined to become one of the quickest and fastest nitrous cars in the world. There's one man responsible for making that happen, and he's the one guy I absolutely must talk to this weekend: Pat Musi.
"Not right now," says Dan Dystart, one of Musi's longtime crew members, as I walk into the pit area. "He's still figuring it out." Just as photographer Cole Rokosky and I start packing up the lighting equipment to head back to the tower, a few rain drops appear on the front clip of Musi's Dart. A few drops turn into a steady shower, prompting race director Bob Harris to confirm the race's inevitable cancellation over the PA system. Musi emerges from the trailer and chuckles, "Well, boys, it sounds like we have some time now."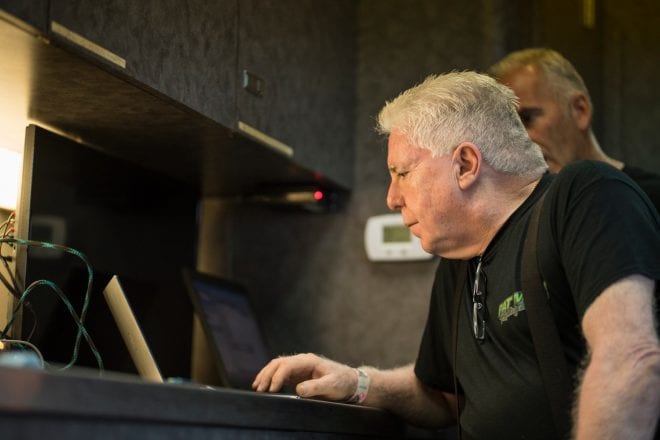 Musi pulls up an extra stool in front of his Dell laptop, perhaps one of the most valuable pieces of equipment in nitrous racing. It's chocked full of tune-ups and data for two of the quickest and fastest nitrous oxide-assisted race cars, be it Musi's PDRA Pro Nitrous entry or Chad Green's Bond-Coat '17 Corvette in the E3 Spark Plugs NHRA Pro Mod Series. Musi has been tasked with tuning both of these cars this season, and after seven NHRA races and three PDRA events, he's handling the responsibilities as if each car was his sole focus. Both drivers are third in points in their respective series. As a fifth-year Pro Nitrous driver, Lizzy is a guaranteed Top 5 player, but Green? He's a rookie in a series full of drivers with years – decades, even, in some cases – of experience behind the wheel of a finicky Pro Modified entry. But with Musi in his corner, it should come as no surprise that Green was an immediate power player when he made his NHRA Pro Mod debut earlier this year.
Green, a clean-cut businessman from Midland, Texas, made his first pass in NHRA Pro Mod competition to the tune of a 5.797-second pass at 245.94 mph in the opening qualifying session at the NHRA Gatornationals in Gainesville, Florida. A 5.793 at 248.93 in the fourth and final session allowed Green to start from the No. 7 spot – not a bad deal for a new guy. A wire-to-wire first-round win over 2011 world champion Khalid alBalooshi – also running a Musi powerplant – followed, along with a new personal-best 5.788 in the process. At this point, Green could've easily stuck the Camaro back in the trailer and called it a strong debut weekend. But after he was quicker than 2017 Rookie of the Year Stevie "Fast" Jackson on the starting line and at the finish line in the second round, it became apparent to everyone on the property that Green and Musi were there to win. A violent impact with the retaining wall stopped Green in the semifinals, but the message was delivered: the supercharged and turbocharged guys would have a new nitrous car to worry about this season.
"I don't think they knew what to think," Musi surmises about what the NHRA Pro Mod community expected from the seasoned veteran and the rookie. "Look, in 1981 I went through a similar deal. I had run IHRA (Pro Stock), which was looked down on at the time, even though we were the No. 1 or 2 qualifier for four years, finished first or second in points in the early days of the mountain motor deal. I decided to go to NHRA Pro Stock in '81 – finished fourth in the points. All we ever heard was, 'He'll get an education when he comes over here.' Instead, I gave them one.
"It's a little different now, though," Musi adds. "I think (the NHRA Pro Mod teams) realize that PDRA ain't no joke. They didn't know what to think of us coming over to their side of the world. But I've had a lot of crew chiefs who I think highly of that have congratulated me on the job we're doing. That was pretty nice to hear."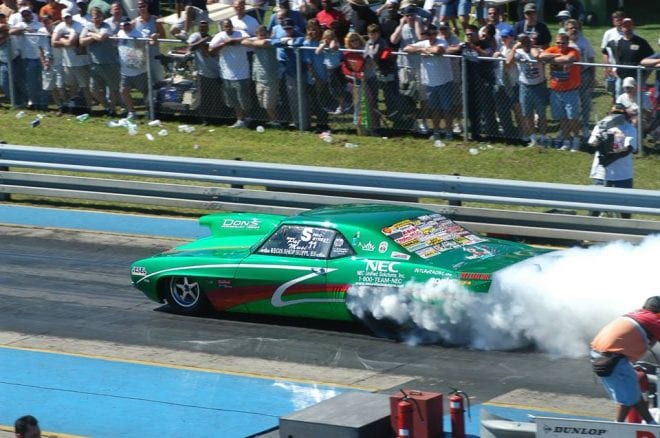 To understand how Musi ended up in this position – the tuner of the third-ranked cars in NHRA Pro Mod and PDRA Pro Nitrous and the engine builder for the other two nitrous cars in the Pro Mod Top 10 – one must take a look back at the day when the former Pro Stock star kicked his carburetors to the curb in favor of electronic fuel injection. Nearly 20 years ago, Musi was offered a then-unproven EFI setup, setting into motion a chain of events that would revolutionize nitrous racing in the 21st century.
"Mike Thermos at NOS had an EFI system that they were developing with Graham Western. He asked if I'd be willing to try this and run it," Musi remembers. "Well, I'm the kind of guy who will try about anything if I think there's something there. It was probably one of the better decisions I ever made because it gave me that leg up on the competition."
It's easy to look back on that moment as a turning point in his career, but Musi called his shot well before the EFI system had proven itself on the track. Musi's EFI-equipped Camaro was still in championship form in NMCA Pro Street, where he clinched the 2002 season championship. Never one to mince words, Musi expressed the potential of the EFI combination when others were laughing if off as a temporary test piece.
"I feel that when it's all said and done, that it'll be better than carburetors, but we're going to have to have some time at the lighter weight," Musi said in a 2002 Drag Racing Online interview with Ian Tocher. "We've made some good runs – I recently ran some 6.40s at over 220 in my Camaro, which is pretty much a shoebox – and we were at 2,600 pounds, which is 225 pounds heavier than a Pro Mod. So, we've seen some real respectable numbers. But I'm not saying it'll happen overnight. I'm not that stupid; I know it's going to take some runs to get competitive."
Musi still remembers the early days of EFI, the trying times when things just weren't going his way. The new technology would fight him at first, but there wasn't necessarily anything wrong with the EFI system itself. Like any new piece of equipment, it took some time to work EFI into the time-tested and proven race program Musi had developed over decades in Pro Stock and Pro Street.
"At our first race with EFI – this was back when the 16-volt batteries just started coming around – we had 12-volt batteries. Well, the EFI wouldn't run under just around 11.5. It didn't seem to affect the carburetor stuff, but the EFI system just would not cooperate," says Musi. "That was right about the time I said, 'Maybe this (EFI) ain't a good idea.' We put the 16-volt batteries in the car and from that day on, every carburetor I had was used for a wheel chock. I just saw what we had and worked on it, stayed with it and kept developing it."
Western, who had worked on the development of the first EFI system Musi ever tried, has continued to work with Musi on improving the EFI Technology engine management system on board Musi's car and those of his numerous Pat Musi Racing Engines customers. Western and his California-based company also have experience in IndyCar, Formula 1, aerospace and military applications, but their work with Musi has helped to normalize EFI in nitrous doorslammer drag racing.
"If I come up with an idea, Graham will do the software," Musi says. "Whenever I went to him with an idea, he used to ask, 'Pat, why do you need that?' Then he started going to the races with me a couple years ago and he said, 'Now I know why you need all this stuff.' The EFI Tech equipment, I think, is the best equipment out there."
Along with improving the engine management system, Musi has worked with a variety of manufacturers to develop engine components that can stand up to the harsh elements of high-horsepower nitrous racing. Hands-on relationships with Dart Machinery, Jesel and Moroso have played a part in Musi's remarkable performance gains over the years.
"I'd say the engine, in the last 10 years, has developed where we can run more nitrous through them. They're nitrous-friendly. The motors evolved with the fuel injection and the nitrous. So everything kind of came together and became what we have today."
What Musi has today is a combination that leads in nearly every class it enters. His "house car", Brandao's "King Kong" entries, started winning Pro Nitrous races when Lizzy notched her first professional win driving "King Kong 5" in 2014 and has continued to post achievements. Most recently, she ran a world-record 206.54 mph pass en route to back-to-back victories to close the 2017 PDRA season. Lizzy finished third in points, with three Musi engine customers joining her in the top 5, including two-time and defending world champion Tommy Franklin. On the NHRA side of the world, "Tricky" Rickie Smith has flown the Musi banner to three NHRA Pro Mod world championships in the last five seasons.
A slew of race victories, world records and season championships are the result of Musi's mindful efforts to find his own personal edge up on the competition. One unintended consequence of that movement, though, has been his fellow racers' adoption of EFI. Almost all of the mechanical fuel injection holdouts have been seduced by the benefits of EFI.
"I don't care if I sound cocky or whatever, but I forced every Pro Mod out there to put EFI on," Musi says. "You couldn't even run a set of carburetors and be competitive now. I take a little pride in that. I made 'em do it – they had to do it. They fought it as long as they could and tried to make the carburetors work, but they had to switch.
"I kind of look at all the nitrous EFI deals and I ought to take it as a compliment – and you have to when you get copied – but you look at all them set-ups and they're all copies of my deal from day one when I started. They run the same fuel pump and fuel system, all the stuff we developed through the years. I have to get a little giggle out of that."
Imagine New Jersey's famed – and now defunct as an active drag strip – Old Bridge Township Raceway Park in the mid-'80s. Musi is there rolling his Pro Stocker out of the small trailer he towed to Raceway Park from his home in nearby Carteret. It's just Musi and a buddy, preparing the naturally aspirated hot rod for a pass down the quarter-mile strip. There is only a small tool box and a tire pressure gauge. A few sponsor decals are emblazoned across the red, white and blue paint job on the Camaro, which also bears Musi's name on the door panel. This scene – simple and straightforward – was the norm for Musi as he was coming up and racing with names like Johnson, Glidden and Shepherd.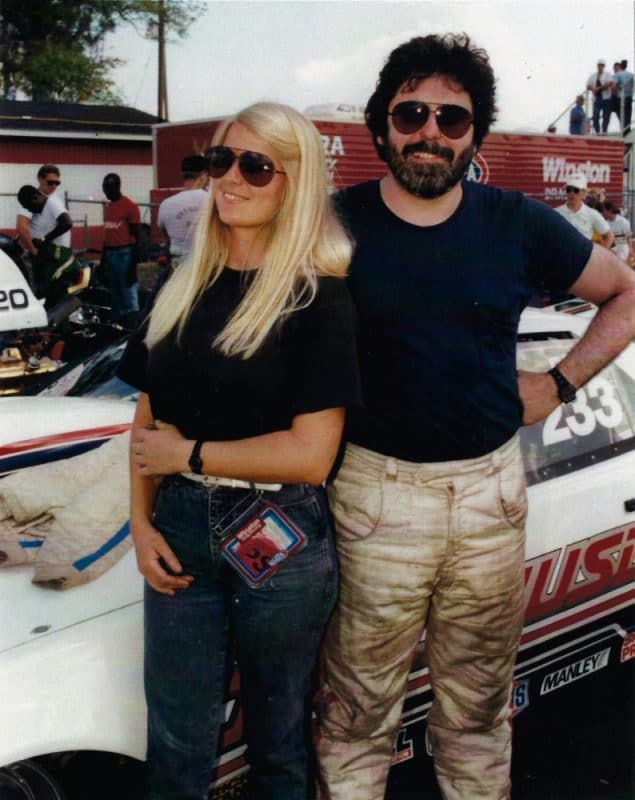 "In the old days, we drove the crew cab, we put the car together – we did it all," Musi says. "I come from the Warren Johnson/Bob Glidden days. We did it all ourselves – everything. And yes, you worked. Now the game is so hard. It takes a lot of people."
Today, Musi keeps a low-key presence compared to some of the mega-haulers that fill the pits at PDRA and NHRA events, but it's also a far cry from the bare-bones set-up he used to bring to the track. Musi's trailer is a mobile version of his engine shop, stocked with anything and everything he'll need over the course of any given race weekend. He's joined by a complete team of crew members, each with a specific duty on the car.
"Running one of these cars takes a lot of people," Musi asserts. "I have a crew that I've developed. They all really work hard. Like Ronnie (Viccaro) – no way I could replace Ronnie. Everybody has their place. I can do it all if I have to, but it's nice to have a team with dedicated roles. You have to start giving some jobs out. It's hard to do it all yourself."
Viccaro joined the Musi team after Musi Racing Engines relocated from New Jersey to Mooresville, North Carolina, home to just about every team that competes under the NASCAR umbrella. Viccaro enjoyed an illustrious career in the circle track world, including building engines for the late NASCAR Winston Cup champion Alan Kulwicki, before switching to the straight-line sport with Musi.
"Ronnie walked in the door one day and hasn't left since," Musi recalls. "He's been great. He's really a good guy. He can go through the motor and maintain the motor. He's learning more and more every day. In NASCAR, of course, the cars are completely different, but a lot of what they do over there applies here."
Moving to NASCAR country, which also happens to be a hotbed for racing in general, has been a game-changing move for Musi. He's within reasonable driving distance of every stop on the PDRA tour – no more than four hours from tracks like GALOT Motorsports Park, Virginia Motorsports Park, and Darlington Dragway – and just across town from zMAX Dragway, host of two NHRA Pro Mod events. Mooresville is also a great place to be if you're in need of a skilled employee to work in your engine shop or help you campaign a top-flight Pro Modified. This location has conveniently allowed Musi to assemble an all-star team.
"I know if a guy is good the first week out," Musi says of his hiring process. "I always look at it as if I can get 75 percent of what I want in a guy, I'm good. You're not going to get that 100 percent. But I've been lucky to get some really good, talented people. They all have to jell as a team. I feel like we have the best crew we've had in a long time."
Along with Viccaro, Musi's crew includes Dan Dystart, Rob Guzzi and Bryce Moretz. X275 star Dean Marinis also lends a hand whenever he can find a break in his work and racing schedules. Marinis and Viccaro tag along with Musi for most NHRA Pro Mod events when he's handling the crew chief duties on Green's car.
Another group of specialists handles business back at the engine shop, where Musi builds engines for customers in classes ranging from Top Sportsman and Top Dragster to Pro Mod.
"We have a whole crew at the shop that focuses on the engines," Musi says. "We have a great cylinder head guy and another great assembler. We have a whole deal going on at the shop constantly, on the dyno developing stuff. It takes a lot."
Beyond the dyno room, Musi takes his R&D program to the track, using every reasonable opportunity to test the house car. He keeps an open line of communication with his engine customers, too, working with them to get the most out of their engine, but also to further fine-tune the combination to the benefit of everyone involved.
"We're fortunate enough to have enough good racers around us, like Tommy Franklin," Musi says. "We have all these good guys around us and we can share a little information. We give everyone the best stuff we can and see how it runs. Look at what Rickie (Smith) has done for our company. He's been with us for six years and he's won four championships (three in NHRA, one in PDRA) in that time."
Musi adds that his relationship with Smith has helped with the engine business, but also with Musi's new gig with Green. He says that he wasn't exactly flying blind when he tuned Green to an impressive debut at Gainesville, but by no means was he using a Rickie Smith tune-up.
"Obviously, I had a head start since I do Rickie's engines and I know what he's got," Musi says, "but I don't know his tune-up. Rickie does his own tune-up. We always keep it that way. He'll help me if he can and I'll help him if I can."
Musi and Smith are cut from the same cloth. Both in their mid-60s, the two raced Pro Stock together in the '80s and followed similar paths since then. Smith's path may have started several hours south of Musi's in rural King, North Carolina, but they're more similar than they are different. They used a strong work ethic and insatiable hunger for winning to rise from humble beginnings and become two of the most iconic names in doorslammer racing. They've been described as "intimidating" and "stubborn", but Musi and Smith bring their own strengths and weaknesses together to help each other succeed.
"Have we had our arguments? We've probably had a couple in six years," Musi says. "I'll tell you one thing about Rickie – we might argue once in a while, but it won't be three minutes and he's at my trailer, 'OK, let's talk. Let's get this over with right now.' And we do. Rickie is just a really good racer."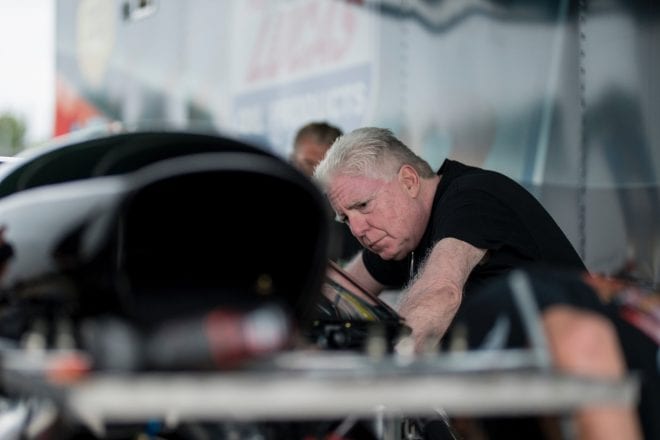 Back in the Musi pit at National Trail, the rain has slowed down enough for the crew guys to finish packing up the pit area. The conversation's topic changes to the future for Musi and the drivers he leads. Musi is understandably apprehensive about Green's next outing, the DRAG ILLUSTRATED World Series of Pro Mod in early August. Green was the first nitrous car to accept an invitation to the event, held at Bandimere Speedway, which sits at nearly 6,000 feet above sea level in the Colorado mountains – not exactly ideal conditions for a nitrous-fed entry in a sea of supercharged and turbocharged competitors.
In stark contrast, the Edelbrock and Lucas Oil-backed "King Kong 7" is entering the portion of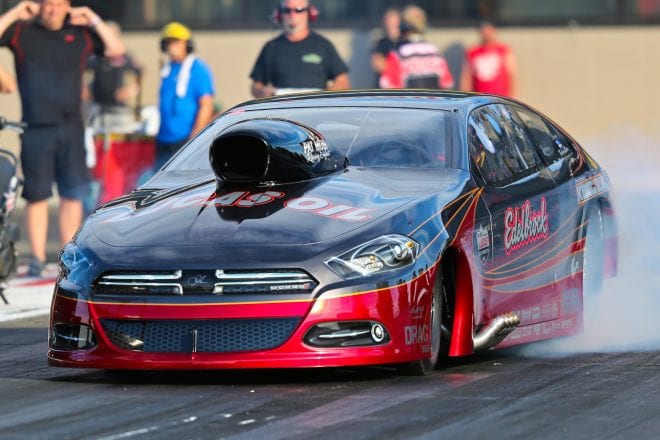 the season when it should shine like a diamond. The next race on the PDRA tour is Drag Wars at GALOT Motorsports Park, where Lizzy and "King Kong 6" recorded some of the quickest and fastest passes in Pro Nitrous history before securing the event win last year. If the new ride performs as well as its predecessor, the Musi camp will be in for a few races of late Saturday nights and low elapsed times, all in the name of putting the number one on the windshield after the PDRA World Finals at Virginia in October.
"We're still not impossible to win the (championship), but it's going to be tough," Musi realizes. "We're certainly going to try it and see what we can do. You never know. Lizzy went out first round at the last race, but the other guy can go out first round at the next race. You know how it goes.
"The tracks are coming to us and the air is coming to us. Everyone knows we run best in good air. And we have a lot of information at GALOT. I think we have the record there, too. We feel pretty confident, but you just never know. We're not even looking at (the points). We're just going to do the best we can and see what happens."
Photographs by Cole Rokosky and Tara Bowker
This story originally appeared as the cover story in DI #136, the Crew Chief Issue, in September of 2018.