Late Saturday night of last week, it was announced Troy Coughlin Jr. was stepping away from the seat of his Top Fuel ride at Kalitta Motorsports. The son of NHRA Pro Mod champ Troy Coughlin and grandson of drag racing royalty Jeg Coughlin Sr., TJ had shown promise over the course of the '17 season, but had also struggled. After testing at Indy in preparation for this weekend's 63rd Annual Chevrolet Performance NHRA US Nationals, Coughlin consulted fellow drivers, friends, and the brain trust at Team Kalitta, deciding he needed more time in the sport before tackling the Top Fuel ranks.
For Richie Crampton, the 2014 Big Go champion, TJ's sudden departure opened a door for the amiable Australian, who was announced this week as Coughlin's replacement in the SealMaster rail for the remainder of the year. Crampton, who got his start as a crew member for Morgan Lucas and then became one of the top drivers in the NHRA Mello Yello Series, was still working for Lucas in the MLR fab shop when he got the call.
"For the most part…it was just kind of out of nowhere," Crampton said during a phone call the day after the news was announced. "I got the call Monday morning and mainly to see if, on my end of things, if Morgan and everyone here at the fab shop where I still work would be OK with us structuring some kind of agreement where I would be able to have the flexibility to travel to the races for the rest of the year and do this thing.
"It definitely brings another level of focus. I think no matter what race you get called to drive for Connie Kalitta, you're going to think about it at night. You're going to be waking up in the morning thinking about it. That's where I'm at."
Kalitta's Vice President of Operations—and tuner for Doug Kalitta—Jim "Jim O" Oberhofer said several drivers were being considered for Coughlin's now-vacant seat. Veterans such as Whit Bazemore, Brandon Bernstein, Cory McClenathen, and Chad Head (who recently left the driver's seat of his father's team to become the head of safety for Kalitta) were looked at, as were younger, up-and-coming drivers like Ashley Sanford. But it was Crampton who received the most positive reactions from the sponsor, the crew, and team owner, Connie Kalitta.
"When we looked at people who were out there," Oberhofer said, "Richie was somebody I had talked to over the winter and I really like Richie. He's a good kid, he's a really talented kid. I mean, heck, he's down there building race cars for Morgan Lucas Racing and he's a talented guy in many different ways."
A statistic lost neither on Jim O nor Crampton is the fact he joins former MLR teammates Shawn Langdon and J.R. Todd (now in the DHL Funny Car) at his new home. In fact, Oberhofer was kind enough to thank Lucas for his support of Team Kalitta.
"We were talking to Morgan the other day and it's funny how all these guys did work for Morgan, so I told him, 'Hey, great job on training these guys and getting everything right for them so we could have them!'"
When the topic moved to Coughlin's departure from the team to run Top Alcohol Dragster, both men were quick to say TJ left for the right reasons. Oberhofer made it very plain, very quickly not only was Coughlin not removed from the seat in order to ensure Langdon would be guaranteed a spot in the NHRA Countdown to the Championship, but also that Coughlin was welcome to return.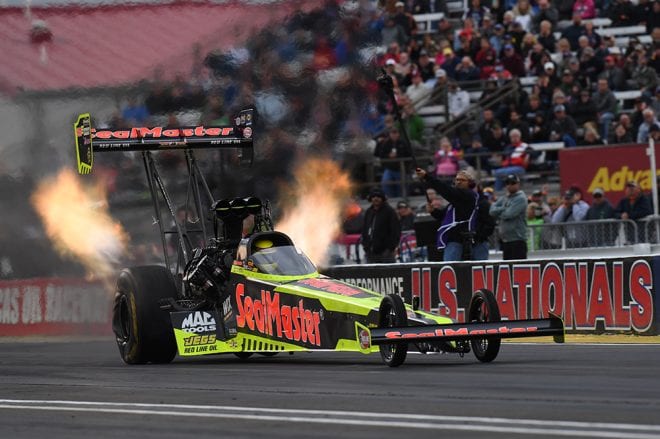 "The bottom line was, that TJ is a great kid," Jim O said. "I tell you what, you can't get a finer young man than TJ Coughlin. He's just an awesome kid. He just wasn't comfortable in the car. For us to take and get him comfortable in the car, get him where he felt comfortable in the car, we were going to have to take a lot of steps backwards. He didn't feel that was the right thing to do because it's real hard to back one of these cars off. "
"It was one of those situations where I've got a lot of respect for Troy Coughlin Jr. and the big thing that he did to step away at this juncture of the year," said Crampton. "We all know he's a fantastic driver and we've seen what he can do in Pro Mod. I'm looking forward to the day that he gets back into Top Fuel because I know it's where he wants to be and it's where he belongs."
The SealMaster ride is Crampton's for the remainder of the season with any talk of the seven-time NHRA National event winner continuing his tenure with Kalitta held off until winter. Now, the mission is Richie's second Big Go title.
"Indy has been special to me," he said. "Being this is a hometown race, essentially for myself and a lot of people being that we all live here in Indianapolis, that helps a lot. A lot of things are easier for some reason for a hometown race like this. After all that being said, this is Indy. It's been special to me, it's been special to my teammates and I know it's high on the list of any Kalitta race car team to try to win.
"I just feel like I gotta make some good runs and we all know what Kalitta horsepower can be like, so I better hold on."