Bobby Lagana Jr. has only ever known life at the dragstrip, and he is right at home as part of the CAPCO Contractors team in NHRA's Mello Yello Drag Racing Series. Though listed as an assistant crew chief to Richard Hogan in NHRA's media guide, Lagana is quick to explain that titles aren't really a thing in the Torrence Racing camp.
"We're a team," Lagana says. "Richard Hogan is our leader – he's the tuner of the car and makes the final calls – but we're all on the same level. Every job is so important, and we're just fortunate to have a good group of guys."
At the core of the team are part-time Top Fuel racer Billy and his wife, Kay, along with their son, Steve Torrence, the full-time driver of the primary CAPCO Contractors Top Fuel dragster. The entire group is more of a family than anything, and that formula has worked well as the younger Torrence has been a serious championship contender in recent years.
Lagana and his brother, Dom – both experienced nitro pilots on their own merits – came to the team in late 2013, and they've been part of the fold ever since.
"Our dad had passed away, and we signed up to come out for the last six races of 2013 to clear our minds and just help Billy run his car," Lagana says. "I never would have thought it would turn into this, but the Torrences are so family oriented, and we had such an instant connection. It was hard not to want to keep racing with them. This has probably been the best five or six years of racing of our lives."
In 2017, Torrence made a hearty run for the big trophy, beginning with steady forward momentum at Bristol's Thunder Valley Nationals in June and on through the end of the season at the NHRA Finals in Pomona. He claimed eight Wally trophies in 11 final rounds and, for much of the latter half of the season, had hold of the No. 1 position in the standings.
In the end, it was Brittany Force who was awarded the championship following a white-knuckled battle, but Torrence came back with fire in his belly in 2018. He snatched the points lead by race 2 of 24 on the schedule, and by the conclusion of the Western Swing in mid-summer, he had yet to forfeit the lofty perch.
Lagana may not be willing to accept the titles bestowed upon him nor take credit for any of Torrence's success, but he and Dom, the sons of well-known Northeast match racer Bobby Lagana Sr., have truly rounded out the Torrence Racing team. The Lagana brothers traveled with their family from track to track as kids, toting their Twilight Zone entries on a 1969 Ford ramp truck, and both seemed to have inherited their father's off-the-charts passion for racing.
"We were so fortunate to have grown up the way we did," Lagana stresses. "We had really good parents, and we 100 percent didn't have the perfect lifestyle, but they were really out for our best interest. They taught us to respect and be good to people, and that's how the Torrences live, both at the racetrack and in regular life."
Missing the championship by such a narrow margin and seeing it slip away at the last race of the season was painful for the team as a whole, but Lagana has been able to temper the disappointment and focus on each run of each race in the new season.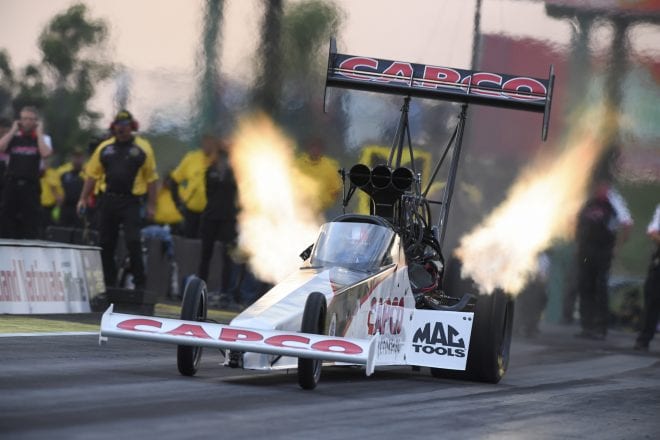 "You have to get hot at the right time," Lagana admits. "It's hard because everybody out there is so competitive, and the teams are so well put together, starting from the owners on down to the crew chiefs and everyone on the team who work so hard. So many things can affect the outcome and change what you think the results will be. I might look at it differently than most people, but for me personally, I just get excited about each moment."
The joy of every run, let alone round and race wins, is supremely evident in Lagana's body posture and facial expressions.
"I picture my mom and dad every run we make," Lagana says. "Anytime something good happens, I always remember my dad. He got excited, no matter what happened. We went five years and never qualified with our car, and we still went to the race with the same enthusiasm. We were born that way, and we wear it on our sleeves."
This story originally appeared in DI #136, the Crew Chief Issue, in September of 2018.