The NHRA Drag Racing Series heads to Brainerd, Minnesota, this weekend, only about 250 miles from the Canadian border and the closest the series will get to our neighbors to the North. For a father-son duo traveling the NHRA circuit, that means hometown roots, but more importantly, it means one more weekend traveling side-by-side, even if they may not be cheering for the same race car if they meet head-to-head on race day.
Rob Flynn, who was born and raised in Edmonton, Alberta, Canada, currently serves as the crew chief at Scrappers Racing on the Top Fuel dragster for Mike Salinas and his son, Paul Flynn is the Mechanical Engineer for Vehicle Measurement at TRD, U.S.A. (Toyota Racing Development). Rob has been following NHRA since the 1970s when he attended his first drag race in Edmonton. Once the nitro-powered machines sped past him, he was hooked and worked to get his license and began networking throughout the sport to find a path in almost immediately, a trait he passed onto his son, Paul.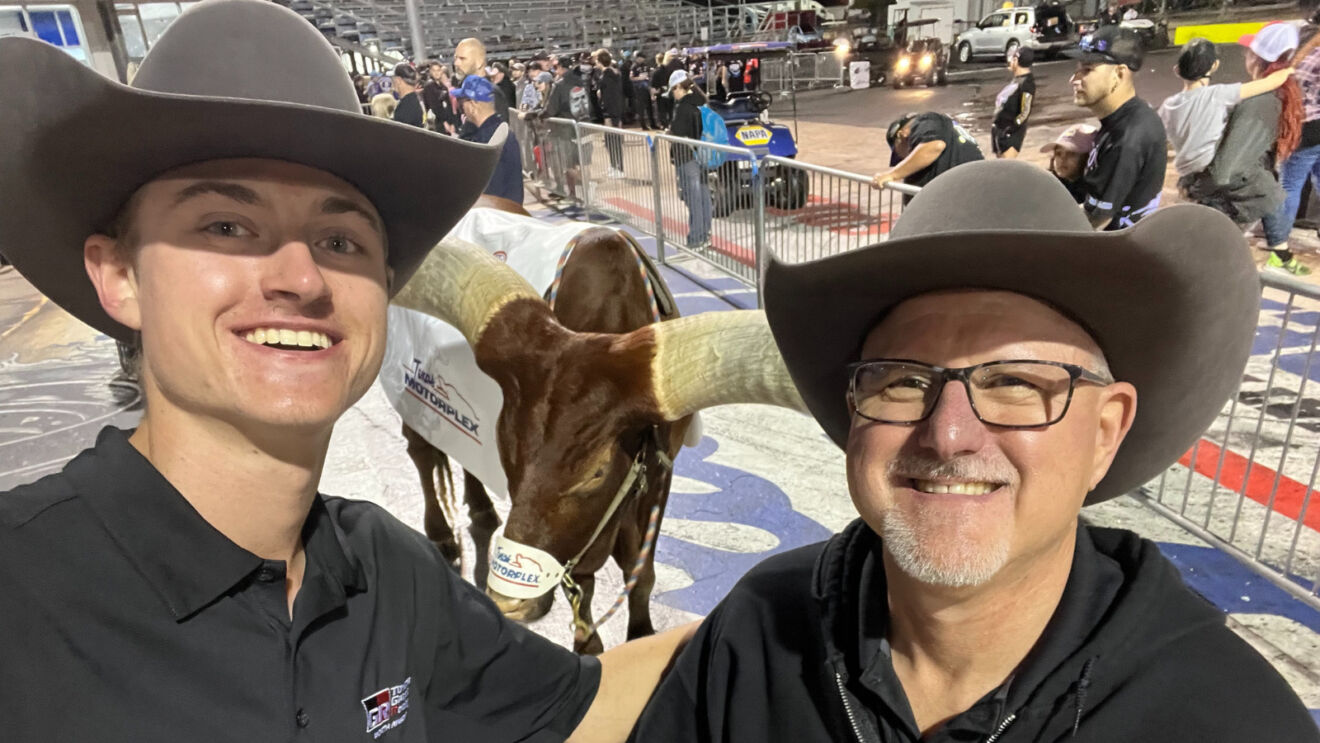 Not long after Paul was born, he and his sister Stacy got to experience life on the NHRA circuit traveling the country in their parents' motorhome. There are stories of the Prock family feeding the Flynn kids candy regularly at the motorhome and the Scelzi and Dunn kids all hanging out together. While Rob was chasing championships, Paul was growing up in a culture that would spur a passion for his career later in his life when he would pursue a mechanical engineering degree after years of experience doing various jobs on some of the top NHRA teams in the sport.
While Paul enjoyed NHRA, it wasn't the primary sport he was focused on during his teenage years. With an Instagram handle and nickname of 'Tall Paul' throughout the pit area, it only seems fitting that other sports might have been a calling. He tried his hand at baseball and gymnastics (no, not basketball shockingly), but motorsports wasn't the first thing he gravitated to as a child.
But as the opportunity to bring friends to the track became less of an option, Paul began looking for alternative activities while at the track watching his Dad, a 2017 inductee into the Canadian Drag Racing Hall of Fame, tune race-winning nitro cars. For example, Bob Vandergriff has an all-white race car, so Paul decided he needed to keep it clean so he would sit and clean every spot off of it after every run. Then he started helping to wash parts, and slowly the smaller teams would allow him to work on parts of the car, and ultimately he was learning all about the sport through volunteering to be of assistance wherever possible. The same networking skills that got his Dad into the sport in the 70s were paying off for young Paul as he gained experience throughout the pit area.
That networking, along with his degree in mechanical engineering, would lead Paul to an internship and eventually his full-time position at TRD, which started in March 2020. For the past few seasons, Paul has been a regular fixture on the racetrack, getting measurements for Toyota teams prior to their passes, but of course, when your Dad is the crew chief for a competing team, comradery can be challenging on the starting line. With Paul needing to protect the data he's gathering, but still want to spend time with his Dad when he sees him, the duo has to be careful to never appear to be sharing anything technical and that's the farthest thing from their minds when they meet on the line. Rob will tell you that Paul has eight chances to win each weekend and Rob has one so of course if they're not lined up side-by-side, they will pull for each other!
This 2023 season is bittersweet for this duo as it will be the final season that Paul will travel full time on the NHRA circuit as he's received a promotion that takes him away from traveling on a regular basis. Both men admit that their race morning hugs and 'be safe today' rituals will be missed, but more than that is the time they get — dinner together on the road, staying in the same hotel or catching an extra day together around a race weekend to visit other family members. With Rob residing in Indiana and Paul in North Carolina, the distance without traveling together will seem harder, but the closeness of this family will never let something like a few miles come between the bond is one of the strongest in motorsports.
The Lucas Oil NHRA Nationals at Brainerd International Raceway will kick off with the first round of qualifying on Friday afternoon at 3:30 PM CT.