Almost 17 years ago in a garage in Southern California, Todd Harrison started one of the most widely recognized and respected titanium supply businesses in the country, TMS Titanium. Like so many racing dreams it began with a young man reading issues of Hot Rod magazine and having a goal.
"I had read an article in Hot Rod magazine about titanium connecting rods," said Harrison. "I worked for a guy who was a racer and I started asking him titanium questions. The next thing I knew I had a job offer. I worked for them and grew that company. I moved from there to another titanium processing company as their general manager. I decided to go out on my own in 2006 in my parent's garage."
The early years were not easy as titanium costs were sky high, but Harrison had passion and knew how he would set his company apart. He focused on customer service and finding loyal customers. That combination along with hard work has set Harrison on a path that has seen TMS Titanium grow every year and provide high-quality titanium to customers in just about every racing series as well as aerospace, tactical operations, the chemical and medical industries, and marine services. The biggest growth area for the company has been racing and especially drag racing.
"Our sales staff is really plugged in to the racing world professionally and personally," Harrison said. "They are fans and they want to do a good job. They know this is a performance business and they like to see the teams we work with win races and championships. We were fortunate to work with Elite Motorsports and Ron Capps Motorsports, who won NHRA Pro Stock and Funny Car championships in 2023. We were involved in supplying the titanium for some of the performance enhancement they made. It is a great feeling to see your friends win and dominate. It was special to be a part of Ron Capps' first championship as a new team owner. I spent a lot of time talking with (Capps' crew chief) Dean Antonelli talking about parts and uses of titanium."
Harrison isn't just interested in the bold type names in drag racing. He and TMS Titanium are great supporters of up-and-coming teams. He remembers how hard it was to get his company started and it took a lot of support and encouragement from friends and associates. He considers every client a friend and no matter what level they are racing, they should get the best customer service and attention possible.
"We are working with Jason Rupert, who is a six-time champion in [nostalgia] Funny Car. He is stepping up to the NHRA Nitro Funny Car class and he just needs some help. We offer material, guidance, and marketing partnerships. We figured out a way to jump in and help some of these smaller teams. We want them to succeed, be competitive, and be safe. Jason is a very interesting relationship. Not only is he a six-time champion but he is also a welder and fabricator. He really understands the metal and I have learned things about titanium from our conversations about his applications and what he has seen and experienced over the years."
One of the benefits TMS Titanium brings to the racing industry is their relationships outside of the sport. Harrison and his partner, James Hostetler, develop contacts with companies and industries around the world. The cross-over from the aerospace, medical, and tactical fields has been a game changer for the company over the years.
"These industries are really one and the same. They speak the same language, and they speak a completely different language at the same time. We have people that have no interest in racing, but they are having the exact same problem a race team is having. I can use my knowledge of seeing broken parts and machining applications in the racing world and take that information to the aerospace or chemical processing or medical world and we are able to provide answers and solve problems for them. Everyone struggles at times, whether it's racing or machining, and we try and do our little bit to help teams and organizations use our products and our knowledge base. I have always said customer service is No. 1. You must be able to be there for the customer. If you don't know the answer right then let them know you will find out and get right back to them as soon as you can."
Over the years Harrison has met and worked with many legends in the sport. Most importantly, he has developed long-term relationships with some of the biggest names in drag racing. He has leaned on them for advice both in the business and racing worlds.
"I have been trained by Roland Leong, who is a great mentor of mine. He has always said it is not what you know, it is who you know. Through our relationships across different racing series from SRX to NASCAR to IndyCar to NHRA, we have created relationships with this knowledge base. If we don't have the answer, I can go to a contact at another organization and get input from them."
Like any business, there have been good years and lean years. Most recently, the past two to three years have been especially trying with a pandemic and global conflict upending supply chains and logistical networks. This is where the long-standing mindset of customer service first has served Harrison and TMS Titanium well to manage a shifting global economy.
"We have had a good supply chain for 16 years now," Harrison said. "The biggest impact we have seen besides just the world economy and Covid has been the Russian-Ukraine war. A lot of material came from that part of the world. Fifty percent of Boeing's aerospace material came out of Russian mills for commercial aerospace, and that has changed with the impact of the war. There is also metal that was melted in Ukraine and shipped to the US to be manufactured, and all those situations have changed. We have had to be very creative in our relationships and luckily, we have some very loyal mills that we work with and suppliers that understand our business. We have found some workarounds and we have been able to continue to work because they know we have great customer service and we do a good job."
Working in the racing industry has been a dream come true for Harrison. While he is not hands on day-to-day with a team or car, he is as involved as he can be. His customers in every industry know he is a phone call or text away. In racing, that can mean contact at any hour of the day. These are the moments and situations Harrison and TMS Titanium thrive in and are eager to step up to help.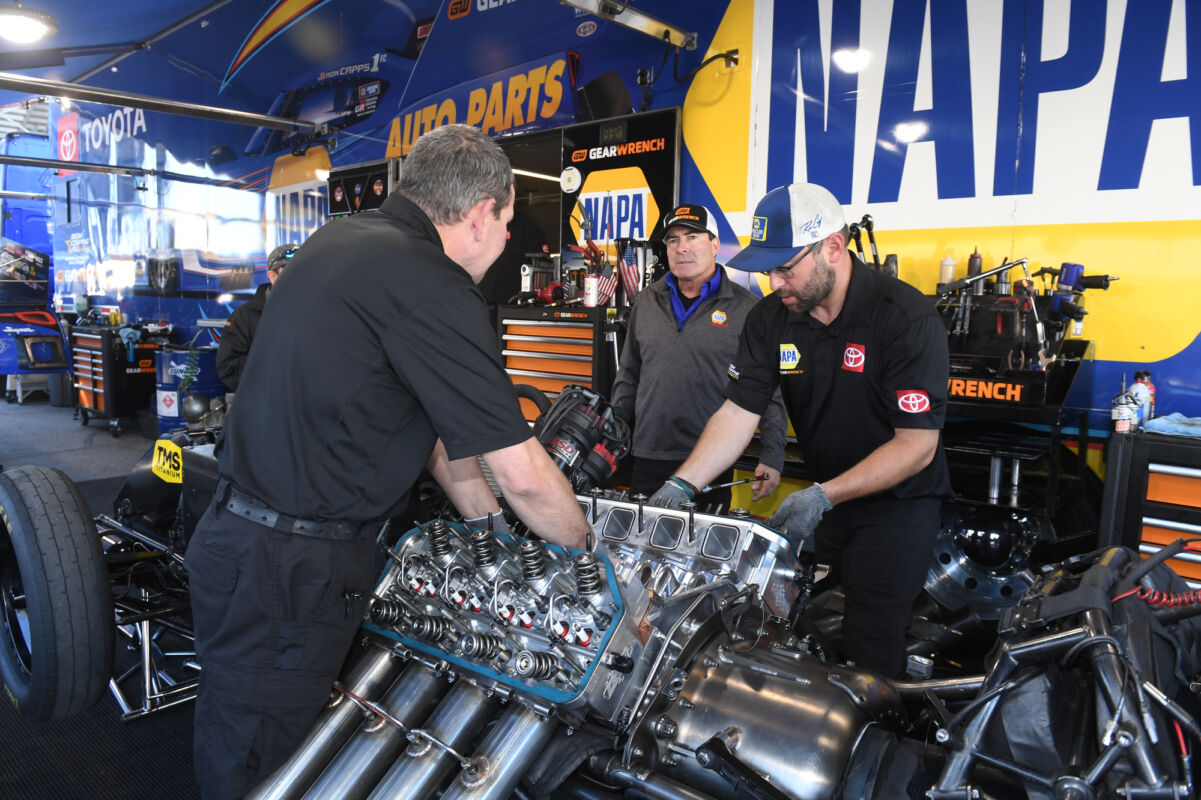 "We get emails and calls non-stop around the clock," Harrison said. "Racers work in the middle of the night. They are in the garage and we get those calls or texts. We just try and be available and fulfill as many of them as possible. It is neat to get a text at 9:30 p.m. and you can give someone an answer and you get into the office at 6:00 a.m. and it gets shipped right out. That is a great relationship to have with these guys.
"I can't tell you how many times we get a call two or three days before a race where a racer needs something," Harrison continued. "A great example is Ryan Martin blew up his transmission and threw the driveshaft out. They called us at 3:40 p.m. and we stopped production. I put six guys on an eight line item order and we got it out UPS red so he got it the next day, put the car together, and was able to continue filming his racing."
With racing growing and getting faster every season, TMS Titanium and Harrison have kept up their end of the bargain. They are always available and will put in the work to support any race team at any level. They work round the clock to source materials and solve problems whether a team needs to fix a Funny Car body support or a medical fabricator needs raw materials to design a new titanium rod for a patient. The goal is getting the win and keeping the customer happy.