When it comes to drag racing, there's no shortage of competition. Whether it's on the track or in the pits, every team is working towards the same goal – winning. Once the helmets come off and the cars are parked, though, there's a different type of competition going on amongst a select few, and it's all about who can have the most fun.
Be it by blood relation or by circumstance, friends and family are synonymous at the track. For competitors who spend every ounce of their free time away from home, working and wrenching, it only makes sense that everyone at the track becomes family.
The stress involved with running a race team – be it physical, emotional, or financial – can be a tough pill to swallow. Fortunately, a cocktail (or ten) can make that pill go down a heck of a lot smoother. When the racing is done, the bar opens. Why should the cars be the only ones allowed to sip a little alcohol?
Perhaps one of the most well-known revelers is none other than the legendary Camp Stanley. Famous for being a founding father of today's outlaw door slammer revolution, and making his Stanley and Weiss Racing supercharged Cadillac CTS-V Pro Mod produce killer timeslips, Stanley's also famous for producing his killer margaritas. When "Mr. Come-and-getcha-some" pulls into the track, he does so with a full-blown bar tucked neatly into his race rig.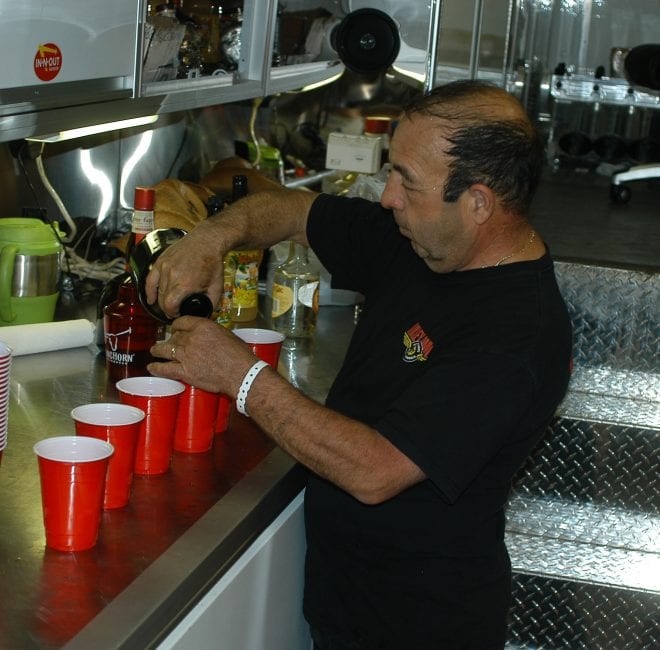 "When life ceases being fun, you need to be on the couch at home getting old and fat," said the wise man with some sage advice. "Part of being competitive is that you also have to have fun. Race hard, play hard – that's how we do it."
And play hard, he does. Stanley takes quite a bit of pride in having drag racing's best bar which he keeps stocked with almost every type of booze imaginable, from vodka to whiskey, moonshine and more. The only thing missing from his setup is a blender, because "we don't believe in slushies, those are for kids. Real people drink margaritas on the rocks." To the naysayers who falsely believe they don't enjoy tequila or margaritas, Stanley simply says "try mine." He's never had an unhappy customer.
Similarly, wild man "Scotty G." Guadagno takes the game to a whole other level and is known for his passionate love for all things Captain Morgan. His Outlaw Drag Radial, nitrous-huffing '02 Camaro, known as "Ol' Blue," even carries a tribute to the brand on its rear window. Guadagno has a reputation for being the life of the party wherever he goes, and that title is one he works hard to keep.
"When it's race time, car time, whatever, we don't play games," said Guadagno in a rare moment of seriousness. "We're always having fun and joking around, but when we're not in party mode, we're in 'get shit done' mode, and I will only drink once I'm done driving." All the headaches of hurting parts and struggling to find a few extra hundredths of a second somewhere in the car's run really adds up, and Guadagno knows no better way to relax than with a red Solo cup in his hand. He lives by the philosophy that life is short, so you've got to make time to enjoy yourself.
When Guadagno and his crazy crew pull into the track, they waste no time getting the party poppin'. For the YellowBullet.com Nationals race at Cecil County Dragway, he busts out the big guns. "We set up a whole DJ deal, and our pit transforms into a dance floor with disco lights, giant speakers, you name it. We go all night until we get shut down, and there are just tons of people hanging out having a good time," he excitedly explained of the wild atmosphere.
To further add to the club-like atmosphere, Guadagno's got designated liquor cabinets – yes, plural –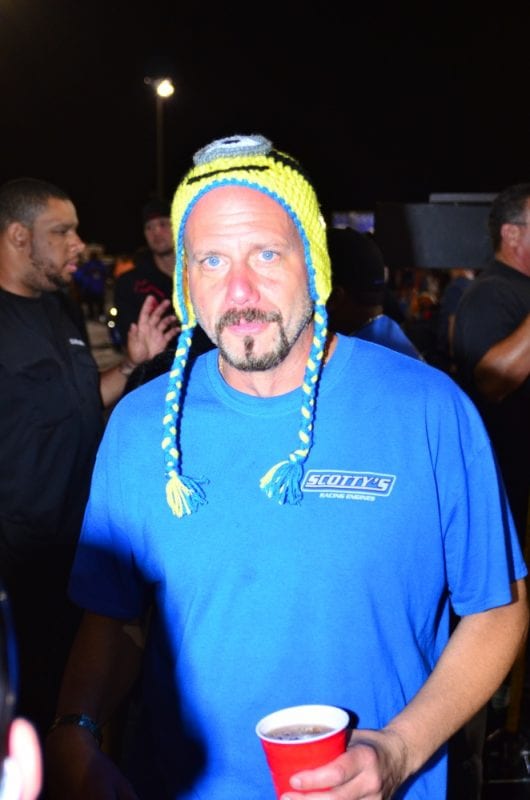 inside his trailer, with a special, separate area just for his beloved Captain. A Ninja blender is kept close at hand for margarita making (which Stanley would not approve of), and he's even got a muddler to make fresh mojitos. "On the other side, because we love to eat, we'll have tons and tons of meat and steaks and other crazy shit, and I even have three cabinets dedicated just to spices – probably more than you've got at your house!" boasted the boisterous racer with his infectious enthusiasm. "When you come to my pit, you come to eat, and you come to drink."
One particular party got a little out of hand, as Guadagno was living it up at Old Bridge Township Raceway Park in Englishtown, New Jersey, one night. "We got the car put away and the music was blasting, and all of a sudden there's like, a hundred people, and tons of golf carts parked everywhere. It was nuts. We stayed up all night until the cops came and asked us to quiet down," laughed Guadagno, who obliged the officers only to turn the dial back up to eleven once they had left.
Having a good culinary spread at the track is almost as important as having a good car. Fuel is crucial, both for the machine and for the driver. Dina Parise, former Ice Capades figure skater, 2015 IHRA Pro Mod champion and driver of her supercharged Pro Mod Cadillac CTS-V known as "Stella," knows first-hand the importance of eating well.
For Parise and her husband, Andrew, partying is more about food than anything else. "I always bring Italian food… lasagna, eggplant parmigiana, spaghetti or ravioli with bolognaise… and we always find stragglers hanging around our pits trying to score a bite!" joked the petite firecracker of a woman. Parise takes her racing operation seriously, so she shies away from liquor until all the real work is done. "We're fuddy-duddy that way. No cocktailing when the car is out or when fans are around – we try to keep it professional."
Pranks and other shenanigans are definitely fair game in the Parise pits, though. "There was one time that Andrew locked crew man Butch Branzelle inside a Porta Potty because he had forgotten to do something. Andrew just pushed our pit car up against the door and let it sit there for a while," Parise reminisced of the hilarious punishment.
Recently, her good friend and starter at Virginia Motorsports Park, Jeff Bowling, passed away. Rather than focus on the heartache, Parise remembered the good times they shared together. "We were hanging out at VMP, and my husband had on brand-new shoes, brand-new pants, and a brand-new shirt. Jeff took him for a ride on a four-wheeler… it had rained a few days back and they went out and got stuck literally up to their chests in the mud. Andrew came back and I was like 'Are you kidding?! You can strip outside but you're not coming in this motor home like that!' and strip he did, all the way down to his tighty-whities!"
Meanwhile, back in Margaritaville, Mark Micke serves up some pretty legit margaritas of his own. Owner of famed M&M Transmissions and driver of Jason Carter's 3-second, twin-turbo '78 Malibu, Micke's locked in a few championships and carries that same caliber of quality when it comes to having a good time.
Truth be told, racing's become more of a business for Micke over the years, so enjoying his rare moments of downtime is more important than ever. "It's not as fun as it used to be, because we have sponsors we need to deliver for and customers we need to keep happy, but I wouldn't trade it for anything," noted Micke. "Now, my paycheck revolves around racing, so at the end of the day, I really need a drink."
A few years back, Micke purchased a margarita machine. When he mixes up his favorite "Brain Freeze" concoction, the party really gets going. "We were at South Georgia Motorsports Park, and Pooch [Jason Rueckert] got so drunk that he fell down on the starting line – and it wasn't because he was stuck to the track! They were giving some kind of award and he was just hugging and kissing everyone. He even gave a speech and had no clue what he was saying," laughed Micke, quick to call out his friend for having too much of a good time.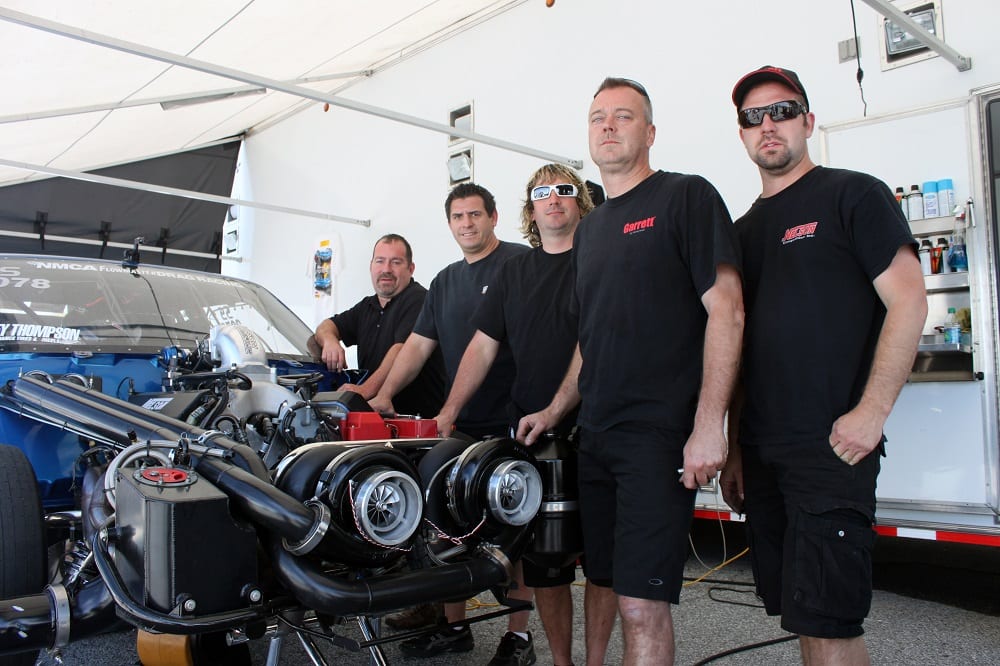 Pooch remembers that day (well, at least a little of it) all too well and now stays away from Micke's mayhem. "Those things will fucking destroy you," he confessed about the diabolical drinks. "There was something about Donald [Long] having a little kid dressed up in a duck costume and supposedly I traumatized the kid. I don't know what I did, but it must not have been that horrible because I didn't go to jail."
When he's not making bad decisions that lead to great stories later, Pooch is busy balancing his job as the big man on campus for VP Racing Fuels or driving his sweet Cutlass. "I've tried to become more of a serious racer and not just the party guy, but it doesn't always seem to work in my favor," he joked. "Being around the cars and trying to get stuff done with a hangover is freakin' horrible. That's the hard part, trying to be responsible and still race but to have fun." The key, he's found, is easy – just be responsibly irresponsible.
When it comes to rain delays, though, anything is fair game. Pooch usually has a handle of Captain Morgan in the cabinet along with a quart of moonshine and a cooler completely dedicated to Busch Light specially reserved for just such an occasion. A few years back, Pooch was at US 141 Motorsports Park for a grudge race, and it got rained out on Friday. "We started drinking. A guy from Kentucky brought some blackberry moonshine, and, well, I don't remember that night," he confessed. His girlfriend, Kyla Lachat, tried to get him to go to bed, but he just wouldn't. "I woke up in the front seat of my pick-up with no shoes on and mud up to my knees. I'll never drink that moonshine ever again."
While Pooch is out loving on anyone who happens to get too close, Mark "Woody" Woodruff is more of a low-key partier who laughs a lot and likes to keep things mellow. Driving his infamous, big block-powered and twin-turbo Radial vs the World '10 Corvette, Woody wants to have a little fun while he's out setting records and winning races. "The drive to be the best is what pushes us, but we've developed a great friendship with a lot of the people we race with, and it's basically become a traveling-circus-type thing – it's all just one big family at the races," said Woody.
In his pits, a huge 70" flat screen television is mounted to the side of his trailer and is constantly streaming anything from UFC fights to other races, and the "WoodyMart" coolers are always fully stocked. "We may run out of race fuel or engine parts, but we NEVER run out of beer!" boasted Woody. Parked alongside his teammates Micke and Carter, the two rigs combine for the ultimate chill experience.
Woody's crew chief, Brent Sansoucie, is known for being a larger-than-life personality, even when sober. "Get a 30-pack in him, and he's ready to call out anyone right then and there," laughed Woody, who hails from the St. Louis region and is loyal to the Anheuser-Busch family of beers. "Brent's good at letting his ass override his mouth when it comes to talkin' smack, with or without booze."
From grassroots racing to the highest level of the sport, being able to kick back and enjoy a job well done (or make a frustrating day suck a little less) is an important part of the agenda. For working-class hero and NHRA Top Fuel driver Scott Palmer, maintaining one's sanity is essential.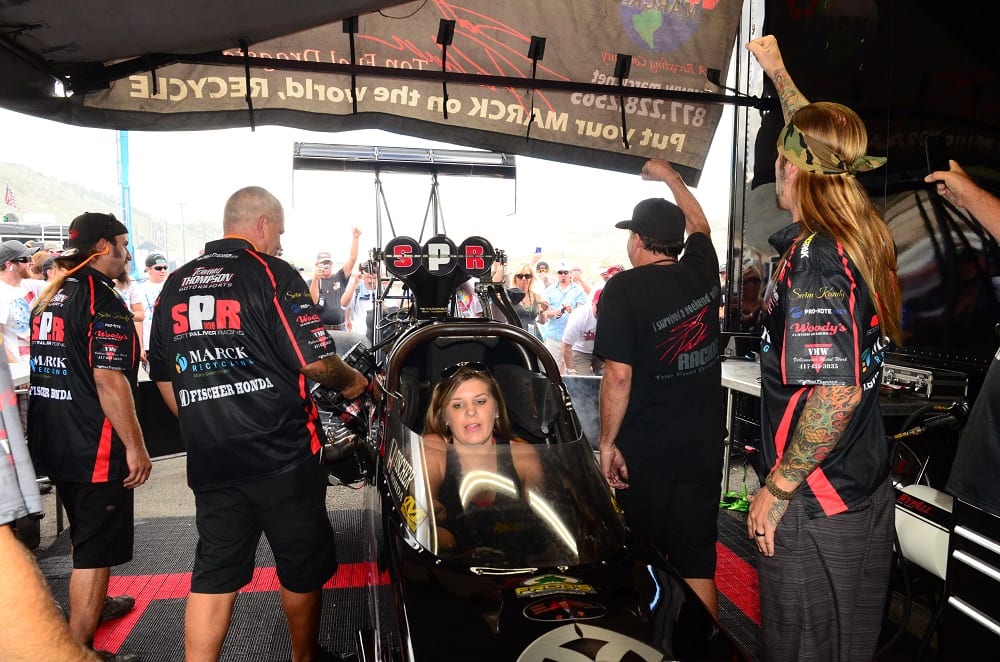 His crew, nicknamed the "Nitro Rebels" because they stick to their guns and do things their own way, are nothing but serious when it comes to racing. "We've got a great group of people and friends, and we make sure to keep the fun factor alive and not let business take over," he explained. "If you don't love to drag race, you can't be on our team. We have to work twice as hard as a Kalitta car or a Force car because we're still a fairly small group, and there's not a lot of party time running a fuel car, but, after-hours, we try to get a little socializing in."
In his rare moments of down time, Palmer watches boat racing on a television mounted on the side of his trailer. In his cooler is "the cheap stuff," Keystone Light, because he prefers to save his money for parts. One of Palmer's dogs even gets in on the action, as he likes to chill out – literally – by sitting inside the cooler. Lastly, a special bottle of Norwegian liquor (a gift from fellow driver Thomas Nataas) sits unopened, and the guys plan to crack into it to celebrate their first 3.70-second elapsed time.
"We'll stand around hanging out with fans, and we've made a ton of friends over a cold beer. We've even met some of our sponsors that way, and that's our favorite thing – people being able to come here and just hang out because we're still normal guys who just happen to be standing behind the rope," added Palmer, who spent his pre-racing days painting cars in his garage at home.
Ironically, it's "Drink Hard Racing" driver Tommy DeLago who has quite an intellectual perspective on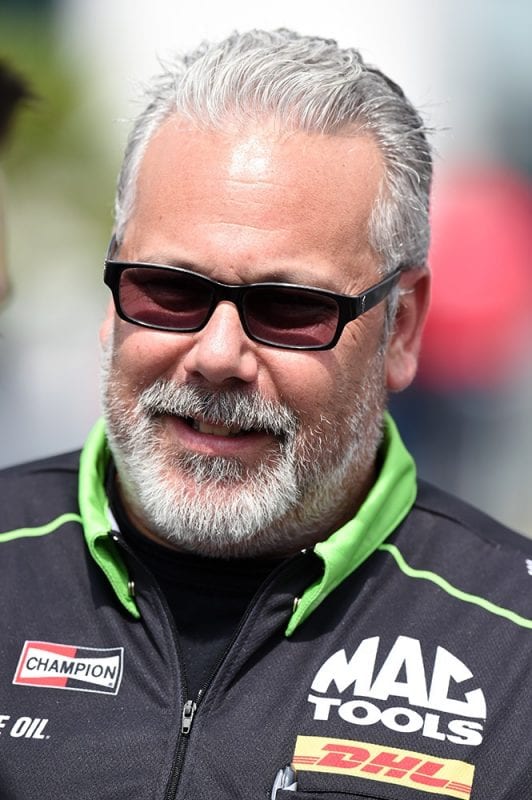 partying. "Being competitive and having fun, one is actually a byproduct of the other. You go somewhere to kick ass and with the amount of work you put in, and the stress on yourself, you drive yourself to the point where you have to have a drink to relax your brain enough to be able to make good decisions the next day, otherwise you'll just burn yourself out trying so hard all the time. You need to have some kind of vice to relax," shared the man who races his '67 Nova and sponsors Bob Malloy's Nitro Harley as well as Alex Hays's Ultra Street Mustang.
The ridiculously competitive environment of racing goes hand-in-hand with cutting loose and having a few cocktails. Relaxing becomes a necessary evil, and spending time with "track family" is all just a part of the program. The teams that are in it for the long-haul have got the strategy figured out, and DeLago nailed it when he said, "it's not about the equipment you have or what's in your cooler, it's about the people you're with."
Camp Stanley's "World's Best Ultimate Margaritas"
Start with a double shot of good tequila. Stanley recommends Patrón Añejo, of course.
Add a double shot of Grand Marnier liqueur.
Add a splash of Patrón Citronge triple sec.
Add a splash of "good ol' reliable orange juice."
Quarter a "real lime from the grocery store", then split that in half, squeeze one wedge and drop it into the mix.
Add a third of a cup of Baja Bob's Triple Citrus Sugar-Free Margarita Mix.
Pour everything into a shaker with ice, shake it up really well, and then pour into another big glass over ice.
Camp says: "Then just sit back and watch 'em run."
Scotty G. Guadagno's "Recipe for a Good Time"
Go to the liquor store.
Buy a case of Captain Morgan.
Open bottle, drink booze.
Scotty G. says: "You get a discount when you buy 'em by the case!"
Dina Parise's "Nitro Pineapple"
Cut fresh pineapple into chunks.
Soak the pineapple in vodka, let it sit for a week.
To serve, pour vodka over ice and top with the infused pineapple.
Dina says: "It's like eating the worm at the bottom of the tequila, only better!"
Mark Micke's "Brain Freeze – the Pro Mod of Drinks"
Start with six (6) Minute Maid frozen lemonade cups.
Add 2 gallons of water.
Add a fifth of rum.
Add a fifth of gin.
Add a fifth of vodka.
Add a fifth of blue Curaçao.
Add a handle of tequila.
Mark says: "Use the cheap shit, because once they've hammered one they won't even care."
Jason "Pooch" Rueckert's "Boooooooosch"
Crack a Busch Light.
Stay away from Mark Micke's Brain Freeze.
Pooch says: "Get one of those foam fists to hold your beer."
Mark "Woody" Woodruff's "Call it a Day"
Open a Bud Light or Bud Select.
Woody says: "That's it. Just crack a Bud and call it a day."
Scott Palmer's "Cheap Date"
Grab a Long Island iced tea or a Keystone Light
Scott says: "Just not at the same time!"
Tommy DeLago's "Easy Jack and Coke"
Grab a red cup, fill it to the top with ice.
Fill it 2/3 full of Jack Daniel's
Add about an inch or an inch and a half of Coke.
Tommy says: "Stir it with your finger, twice. That's the important part."
Photos by Ian Tocher, Tera Wendland-Graves, JT Hudson and DI Archives.
This story originally appeared in Drag Illustrated Issue No. 120, the #Trending Issue, in April of 2017.