Top Fuel fan favorite Scott Palmer is gearing up for a full assault on the 2017 NHRA Mello Yello Drag Racing Series tour. On the heels of a career-best season in which Palmer finished No. 12 in the final standings after competing at 19 of 24 events, drag boat juggernaut Tommy Thompson Motorsports is increasing its involvement with Scott Palmer Racing to field a new dragster that will prominently showcase CatSpot Litter on the 10,000 horsepower machine. Palmer will also spotlight Brand Design Company at various events this season.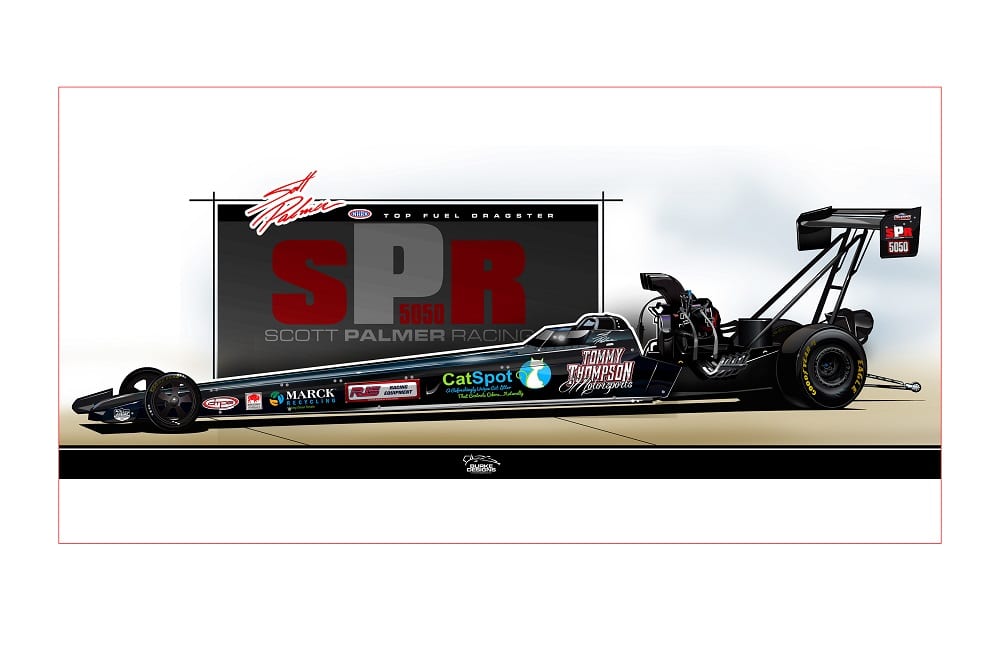 Thompson joined Palmer's racing efforts midway through 2016. The relationship began when Palmer began fielding the Liquid Voodoo Top Fuel Hydro and simultaneously promoted the Lucas Oil Drag Boat Racing Series on the side of his Top Fuel dragster. Thompson, who drives a 200-mph drag boat and fields entries in several LODBRS categories, is making hid foray into asphalt racing in support of Palmer.
"We're going to showcase some of Tommy Thompson's companies throughout the year starting with CatSpot," said Palmer. "With CatSpot being environmentally friendly, it goes along with the other names on our car like Kent Longley's company, Marck Recycling. We are racing together with Tommy Thompson Motorsports. Tommy gave us the option to run the full season. We are going to start the 2017 season with those intentions, and we can always stop to regroup if we need to along the way.
"I hate to use the word 'sponsor,' because I consider every name you see on the side of my car to be a friend that we go racing with. Tommy said, 'I'll help you do whatever you want to do as long as you do it your way.' Being a boat guy, it's great to have Tommy get so involved in drag racing and for him to pick a team like ours to do it with. It's important to him that we keep our team together. He also told us to keep whacking the throttle when we warm it up in the pits."
To enable Palmer the opportunity to run a full season in NHRA, the Liquid Voodoo Top Fuel Hydro will be maintained and run under the Tommy Thompson Motorsports umbrella during schedule conflicts. Palmer will continue to participate at drag boat events when he is not behind the wheel of his dragster.
"Without boat racing, we wouldn't be at this point," Palmer emphasized. "Everything good that has happened with our Top Fuel team over the past few years was the result of taking some time off and getting involved in the boat series. We are still going to be at the boat races whenever the schedule with the Top Fuel car allows. Tommy Thompson Motorsports and Tom Conway are taking enough off our plate for us to focus on the Top Fuel car."
Palmer is also pleased to announce that RJS Racing Equipment is coming onboard as an associate sponsor. RJS Racing Equipment makes safety equipment for all racing applications. Scott Palmer Racing receives additional support from Marck Recycling, Lucas Oil, Woody's Custom Headers, Fischer Honda, and DMPE Superchargers.
Palmer is using the influx of support to make strides that will continue the upward trajectory of his performance. He will drive a Hadman dragster that will more closely emulate the Nitro Ninja dragster campaigned by Dom Lagana. His longstanding working relationship with the Lagana family continues with the blessing of Billy and Kay Torrence and the Capco Contractors team.
"We have a realistic goal," said Palmer. "We want to work toward running like Dom's car was running at the end of last year. If you have a car that runs like Dom's, you have a possibility of winning. Hey, we're tired of being chumps. This is our shot. We still have fun doing this, and we're serious about getting the car running good."