The Coughlin name has long been synonymous with drag racing – from NHRA Pro Stock and Pro Mod, to big money bracket racing. And while Paige Coughlin may be following in her family's footsteps, she's doing so by forging her own path in the world of Street Outlaws: No Prep Kings.
Coughlin – who works at J&J Racing Engines in Jupiter, Florida, when she's not racing – made her series debut this season in "Golden Child," a 1992 Camaro powered by a 565 Pro Line Hemi with a ProCharger. Growing up around door slammer racing with her father, Troy Coughlin Sr., she initially showed interest in Pro Mod and Top Sportsman. But a chance trip to National Trail Raceway by her dad to watch No Prep Kings quickly altered their course.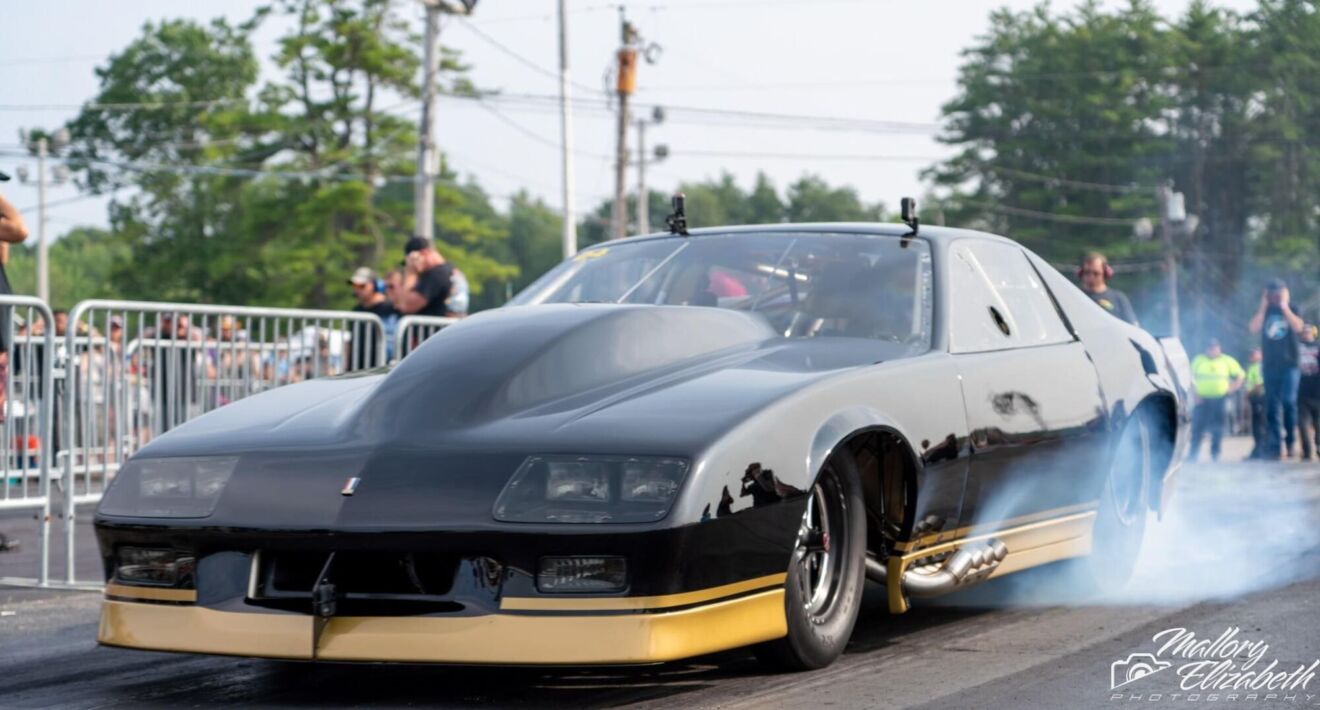 "My dad went out to their first race back from Covid, and he goes, 'Paige, you need to check this out. I have not seen this track this packed out since I was a kid,'" Coughlin recalls. "So I went out to Maple Grove that same year, and I couldn't believe how many people came to a drag racing event. Just seeing their enthusiasm for the sport, how intertwined the fans are with the drivers, it's much more personal. Once I experienced my first NPK race, I wanted to go to another one."
The prospect of competing in a different series than the rest of her family also held a certain appeal. While she still enjoys bracket racing periodically with her Top Dragster, Coughlin quickly realized this was the path she wanted to take.
"My brother (Troy Coughlin Jr.) is prominent in Pro Stock, my uncle Mike has been running Top Alcohol Dragster, and the rest of my family is bracket racing," says Coughlin. "It excited me to be able to say I can do something a little bit different, and it's something my dad and I can enjoy together. We dedicated all our time and energy into building the NPK car, and we never looked back."
With NPK featuring a unique invitation-only format, Coughlin was relegated at the beginning of the year to the Futures class, which gives the opportunity for drivers new to the series to compete and earn a potential spot in the Invitational class. Not surprisingly, it didn't take Coughlin and her team long to adjust. In just her fourth race, she won the Futures class in Bowling Green, Kentucky.
"It had been a minute since I'd parked in the winner's circle," jokes Coughlin. "When I saw my win light come on, I almost had to do a double take. I remember getting out of the car and giving my dad the biggest hug, knowing this was like déjà vu, but the roles were reversed. And we drove that bitch back, as Erica [Enders] likes to say."
The elation from that win would continue to build the following week in Epping, New Hampshire, when she was called up to the Invitational class to join "Daddy Dave" Comstock's team. Replacing Kyle Canion, who'd hurt his car the previous weekend, she joined a highly successful group of NPK veterans in Comstock, Kayla Morton, Larry "Axman" Roach, and Joe "Dominator" Woods.
"They were so supportive," Coughlin says of her new teammates. "I was so nervous because everything was going on at once – there's cameras, microphones, people. They were telling me, 'Hey, you got this, don't even worry about it. You're doing great, just keep going.'"
Coughlin made her presence known early, advancing to the quarterfinals in her first Invitational outing. She took out two-time NPK event winner Robin Roberts in the first round, and followed it up with a victory over one of the original Street Outlaws cast members, James "Doc" Love, in round two. Her run finally ended with a third round loss to Invitational points leader Damon Merchant.
"We took out Robin, and I'm like, 'No flippin' way,'" says Coughlin. "My dad has always told me, 'You know how to drive, and you know how to win, so why don't you just go out there and do it?' We were fast, we were competitive, and that third round loss against Damon – he's been the talk of the town all year – I gave him a run for his money."
With so much success already in her debut season, Coughlin says that despite a few negative comments here and there, her reception into the world of NPK has been largely welcoming – both from fans and her fellow racers.
"Not everybody's going to like you, and that's okay. It took me a minute to learn that," Coughlin says. "But overall, I've had a very positive experience. The drivers were so welcoming to me. Kayla gave me a great big hug and said, 'We're so proud to have you.' And even if some of the other drivers aren't quite as supportive, that's okay. I just have to take the time to build my brand and show that yeah, my last name is Coughlin, but I am my own person. We're just here to race and have fun – and if we get to be on the TV show, that's a bonus."
Coughlin, along with the rest of the NPK cast, is currently in the midst of a five-week summer break. They will return to action August 11-12 at Tulsa Raceway Park, and there is uncertainty as to where she will land when racing resumes. Comstock will have to make the ultimate decision on whether to keep her on his team, or bring Canion back to his original spot. But regardless of what class she's in, Coughlin is excited to get back to making a name for herself in No Prep Kings.
"It's daunting to not know what comes next," admits Coughlin. "But it's also exciting. The fact that I'm even there racing is such a blessing. I would love to stay with Team Daddy Dave. But whether it's the Invitational with Dave or another team, or if we race Outlaw Big Tire or the Futures class, my goal is to turn on win lights and continue to put myself out there and show that Golden Child is serious. We're here to race, turn some heads, and put on a great show."