After a successful outing with the PDRA at the 2016 Sunshine State Shootout, the Florida-based Outlaw 632 series will expand its reach, competing with the national series for four events in 2017. Outlaw 632 will compete with the PDRA at GALOT Motorsports Park Mar. 31-Apr. 1, Darlington Dragway May 19-20, the second stop with GMP Sept. 8-9 and the World Finals at Virginia Motorsports Park Oct. 20-21. Eastside Auto Transport has stepped up to sponsor the class for 2017.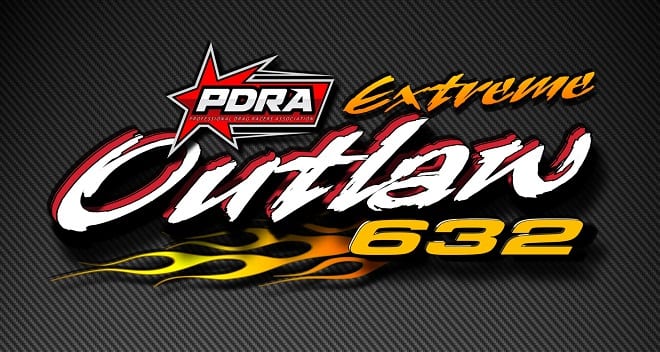 Ken Kershaw has been pivotal in the Outlaw 632 series both in Florida and in linking the class to PDRA. The class, which actually sprung from Outlaw 10.5, looks a lot like Pro Mods of the 1990s. "In the last several years it's grown from 16 or 18 cars to 45 or more," told Kershaw. "I've had calls from Oklahoma, Tennessee, Alabama, Louisiana, Georgia, the Carolinas, Virginia all about running this class. Plus 15 to 20 of our regulars here in Florida that are willing to travel. Four guys down here in Florida have started building cars specifically for the PDRA. So many guys can't compete in Pro Mod classes because of the financial requirements, so this is a good fit for them. We're looking forward to running with the PDRA in 2017. I want to thank the PDRA, Bob and the owners, for allowing us to come run with them. "
PDRA's 2016 Pro Stock World Champion, John Pluchino, shared the limelight with his son, Johnny, this season. Johnny made the trek from their New York home to Florida to compete in Outlaw X632, clinching the championship there this season. He plans to compete with the PDRA's Outlaw 632 next year.
"This is a fun class that has a draw for a lot of people, both those looking for a place to run fast and have fun, and those watching from the sidelines," stated PDRA Race Director Bob Harris. "We're a Pro Mod series and this class speaks to the roots of Pro Mod. We're glad they'll be with us for four events next year and look forward to what they'll bring to our series next year. We especially want to thank Ken Quartuccio of Eastside Auto Transport for stepping up to sponsor the class."
Outlaw 632 is so named for the 632 cubic inch engine limit. Legal weight is based upon engine combinations. Nitrous is the only power adder allowed. A full list of rules can be found at www.PDRA660.com.