The one-upping war between Brad Edwards and Keith Berry continues, and Edwards just made another huge step forward to take the lead. Hailing from North Carolina with his now-familiar blue and gray '97 Mustang Cobra, Edwards threw down the gauntlet during a private test session at Huntsville Dragway with a jaw-dropping 3.947-second, 193.13mph lap on a set of Mickey Thompson 315-series drag radial tires.
In early November, propelled by a set of Garrett GTX94 turbochargers bolted to a Harrell Engine & Dyno-built 555 CI billet big block Chevy motor, Edwards was the first to run a 3-second pass on radial tires. He did so on a stock suspension setup during the final round of Pro Drag Radial eliminations at the Radial Fest 2K14 event at Huntsville Dragway in Harvest, Alabama.
Not long after, Keith Berry made it known that he wanted to be a part of the game, too, and soon the two racers were battling back and forth to see who could go the quickest.
"When Keith Berry and Pro Line Racing decided to go rent a track for no reason other than to be the quickest on radials, I really was okay with it for a little bit. But enough Facebook drama went on, and so I called Tyler Crossnoe and Jason Rueckert at VP Racing Fuels and said 'what's it going to take to get a track that'll hold a 3.89?' Ten minutes later, we were lined up to go back to Huntsville to make it happen," said Edwards. "They claimed they were testing for NMCA, but Berry came back right after his 3.97 and started saying how he was the quickest man on radials and how he had the number to beat, and that made me realize I wasn't done yet."
A few phone calls later, and Edwards' team was ready to get to work. They made a few adjustments to the car, including adding some new stainless steel turbine housings from TiAL, and were ready to go. Edwards confirmed that all of the changes he made were "indicative of changes we wanted to make over the winter anyway, so this really was a great opportunity to test and see if we were going in the right direction."
Not wanting to break the internet with drama and hearsay about what he was about to do, Edwards opted to keep his test session a secret. He drove back to Huntsville Dragway and unloaded around lunchtime on Monday, November 24th. Right out of the trailer, the car put down a 1.03 sixty-foot time and went 2.70-seconds to the half-track mark of the eighth-mile stretch.
"We had a 3.98 pass right out of the trailer," Edwards excitedly noted. "We're making a lot more power down low now, and had to manipulate our tune up. We spent most of the day yesterday getting that squared away, then spun on our first pass this [Tuesday] morning. We made one more small change to the car, and it went 1.03 to the sixty-foot and clocked a 3.99 pass."
Despite smoking the tires on three separate runs, Edwards still managed no worse than a 1.06 sixty-food time. After a few more minor adjustments to the car and its tune, Edwards let loose with a deluge of passes that were so consistent, his car could almost be mistaken for a bracket car.
"We went 1.02 to the sixty with a 3.97, came back around and went 1.03 with another 3.97, then went 1.02 with a 3.95. We decided to hit it one more time and finally got it to go 1.01 to the sixty-foot mark." That final pass resulted in Edwards' time slip showing that he stopped the clocks at just 3.94 seconds and 193.1 mph – a new radial tire ET world record by far.
"Yes, I know it's testing so people will say it's not a real record, but I don't care. The car's working well. We got luck on a few things, but it told us the stuff we're fixing to do this winter is going to be right on the money," he added. "A lot of people used to think that our 3.99 was a fluke, but now they better watch out!"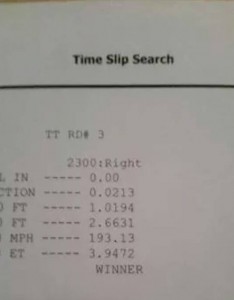 Edwards is, rightfully so, overwhelmed by the outpouring of support he's received from friends, family, and his fans on Facebook.
"For every one person that's a naysayer, there's a hundred that will hammer them into the ground. It's so cool! I'm riding out my 15-seconds of fame while it's here," he said. (Fun fact: in those 15 seconds, Edwards could run almost four of his now record-setting 3.94 passes.)
While he's done racing and testing for the season, Edwards plans to come back out in 2015 and run even quicker than before. Every prediction he's made in regards to his car's performance over the past few months has come true, and his latest is just as interesting.
"There are guys scrambling to find 3.90s, and right now we're legitimately having the conversation of how to find a 3.80 the next time we go out. The craziest thing is, I think we'll do it."
The battle line to see who will make the next big move up on radial tires has most certainly been drawn.