Not only had North Florida Motorplex been on my radar for several years, this much-improved eighth-miler also represented the only dragstrip within the Sunshine State that I had never visited. That is, until my travels took me there in early February 2023.
[Editor's Note: This story originally appeared in DI #181, the Women Of Power Issue, in March/April of 2023.]
When it comes to dragstrip renovations, no expense was spared on the grand reopening of this stunner of a facility, but before I divulge the litany of upgrades, I'll briefly touch on the track's history. For a dragstrip that opened in 1991, it's undergone more twists, turns, name changes, and owners than I realistically have space to list.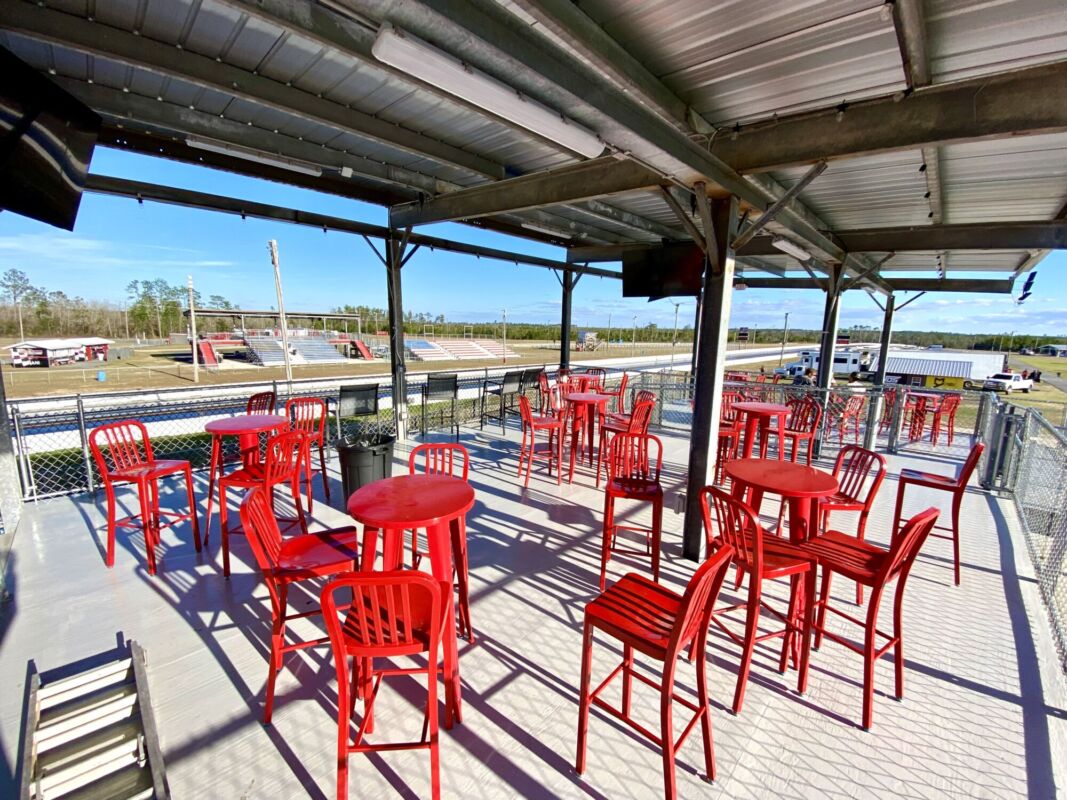 "I've gone through five owners!" chief starter Scott Duncan told me when I stopped by. Indeed, Duncan is actually the only thing that's original here, as everything else has been uprooted, leveled, and literally built back better. Heck, Scott even maintains a permanent residence on site, so getting rid of him won't be easy!
This neat and tidy track located in the Florida panhandle originally opened as an NHRA-sanctioned eighth-miler known as Powerhouse Drag Strip. In the years that followed, it's been renamed (in no particular order) Breakaway Dragway, Panama City Dragway, Dave Pybus' Powerhouse Drag Strip, 231 S. Dragway (named after the nearby highway), and after yet another name change in 2018, the track was known as Powerhouse Motorsports Park.
Sometimes it was open, sometimes it was shuttered for a while. They've experienced sanctioning body changes, while other times the facility slipped into outlaw status. By the time brothers Kevin and Cody McDaniel entered the picture and bought the place in 2021, the on-again, off-again dragstrip in Fountain, Florida, might have very well had an identity problem.
However, everything you knew about the track prior, including decades of inconsistency in its operation, kinda melts away when you step onto the property and see the multiple millions that were spent on renovations. When I say everything except the aforementioned starter Scott Duncan has been bulldozed, you can take it to the bank!
Everything from the track surface to the giant, state-of-the-art timing tower to the timing system has been completely replaced with the latest technology. The bathrooms even feature extremely fancy, polished ebony toilets and sinks!
The concessions building has sit-down dining, while another dining spot atop the grandstands offer trackside viewing, with not only tables and chairs for dining, but also outdoor lounge furniture. Each side of the track features identical VIP areas, complete with large televisions, so you can also catch college football (which is mega-huge in this area) all while watching drag racing as you dine!
The track utilizes LED lighting that more closely resembles a shopping mall at night. The sprawling facility comes in at 140 acres, and features 75 pit parking spots with electrical and water hookups. Remarkably, the property even includes a 300-foot dirt dragstrip, which will host national events from that particular realm of drag racing this year.
Shortly after the McDaniel brothers bought the facility, they reached out to then-longtime IHRA official Josh Peake to inquire about sanctioning the track, but the relationship spun in all sorts of additional directions. The trio really hit it off, and the McDaniels relied on Peake heavily to oversee the operations of various events.
Finally, the brothers convinced Josh that they needed him full-time as track manager, so Josh and his family relocated from their native South Carolina to the beautiful Florida panhandle. Peake was also instrumental in launching the brand-new World Drag Racing Alliance, which now sanctions many Southeast dragstrips, including the magnificently renovated North Florida Motorplex.
It was great to finally visit this track, which is number 163 on my growing list. Josh gave me the grand tour as he communicated his new role as track manager. He's got plenty of exciting events in the works, so I can't wait to revisit this awesome dragstrip later this year. No surprise, I would encourage anyone within a thousand or so miles to do likewise!