It's been well over 40 years ago since I saw my first dragstrip back in the late 1970s, and many more have been added to the list in the decades that followed. While it's always disheartening to hear about a track shutting down for good, it's just as reassuring to know that many of the earliest tracks I stepped foot on are not only thriving, but have been beautifully renovated in recent years.
Salem, Ohio's Quaker City Dragway is a perfect example. I first laid eyes on the place roughly 30 years ago while I was still in my early 20s, and working for IHRA photographer Bryan Epps. These were fond days that I've written about previously, but just for a glance back at how this all went down, Bryan hired me as an assistant to travel the country with him and shoot pictures for his thriving photography enterprise.
[Editor's Note: This story originally appeared in DI #183, the Sportsman Special Issue, in July/August of 2023.]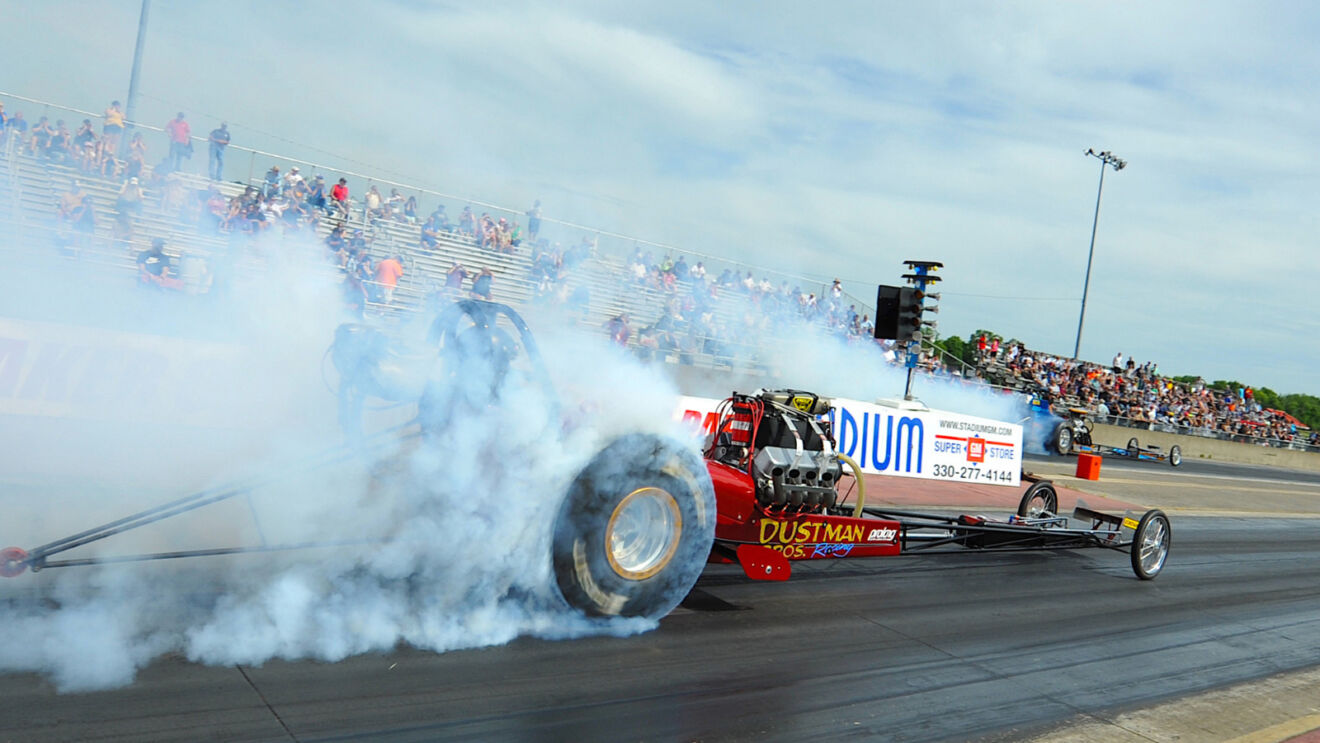 The business model in those days looked like this: We would collect orders from the drivers who wished to purchase an 8×10 picture package, and since this was roughly three decades ago, the first mainstream digital cameras were still a few years away, so Bryan and I were using time-honored 35mm film cameras. So basically, we would shoot pictures, then go home and have the film developed, make enlargements, then mail them C.O.D. to our customers. Looking back, it's astonishing that this is how we did it, but again, this was all we knew!
These days, it's a much easier process, as the photos are captured on digital cameras, downloaded, printed to the desired size, placed in a decorative frame, and delivered to the customer literally within the hour, right at the track! Bryan and I simply wouldn't have believed what the future of the business looked like as we traversed the country in his Trans Am, chasing races in the early 1990s.
Nevertheless, because of the opportunity of being Bryan's assistant, I got to see a lot of dragstrips, which brings my recollection to the first time we went to Quaker City. Back in those days, IHRA held a divisional meet at Quaker, and I can remember the track was completely presentable, but nothing fancy.
Fast-forward a few decades – which is when I went to work for Drag Illustrated – and I began seeking out some of those vintage tracks that I saw with Bryan all those years ago. I must say, I was pretty astonished a few years back when I returned to Quaker City for the first time and saw the renovations. Local businessman Norm Fox bought this fabled, 1950s-era dragstrip in 2010 and the place has been in a perpetual state of improvement ever since, with Norm's son A.J. serving as track manager. A "total makeover" probably best describes what's been done to this dragstrip.
It's no secret that I thoroughly enjoy a good nostalgia race, and I've seen some of the best ones in my life at Quaker City in recent years! I can remember A.J. telling me how disappointing it was back in 2020 when COVID disrupted the annual Night of Fire event, so when 2021 rolled around, he booked nine jets, along with the Great Lakes Nostalgia Funny Car Circuit, Nostalgia Notions, plus gassers, front-engine nitro dragsters…and even had people walking around breathing fire for added entertainment! That particular event was among the coolest I've been fortunate enough to see.
More recently, while in Norwalk for the PDRA race last month, I saw that Quaker City had a nostalgia race on the schedule, so I was able to make it a blockbuster weekend and attend both events. The "Frantic Ford" Funny Car and the Dustman Bros. slingshot dragster (pictured in this month's column) were among the numerous entries for that race. Many of those "thrill show" classes still run on the full quarter mile at Quaker City, which is understandably entertaining!
More than anything, though, it's really satisfying to return to a vintage track like Quaker City, and see how meticulously cared for and preserved it is for generations to come.