Who doesn't love a quality UFO story? Oh sure, there's plenty of time-honored tales, eyewitness accounts, even the occasional abduction debacle…and then there's the "Roswell Incident". The latter is the most well-known and celebrated UFO story of all time, and it goes something like this: In the summer of 1947 "something" plunged to earth and crashed onto a ranch just north of Roswell, New Mexico. That much of the story is pretty much undeniable. What's very much deniable (especially if you're the U.S. government) is the claim that the debris found on a New Mexico ranch more than 70 years ago was that of a flying saucer with alien occupants on board!
While the military has long maintained their assertion that the crash in Roswell was merely a weather balloon (very common in those days), there's actually a surprising number of people who swear by the alien version of the story. There's even an astonishing amount of people who have reportedly made "deathbed confessions" that they even saw humanoid bodies, either at the crash site or at Walker Air Force Base, where the wreckage was hauled. In 1994, a film called simply "Roswell" starring Martin Sheen and Dwight Yoakam was produced about the incident, and honestly, after seeing the movie decades ago I've been pretty intrigued with the tale, which has universally become one of the most enduring mysteries of the 20th century.
Intrigued or not, merely visiting Roswell for the sake of saying I went seemed pretty far-fetched (even with my extensive travels), but when I found out Roswell also had a drag strip – the appropriately named Alien City Dragway – it was just too tempting to pass up! There's even a cool twist that links the drag strip with the actual "Roswell Incident". The aforementioned Walker Air Force Base is now the present-day location of Roswell International Airport, which actually leases one of the runways to Alien City Dragway for NHRA-sanctioned races. I recently visited the track mid-week and was treated to an entertaining tour of the facility by the drag strip's chairman of the board, Ben Thomas.
"Just think," says Thomas, "whatever it was that crashed that day was hauled right here to this very location and stored in one of these hangers, we just don't know which one…but I'm sure somebody would talk!" he laughs, knowing full well he was sending my extraterrestrial imaginations into a frenzy.
For certain, ask anyone in town and they'll tell you that the "UFO story" has done wonders for Roswell's tourism industry. Alien-themed trinket shops line Main Street, and if you ever find yourself in Roswell, be sure to visit the International UFO Museum and Research Center. Even the drag strip capitalized on the flying saucer fame, not only with the catchy track name, but also by erecting a giant wooden alien at the top of the staging lanes. "It's what this town is famous for," laughs Thomas.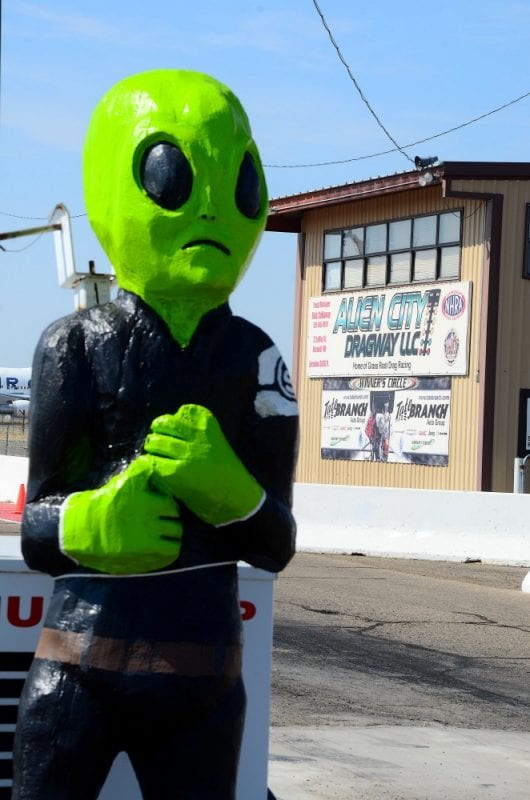 The drag racing scene here in southeast New Mexico dates back to the 1960s when a small track in Roswell was opened by a local car club. "Old school" is how those early days are fondly described by the older generation who lived it. Not a speck of shade and a sea of open trailers and blue tarps dotted the pit area, and by the mid-1970s the original track in Roswell had barely advanced from flag starts to the earliest, crudest version of a Chrondek portable timing system. Every weekend, 1,320 feet of cable was rolled out and connected to a set of win lights, likewise portable. The race cars themselves were often crude examples of hot rods, and sometimes racers were known to show up at Roswell with the intention of using a rope as a seatbelt.
It was like the Wild West of drag strips during those early years, but then the track received a fundamental dose of advancement when Rick Callaway moved to Roswell from San Diego, California, in 1974. Callaway was a successful racer and entrepreneur who brought Southern California performance, not to mention a measure of professionalism, to rural New Mexico. By now, the car club that founded the track in Roswell was starting to fall apart and they persuaded Callaway to run the track. He obliged, and successfully oversaw the track's week-to-week operations for quite a few years while simultaneously operating a track in El Paso, Texas.
Callaway met his eventual wife, Tracy, through drag racing and they had two daughters, Lindsey and Jessi. Before long, operating drag strips became a family affair, and it was actually the Callaways who opened the present-day version of the track at Roswell International Airport in 1996, originally called Roswell Dragway. It was a successful enterprise under the Callaway family's guidance, but in 1998 the family was rocked with news that their oldest daughter, Lindsey, had a brain tumor. She fought the disease bravely, but sadly passed away in 2000 at just 16 years of age.
The Callaways were devastated and promptly sold the track shortly after Lindsey's death. The facility was reopened by a variety of people, but it never seemed to regain the traction it once had. In 2013, the track shut down, seemingly for good, and remained shuttered for several seasons. After much persuasion, Rick and Tracy came back to give it another go nearly 15 years later and incredibly, they rekindled the old magic when they relaunched the track in 2015. "People waited in line for more than two hours on opening night," Rick says. "It was incredible to see."
The reorganized track now operates with a seven-member board of directors and a brand-new manager, Roger Buck, who is set to succeed Callaway later this year, as the Callaways originally agreed to only reopen the track and run it for two seasons, although their tenure was extended for a third year at the board's persuasion.
Alien City Dragway has a most unique backdrop of hundreds of commercial jets parked on the adjoining property, some of which are awaiting repairs, while others are in line to be scrapped, plus the bustle of daily flights from Roswell to multiple destinations. Racers near and far flock to this fabulously far-out drag strip in hopes of winning a "Nano" – a distinct trophy crafted in the likeness of – you guessed it – an alien!
I spent several days in Roswell and enjoyed every second of it. The Callaways, as well as all seven drag strip board members, treated me to a fabulous dinner and shared their favorite stories. They sent me home with an armload of florescent green souvenirs, not to mention some of the most out-of-this-world memories I've ever collected while out solving mysteries and searching for drag strips.
This "On the Road" column originally appeared in DI #137, the World Series of Pro Mod Issue, in October of 2018.