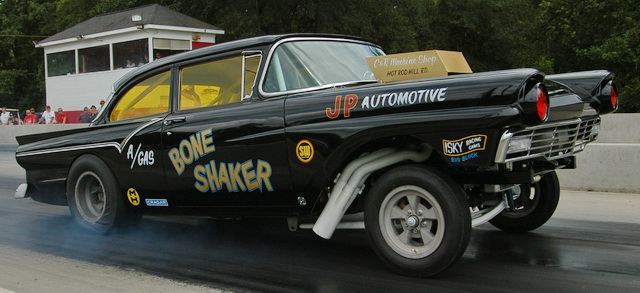 The new X-treme Drag Racing League (X-DRL) is already bringing many of the world's quickest and fastest doorslammers to Bristol Dragway for next week's X-DRL Thunder Valley Madness (April 26-27). Now, thanks to one of its standouts in Pro X-treme (PX), the X-DRL's second-ever event will have a touch of nostalgia to go with all of the 200-plus mph action.
The X-DRL announced Apr. 19, that PX standout and Pro Mod legend Quain Stott will be bringing four period-correct gassers to the event to make special exhibition passes during the two-day event, adding another special bonus for what will be a memorable X-DRL debut at historic Bristol Dragway.
The four gassers will include Stott's '41 Willys "Executioner," a '55 Chevy named "Night Stalker" and driven by Greg Porter, Jeremy Pearson's "Bone Shaker" '57 Ford (above), and "Bad Company," a '55 Chevy driven by Craig Owen.
"This is really exciting for me and I have to thank the X-DRL and Bristol for helping make it happen. This is something we were really interested in doing and I think the fans are really going to love it," said Stott, a Pro Mod world champion and multi-time event winner.
"I love Bristol and, of course, the gassers raced at Bristol back in the day. They were real big at this track and it will be kind of neat to repeat history. These cars were the stepping-stones to what we're driving now."
The cars in the X-DRL's PX class at Bristol, including Stott's LeeBoy Corvette, will run in the 3.60s and at speed of more than 200 mph, but the gassers could be just as entertaining, running in the 5.90s in the eighth-mile at more than 120 mph.
They feature a four-speed stick shift, old-style suspension, mechanical fuel injection and every other stunning detail that makes them period correct.
Their driving style also makes the gassers a favorite with the fans, and Stott thinks the Bristol crowd will enjoy the nostalgic touch during the X-DRL weekend.
"It's going to be exciting to race these in front of a big crowd. I think the fans will really like the 4-speeds in these cars. We're all over the track, got the wheels in the air and these are just high-revvin' and gear-jamming cars. It's going to be a lot of fun for the fans," Stott said. "It's going to be cool.
"I watched these cars as a kid and I loved them, and they just give you an incredible thrill."
X-DRL Thunder Valley Madness kicks off with the first of three qualifying sessions at 10 a.m. on Friday. Saturday's action starts with the final round of qualifying at 10 a.m. with eliminations to follow.
"We want to thank Quain for wanting to run these gassers in the X-DRL, and to have them race at Bristol is the perfect spot," X-DRL Account Executive Keith Goolsby said. "To be able to have our second event at such a prestigious track like Bristol is truly amazing, and it's going to be an incredible weekend.
"By adding these gassers to our race program, it simply ensures an action-packed weekend for all race fans."
It also ensures that Stott will have a busy two days. In addition to his gasser and PX driving duties, the noted tuner also calls the shots for rookie Pro Modified driver T.J. Tindle, which means Stott will have very little down time in Bristol.
But he likely wouldn't have it any other way at a track he has always held in high regard.
"Bristol is probably my favorite track. Just the history here makes it a worthwhile experience and I'm really looking forward to it," Stott said. "I watched a lot of racing at Bristol growing up and the first time I raced there was 1978. It's always exciting to go there and I think we'll do well."
(Photos by Ian Tocher; Click to enlarge)