Justin Ashley may be on a roll, but the "odds" are with Steve Torrence and his "CAPCO Boys" this week when Summit Motorsports Park plays host to the 16th Summit Racing Equipment Nationals, the ninth of 15 races leading into the Countdown to the Championship playoffs.
Although he enters the race winless on the season and trails Ashley by 64 points, Torrence has a history of success at the Bader family track in odd-numbered years like this one. Significantly, the 53-time Camping World tour winner celebrated victories in 2017, 2019 and 2021.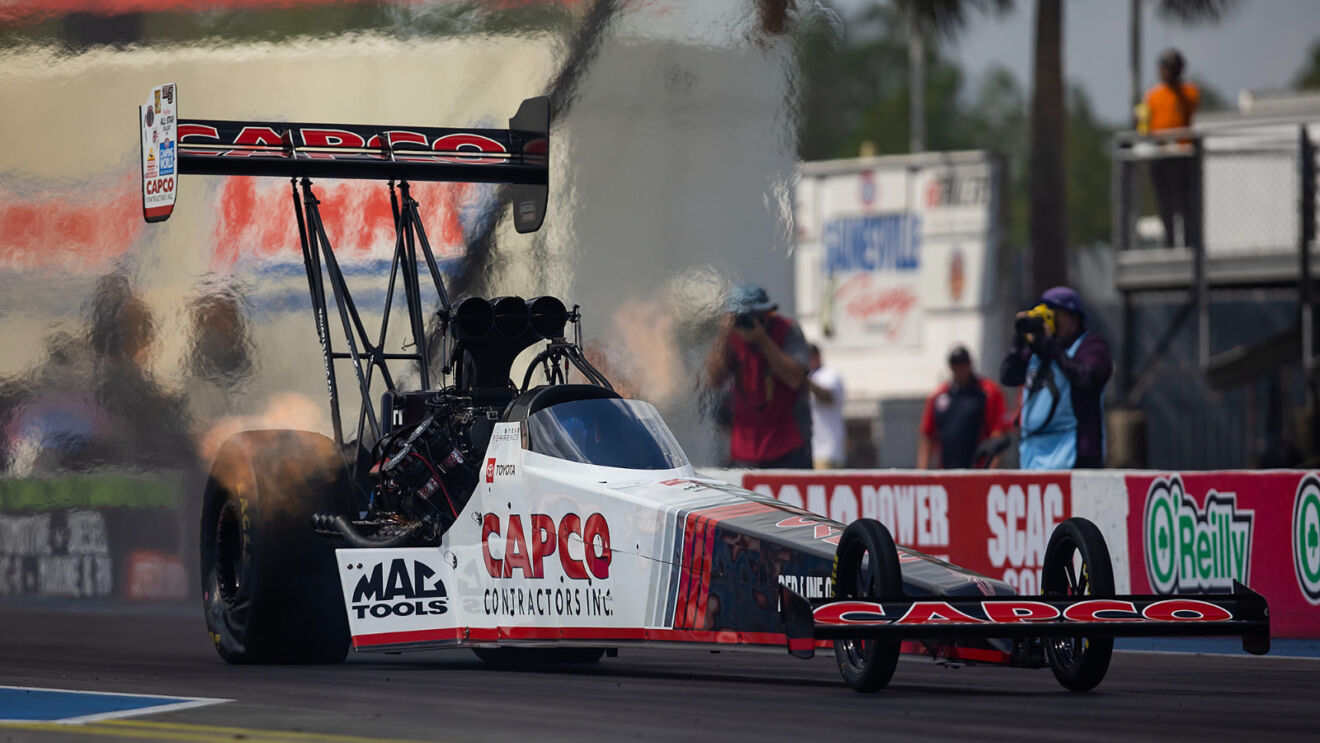 That success, coupled with the resurgence of his CAPCO Contractors Top Fuel Toyota, the quickest car on the property two weeks ago in Bristol, Tennessee, has reinvigorated the four-time champion, the only driver ever to have swept all six playoff races (2018).
"Everybody keeps asking 'what's wrong?'" Steve Torrence said, "And there's nothing wrong. We're more than halfway through the regular season, and we're second in points behind a guy that's won four races. That tells you everything you need to know about these bad-to-the-bone CAPCO boys."
The fact is, had Torrence not so completely dominated the tour from 2017 through 2021, when he won 43 times in 97 starts during one incredible stretch, his current winless streak would not even be a blip on the radar. It's been only 11 races, after all, since the 40-year-old Texan last hoisted one of the NHRA's iconic "Wally" trophies (after last October's NHRA Midwest Nationals at St. Louis).
"It's a lot more competitive," Torrence said of the Top Fuel division. "There's more cars that can win, and you've got a lot of young drivers like Justin, Josh Hart and Austin Prock who can chop down the Christmas Tree. But, trust me, these CAPCO boys haven't forgotten how to win, and I may not be a youngster anymore, but I can still drive a little."
Summit Nationals qualifying begins Friday with sessions at 4:30 and 7:30 p.m., Texas time. Two more qualifying rounds at 1 and 4 p.m., Texas time, Saturday will set the field for eliminations beginning at 10 a.m., Texas time, Sunday.