When one thinks of Long Island, New York, one doesn't immediately conjure up images of a Saturday night drag racing hotbed tucked away in these densely-populated boroughs, affluent with contrasting culture, celebrities, political movers and shakers, as well as other-worldly cuisine and vineyards. The reason is because, sadly, no such hotbed of racing exists here anymore, but it certainly did at one time.
In fact, Long Island had a total of three drag strips in operation not terribly long ago. Nick and Chris Montana remember it well, as these native New York brothers grew up experiencing Long Island's racing scene firsthand and miss it badly. "Lots of people don't understand we have a history in racing. We've got tons and tons of world champions from here and we don't even currently have a drag strip," Nick shrugs.
If you happen to be Long Islanders who have an interest in racing as the Montanas do, you'll have to endure gridlock traffic, maddening delays and enormous tolls just to leave the island. There is, however, a concentrated effort to reopen a drag strip, and the push seems to be gaining steam of late. Geographically speaking, it's very much obtainable on the island, and there are certain parcels of land, such as former air strips, but convincing the town and commissioners to allow it is what represents the real resistance.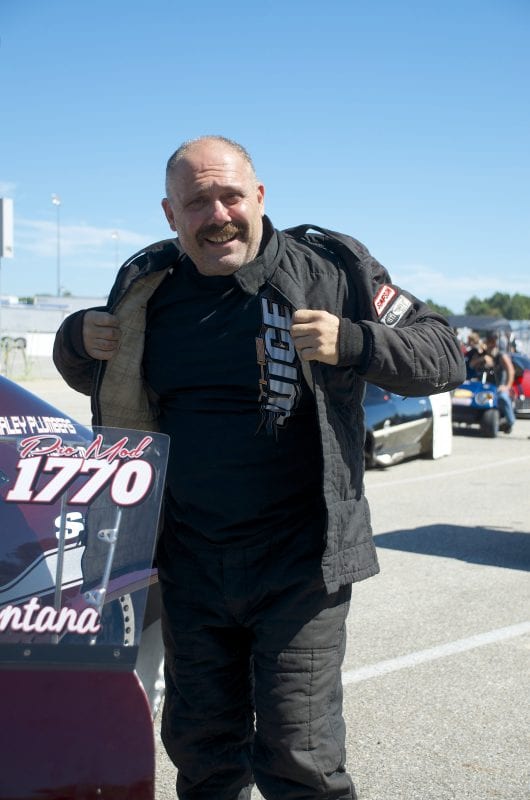 The Montana brothers assuredly have fond memories of banging gears and enjoying the rich sights and sounds of drag racing at places like West Hampton Dragway, National Speedway and Islip Speedway – all of which have been shut down and replaced with either urban housing developments or industrial parks. Remarkably, though, the Montanas continue to carve out a living by building race cars at their shop, Pro Chassis Design, located in the Port Jefferson Station region of Long Island, roughly 49 miles east of Queens. They launched the business in 2000 and it continues to bustle with work, even without the presence of a local track on which to race, promote their services and grow their customer base. Out-of-state clientele make up a huge portion of their business, while others live just around the corner.
For certain, this brimming populous is considered a challenging place to live if you're a drag racer or even have a fleeting interest in the sport, yet Nick and Chris continue to make it work by churning out everything from hot rods to Pro Mods. Consequently, the brothers have a presence in the Northeast Outlaw Pro Mod series, which was formed in New York in 1992 and schedules races at legendary facilities such as Englishtown and Atco in New Jersey, as well as Pennsylvania's Maple Grove Raceway, and Maryland International Raceway and Capital Raceway in Maryland.
The Montanas even field a competitive car in the NEOPM series that they built for Long Island customers Junior and Thomasina Harrell, who originally approached the brothers about constructing a Top Sportsman 1969 Camaro, and later persuaded Nick to be the team driver. After the build was complete, the car owners expressed an interest in attending a Northeast Outlaw Pro Mod event, so the Montanas took them to Maryland for a big race. The Harrells – especially Thomasina – were blown away with what they saw. Thomasina promptly asked Nick and Chris if this was something they could possibly do with their car. "Sure, with a bigger motor!" the brothers exclaimed.
They were previously using an 815 ci motor that had thoroughly reached its power potential. "We rung that 815's neck until it wouldn't go any faster!" Nick laughs. The car clocked 6.40s in the quarter mile, but it was understood that the motor was simply at the end of its rope. That's when Nick and Chris cut the car in half and stretched it, then cut it in half and stretched it again, followed by one more nip and tuck. "Three times we cut and stretched that car!" Chris says. It currently measures 112 inches and weighs in at 2,505 pounds, which is still slightly heavy for the class, which allows a minimum weight of 2,400 pounds.
The Harrells then invested in an 855 ci Reher-Morrison engine that has propelled the car to a best of 6.00 seconds at 235 mph on a memorable day in New Jersey last year. The team went out on a high note in 2016 by winning the season-ending Northeast Outlaw Pro Mod race at Atco Raceway. "We actually debuted the car at the YellowBullet Nationals at Cecil County just prior to the Atco race, and even though we made some good hits, we didn't have a good race at YellowBullet, so we brought the car back to the shop and changed a couple things. Then we showed up at Atco and it was like we could do no wrong," Chris recalls.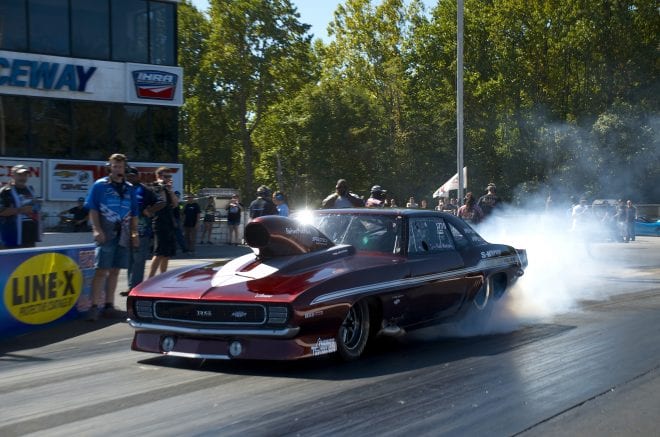 In the finals, they went up against Dean Marinis, who had just clicked off a 5.80, which was the record at the time. Both Dean and Nick cut identical reaction times in the finals, but Marinis rattled the tires just enough that he couldn't recover, and Montana unloaded his career best of 6.00, which was straight as a string and plenty good enough for the win. "I'm telling you what, that win really carried us through the winter!" Nick says.
All things considered, the team feels they've once again reached the maximum output for their latest combination. "This car has pretty much gone the distance for what she is," Nick says. "She's a good girl, though, and it will run 6.0s all day long, so we're gonna try to retire her back to Top Sportsman."
The Montana brothers have begun construction on a new lightweight 1969 Camaro-bodied Pro Mod that they hope to complete during the winter and debut in NEOPM competition next season. "I can't say enough about the car owners, Junior and Thomasina Harrell, because it doesn't matter how many cars we build; without them, we're not doing this!" the brothers agree. "They never get down on us either. Me and Chris are terrible on ourselves, but they never are." Junior once pulled Nick aside and delivered a memorable pep talk. He explained that he didn't care how they finish, but if he sees "down faces", it won't be tolerated. "The only time we get yelled at is when we don't eat!" Chris insists.
They laughingly describe themselves as a band of all nations. "Junior is African-American, Thomasina is American Indian and me and Chris are Italian-Americans, so you can imagine the spread of food we have at the track. We truly enjoy being together and racing together and having a good time," Nick insists.
The rest of the country would benefit greatly by taking notice of the harmony among this "diverse race" team, which was, of course, assembled in the true melting pot of cultural diversity – a place where they don't even have a track on which to race, but are more than willing to find one.