A large contingent of current and former racers, fans and supporters recently gathered to honor the 2017 inductees to the North Carolina Drag Racing Hall of Fame. Held in Mooresville, NC, the ceremony paid tribute to drag racers who made significant contributions to the sport during their careers.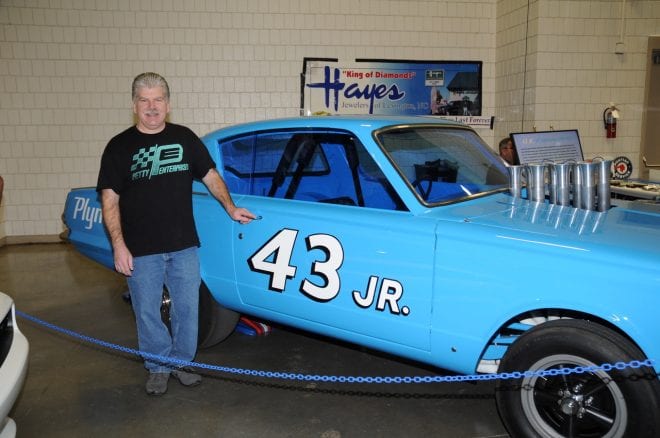 The weather could not have been better as the temperature was in the 70s with blue skies. The only thing missing was "The King", Richard Petty. Petty had previous responsibilities that revolved around an event you may have heard of called the Daytona 500. With North Carolina's own Smithfield Foods as the Petty team's sponsor, his absence was certainly understandable. He will be recognized in October during the Walk of Fame ceremony in Mooresville during the week of the fall NASCAR race in Charlotte.
Other inductees included Terry Adams, Jean Howard and Frank Teague. Journalist Thomas Pope was awarded the Jeff Byrd Memorial Lifetime Achievement Award and David Bishop was recognized with the Pioneer Award. A special Lifetime Achievement Award was given to a very special guest, Miss Linda Vaughn, "Miss Hurst Golden Shifter".
Most of us are familiar with the 1965 NASCAR season that saw Chrysler boycott the series. Petty and and his Chrysler-backed team built a very special match-race Barracuda for drag racing. The season was successful with a national event victory in Bristol, Tennessee, but was marred by an accident in Georgia in a match race with Arnie "The Farmer" Beswick. Petty returned to NASCAR in 1966, and the rest, as they say, is history.
Terry Adams had a very successful career as one of the original Pro Stock drivers during the 1980s, then moved on to the NHRA as a championship-winning Pro Stock crew chief. Adams will again be involved in drag racing as he will participate in the upcoming Nostalgia Pro Stock circuit with a replica of the "Party Time" Pro Stock Pontiac.
Frank Teague was the ultimate sportsman racer and was one of the very first points champions in what is now Top Sportsman. Teague participates today in the 4.70 events as time allows, and will also participate in the Nostalgia Pro Stock circuit in a Darrell Alderman replica car, again sponsored by Koffel's Place.
Jean Howard started her career in 1974 in her favorite car, a 1969 Z-28 Camaro, and won an IHRA event during an event held on the backstretch of the Charlotte Motor Speedway. Today, she's in the process of restoring a '69 Camaro that will have an automatic transmission replacing the 4-speed that she was so successful with during her career. Howard named one of her all-time favorite foes as Roy Johnson, father of past NHRA Pro Stock champion Allen Johnson.
Thomas Pope started his career in the late 70s, as did yours truly, and was given the assignment of covering one of the very first events at the now-legendary Rockingham Dragway. Pope said, "The sounds and the smell immediately drew me in, and I am still hooked to this day." Pope is the Sports editor for the Fayetteville Observer, the only job he has ever had. His coverage of drag racing is the absolute best in a state whose newspapers very seldom or never recognize our sport.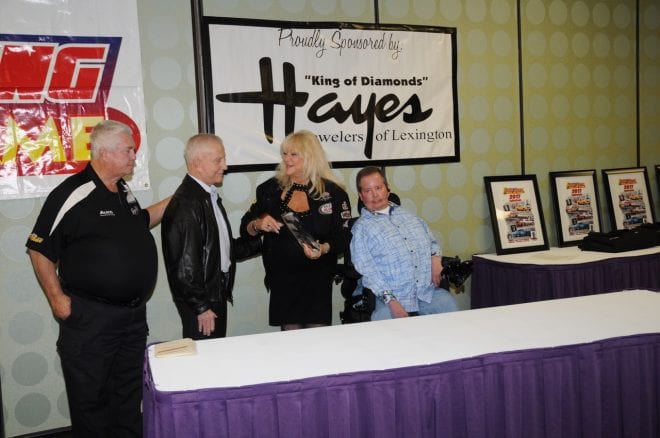 Lifelong friend and fellow photographer David Bishop was recognized at Del Mar last year for 50 years in our sport, but on this day, we named Bishop a "pioneer" in drag racing, both in North Carolina and his home state of Maryland. He started his photo operation, Competition Photos, Ltd., in North Carolina in the late 70s. Bishop later was the driving force behind the successful running of the Oak Hollow Boat Drags in High Point, North Carolina, in which he and his fellow JayCees held one of the most successful fundraising events in JayCee history. Upon moving back to his native Maryland, Bishop started a very successful partnership in a couple of drag cars with Tom Mullins. It was when East Coast Drag News was launched that Bishop's editorial prowess became evident. The magazine is now an online entity, as are many. Through it all, Bishop has never strayed from his loyalty to the sportsman racer, probably coming from his beginnings in the Jr. Stock group, tutored by the one and only Bill Jenkins.
Please remember to mark your calendar for the Walk of Fame event in October in Mooresville, North Carolina, that supports Don Miller's NC Auto Racing Hall of Fame.
Story and photos by Greg Burrow