It is no secret that the 17th annual Honeywell Garrett NMCA All-American Nationals at Summit Motorsport Park (Norwalk, OH) going down August 23-26, 2018 is going to be a blockbuster event and the pre-registration response has been overwhelming. Not only could it offer record-breaking turnout in the championship categories, but there are nearly 200 Cobra Jets joining the party in both the Car Show and race portion of the Ford Performance 50th Anniversary Cobra Jet Reunion, presented by TascaParts.com.
In anticipation of the large turnout NMCA officials have developed a special parking map to ensure Thursday's move-in process is easy and seamless. We ask racers, sponsors, and other participants to exercise patience as the stacking lot (Linder's Lot) will be extremely full and we will have an organized and orderly process in place to bring everyone through the appropriate gates as smooth as possible.
"The NMCA Ohio event has some outstanding car counts in the heads-up and index categories," said Rollie Miller, event manager. "We also have to fit over 80 Cobra Jet racecars into the racer's pits along with nearly 30 FAST group competitors. It has been a busy week working with the professional staff at Summit Motorsport Park in figuring out the best parking arrangements and keeping categories pitted near other."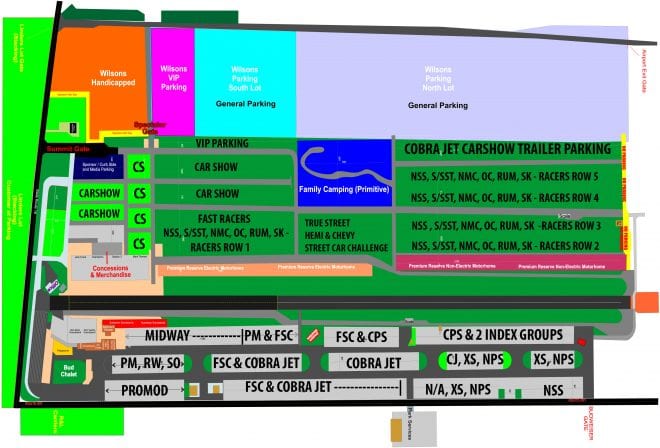 After working with Bill Bader and his staff, Miller's map shows overflow parking for competitors in ATI Performance Products Nostalgia Super Stock, Detroit TrueTrac Nostalgia Muscle Car, MagnaFuel Open Comp, Coan Racing Stock/Super Stock, Mickey Thompson Heavy Street, Dodge/Mopar HEMI Shootout, Chevrolet Performance Street Car Challenge, FAST, and Gear Vendors True Street will be on the Summit Racing Equipment side of the track.
Stacking for the Honeywell Garrett NMCA All-American Nationals begins August 22, 2018 in Linder's Lot, located on State Route 18, and overnight stays are allowed there. Gates open on Thursday, August 23, with an organized process bringing racers from Linder's Lot through the Budweiser Gate (Route 601). Sponsors, Car Show, and VIP fans will use the Summit Gate, located off State Route 18.