After winning back-to-back NHRA Pro Mod championships (2013-'14), then last year's PDRA Pro Nitrous championship, veteran driver "Tricky Rickie" Smith is showing no signs of slowing down any time soon. In fact, preseason testing produced the quickest and fastest run of Smith's illustrious career so far, as he posted a 5.76-seconds elapsed time at more than 251 mph on the quarter mile at Bradenton Motorsports Park in Florida. Such a run might have been expected out of the brand-new turbo car built for Smith by Jerry Bickel Race Cars over the winter; however, it was Smith's familiar, IDG-backed, Pat Musi-powered, nitrous oxide-assisted '15 Camaro that got the job done.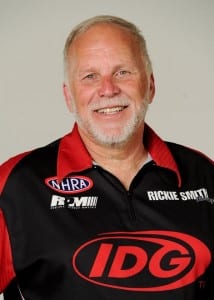 Smith intends to defend his eighth-mile PDRA Pro Nitrous championship this year, but his priority for 2016 remains the quarter-mile NHRA Pro Mod series, which got underway Mar. 18-20, with the prestigious NHRA Gatornationals at Gainesville Raceway in central Florida. After nearly 30 entries made qualifying attempts for the 16-car race day field, Smith started his nitrous car fourth after running a solid 5.85 seconds at 248.93 mph.
In the opening round of eliminations against the supercharged entry of Stephen Whiteley, Smith won with a 5.78 pass at 250.23 mph that held up as the second-quickest run for the class all weekend. He then ran 5.83 and 5.85 to defeat Mike Castellana and Chip King on his way to the final against Danny Rowe and his blown 2015 Corvette.
Rowe left with a slight advantage off the green light, but it was Smith taking his first win of the year with a 5.82 at 249.86 to nip Rowe by just .015 at the Gainesville finish line.
"We expected to come out and run pretty good," Smith admits. "We knew we had found some power and we had tested really good twice before that. We definitely thought we were gonna run good, but winning is another thing. Right now we're doing good and I'm happy that IDG is staying with me another year and giving me the chance to still race, and I appreciate Chad [Hester, crewman] still working for me. We both do this thing pretty hard."
Smith's engine builder, Pat Musi, says when he sees customers like Smith running career-best numbers and enjoying race-winning success so early in the new season it offers great reward and encouragement to him and his crew after putting in a lot of hard work in off-season R&D at the Pat Musi Race Engines shop in Mooresville, NC.
"Rickie gives us two ends to look at: the quarter and the eighth mile," Musi explains of working with Smith, who is one of few drivers who routinely crosses over between the NHRA and PDRA series and remains the only one to win a championship in both. "We go back and forth and work on it. I couldn't be happier. We got three mile an hour [on the nitrous competition] any day of the week. That's just power. And Rickie is the best at getting it on the ground. It just makes us look good."
Despite experiencing obvious success early this season with his nitrous-boosted machine, Smith says the new turbo car is ready and he plans to go testing with it soon. This is a strategic move he feels he must make out of necessity, not desire.
"I don't really care to run the thing, to tell you the truth. If I can stay competitive with the nitrous car, that's where I want to stay," he insists. "I've got a lot of laps behind the nitrous car. I know how to tune it and do it myself. The turbo car I'm going to have to rely on somebody else to help me tune it a little bit.
"I'll do all my own chassis work, but it's all gotta work together. The tuner and the chassis guy gotta work together. That's the reason I do pretty good with my nitrous car. I make all my own calls. The right hand knows what the left hand is doing, you could say. I've always done my own tuning and that's what I'd like to stay doing. We're just going to play this thing out by ear and see where it goes with the rules this year."
Rules to create parity in racing are always a hot topic, but it seems they are talked about nowhere as much as in Pro Mod. Even after winning two NHRA Pro Mod championships in his nitrous machine, Smith thinks further rule adjustments are necessary to maintain an even field.
"It's still going to be the turbo cars that pace the field," Smith says. "The question is, can they be consistent and get it done? I don't know. When they want to outrun us, they're gonna outrun us three and four hundredths; that's just what they've got.
"That's one reason I built the turbo car. I'm going to run this thing and learn how to run it fast. If I gotta get sandbagged I'll take it initially. We want to show NHRA what's going on here. They're still letting the turbo cars, for whatever reason, keep three and four hundredths advantage on us. I don't know if it's politics or what, but I know there's a lot of people that want the rules to be right. When they made a few changes this winter they said they would look at it again after the second race, which will be Houston (Apr. 29-May 1). We're going to see what happens then," the King, NC, native predicts.
"The main tech guy in NHRA two years ago kept asking me why I was complaining when I was winning. I told him, 'Winning ain't the deal. You're here to make the rules and keep these cars competitive. Just 'cause I'm winning, I'm not the fastest car. You're supposed to make the rules that'll have these cars together.' That's all anybody is wanting now. I've won a lot of races in my life, but it's all knowing how to race on Sunday. It's not about being fast. Now [at Gainesville], yes I was a fast car, but I didn't qualify number one. I qualified fourth. When it comes race time that's when you gotta read the track. That's just what I've been able to do; get up and down the race track more consistently than other people [on race day]."
Smith's proficiency at getting power to the ground has made him much sought after as a chassis tuner in the U.S. and internationally. It's something Smith has taught himself over the years, knowledge he's gained partially through research and partially by happenstance. He currently works with the likes of Whiteley and Lizzy Musi, plus a host of cars and teams in the Arabian Drag Racing League.
"I basically just had to learn it on my own. It was a lot of trial and error and understanding, just common sense stuff," Smith claims. "The more sophisticated people try to make it, the more they get in trouble.
"All I have is a high school education. Everything I do is pretty basic, staying on track, just understanding what things are doing. Sometimes I would like to maybe be a little smarter than what I am, but I get by with what I do. We make laps on these things and I try to keep good notes. When you do that you're going to accidentally learn some stuff if you get to go up and down the race track enough."
This past winter, Smith served overseas as crew chief for Mahana Al-Naemi and tuned him to a 5.75 run in a car weighing even more than Smith did going the 5.76. However, Smith notes conditions for the Arabian series are prime with good night air and a really fast track. What's even more amazing is that Smith can tune cars half a world apart, requiring different gear and clutch ratios for widely different conditions and still have them run within one or two hundredths of a second.
Smith says he'll turn to tuning full time once his driving days are done, but for now he'll remain focused on his own IDG-sponsored program with Pat Musi horsepower as he seeks a fourth consecutive major drag racing championship.